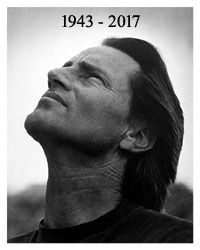 March 30, 2020
I recently came across another book on Sam called "Rebelul Rigorii Mortale", by Romanian writer Alexandra Ares. It was originally published in 2004 but then later expanded in a 2018 edition by Aldine Publishing House. The title translates to "A Rebel of Rigoris Mortis". It won the award for the best drama book from the Union of Writers in Bucharest.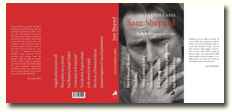 Here is a quote from her book:
"Intuitive and prolific writer, Shepard has improvised theater replicas just as jazzmen improvise musical lines, but he was brilliant in these insights. He rewrote very little, astonishing his friends. The former colleague from the Lower East Side room told how Sam bought a box of paper, went into the room, started beating the car and came out a few hours later with a new piece. […] Shepard reinvented American theatrical language at a time when innovation came from Europe, brought an influx of energy, mystery, revolt and magic into American drama so deeply realistic and created a mythology of the present, starting from the idea. that 'the old God is too far' and 'no longer represents our suffering.' ...Alexandra Ares
* * * * *
The movie page for DEFENSELESS (1991), has been added today. Besides Sam, it starred Barbara Hershey, J.T. Walsh and Mary Beth Hurt and was directed by Martin Campbell. I'd like to write some positive comments but truth be told, the film was a flop. According to Jonathan Rosenbaum of Chicago Reader, it was "a watchable but instantly forgettable mystery thriller... Sam Shepard does his usual poker-faced bit as the police detective assigned to catch the killer." Ouch! And from another critic, "As a homicide detective named Beutel, Sam Shepard is the only low-key player in the ensemble, so lanky and laconic you could picture him splitting rails in his spare time." And Candice Russell of the Sun-Sentinel writes, "Merely mediocre, Shepard chews gum and looks half-interested, perhaps because he'd rather be riding horses than making movies." Yowser! Okay, you're catching on.
I didn't come across any production notes or interesting stories, but the following excerpt is from a letter from Sam written in Virginia to Johnny Dark on October 3, 1989 - "I have to return to L.A. on the 14th thru the 16th of this month for a re-shoot of Defenseless. I'll be staying at the Four Seasons Hotel on Doheny - if you want to give me a call down there. I really don't want to leave the farm now that Fall has arrived but I guess I have to go. It would be great to see you if you happen to find yourself in L.A. around then."
I will say that the best thing to come out of this film is this photo which I used on the home page. It actually looks like a movie still from "The Right Stuff". Handsome pic!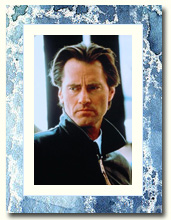 March 27, 2020
I've added the play page for 1994's SIMPATICO. It was Sam's first full-length play in ten years and was originally targeted for Broadway with a cast that included Ed Harris, Jennifer Jason Leigh, Frederick Forrest and Beverly D'Angelo. However, the $800,000 production budget couldn't be met or as Sam put it, "the deep pockets didn't present themselves". Plans were then made to stage it at the Off Broadway Public Theater. Sam directed with Ed Harris and Beverly D'Angelo remaining with new cast members Fred Ward, Marcia Gay Harden and James Gammon.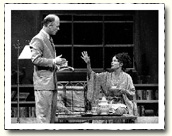 The story took place in the world of thoroughbred horse racing with Sam describing it as being "about the rivalry between two close friends who have known each other their whole lives, and involves women and horses, gambling, deceit, envy, jealousy, rage: the stuff I can't help writing about."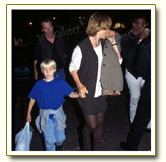 Sam with Lange and son Walker at the "Simpatico" preview show on November 5, 1994 at the Joseph Papp Theatre.
"Simpatico" received generally favorable reviews. Vincent Canby of the New York Times called it one of the best plays of the year, and it sold out its initial run but did not hold enough promise to move to Broadway. Five years later, it was adapted for the screen with Nick Nolte, Jeff Bridges, Sharon Stone, Catherine Keener and Albert Finney. Matthew Watchus directed and wrote the screenplay but it was a struggle adapting it. One critic wrote, "Where the play is stripped to bare essentials, the film invokes flashbacks to fill in the backstory, adds multiple locations, and introduces other diversions that slowly strangle the subtle points Shepard achieves in his original."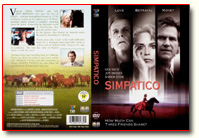 Certainly, we know that Sam had firsthand knowledge here as far as horses. Hotwalker, rodeo rider, farm manager, team roper, polo player and foxhunting and cutting horses - there's wasn't much that Sam hadn't done with horses. Then in 1987, he became a Thoroughbred breeder. He recalled, "I had a farm, and I'd never been able to afford Thoroughbreds. But I've always been fascinated by pedigrees, by how you plan and actually breed these things. Now I had the chance." In a 2007 interview, he said, "I plan all the matings and never talk to bloodstock agents. I spend endless hours poring over pedigrees, but some of the best horses I've bred came from instinct."
Forever the cowboy, both on and off screen, Sam was often photographed in his western gear. This new photo on the right, which was taken in 2005, is from the National Portrait Galley of the Smithsonian Institution, a gift from Bill and Sally Wittliff. The photographer is Matt Lankes, who also took the first photo, which was previously posted and featured in the April 2006 issue of Cowboys & Indians.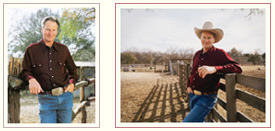 Previously I have posted this famous Annie Leibovitz photo, but always in black and white. This is the original color photo from the December 1984 issue of Vanity Fair.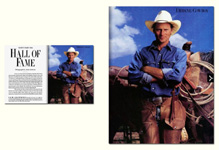 March 23, 2020
In these coronavirus times of being housebound, I've begun adding missing film pages to several of my web sites. Today I give you FRANCES, the film that introduced Sam to an actress called Jessica Lange, who birthed two of his three children.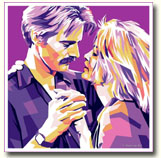 The 1982 biopic chronicles the life of actress Frances Farmer from the 1930s to the 1950s beginning with her high school days as a rebellious student in Seattle. She wrote an essay questioning God, which outraged folks as well as her visit to Moscow. The publicity plus her talent led to a successful Broadway and Hollywood career, followed by a mental breakdown and many years in mental institutions. Her domineering mother, outstandingly portrayed by Kim Stanley, was instrumental in creating instability and dysfunction in her daughter's life.
Sam plays Harry York, a fictional person based on a political radical named Stewart Jacobson who claimed to have been one of Farmer's lovers, though close friends of the star denied his even knowing her. Just how a movie can claim to be historically accurate when the protagonist's main love interest was an invention by the writers is a question the filmmakers never address, although on the DVD commentary director Graeme Clifford states, "We didn't want to nickel and dime people to death with facts." He also went on to remark that Lange hadn't had to "act" for the role in Frances. "She just let out all the stuff she usually represses." My sentiments exactly. When you look at this photo of Frances Farmer, you can see a strong resemblance to Lange.

The film opened to mixed reviews with complaints focused on the story's inaccuracies, such as the fictionalized lobotomy and the above mentioned Harry York. In his review, Roger Ebert writes, "There are a few problems with the film's structure, most of them centering around an incompletely explained friend of Farmer's, played by Sam Shepard as a guy who seems to drift into her life whenever the plot requires him." As to my own reaction, I kept questioning their strange relationship.
Interesting that several actresses were considered for the lead role including Jane Fonda, Sally Field, Natalie Wood, Susan Sarandon and Meryl Streep. Though Lange received an Academy Award nomination for Best Actress, it was Meryl Streep who swept up that Oscar for her role in "Sophie's Choice". But all was not lost because Lange's role in "Tootsie" garnered her an Oscar for Best Supporting Actress, often referred to as her consolation prize.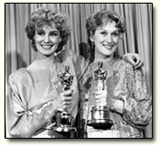 Personally, I thought the most pleasurable offering from the film (besides the onscreen presence of Sam) was its soundtrack by John Barry. The music is about as hauntingly beautiful as any ever written by this talented composer. You can listen to the soundtrack at this link.
* * * * *

As reported on January 29, a limited edition of "Sam Shepard: New Mexico" was released this month by Lawless Media. The 105-page book, priced at $75, is a quirky ode to Sam by Galisteo publisher John Miller. The limited-edition book gathers starkly powerful (meandering and sorrowful, funny, frank and intimate) passages from Sam's work with a focus on those that touch on the Land of Enchantment, where he lived off and on beginning in the 1980s. This special volume pairs Sam's writings with acclaimed artist Ed Ruscha during their separate times in New Mexico. You can read an excerpt called "Pink Adobe".
February 1, 2020
I used to live and work in Boston so I'm always connected to the city's cultural events. The Boston Museum of Fine Arts will be screening DAYS OF HEAVEN on February 28 and 29 in the Harry and Mildred Remis Auditorium. The museum describes it as "a celebrated example of the power of subtlety. Malick's painterly use of light and atmosphere has moved critics throughout the decades to describe Days of Heaven as one of the most beautiful films ever made." I ask you who can't help but fall in love with the looks of this rich and stoically handsome, but nameless farmer.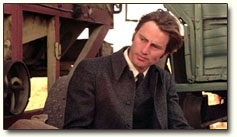 Jean-Claude van Itallie, playwright, performer, and teacher, once said, "Many of us Greenwich Village playwrights were gay. Sam was flamboyantly, abundantly straight. His ebullient sexuality was charismatic—you could see it sparkling in his eyes, and it later helped make him a movie star. Ellen Stewart, La MaMa herself, the living, beating heart of Off-Off-Broadway, once remarked that Sam was like 'juicy Lucy,' as Ellen called the erotic urge, flowing plentifully and creatively."
* * * * *
Here are a couple new photos of Sam at the Abbey Theatre in Dublin meeting with young playwrights back in 2009.
* * * * *
Magic Theatre founder John Lion wrote a 1984 article for American Theatre in which he gave some background on the poster and book cover for Fool for Love featuring Elvis. Apparently, the famous candid photo was taken on June 30, 1956 in Richmond, VA by Alfred Wertheimer. Lion describes the photo - "On a glossy background and filling the cover page, in a dark jacket and perfectly coiffed conk, was Elvis Presley in an early '56 photo. Tight in on him, nose to nose, her bare shoulder slightly pressed forward in anticipation, with a slightly skewed bouffant and a diamond broach earring, was a beautiful unidentified blond. And what was joining the two figures, in the space between their faces, catching a little light and subtly glistening? Why, their tongues!"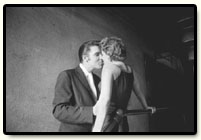 "Believe it or not, when the show went from Magic Theatre to Circle Repertory Company in New York, and the image was again used on the poster, several shops refused to sell it, although The New York Times had no problem printing the image."
Lion continues, "Elvis Presley and Sam Shepard signify a change in the structure of American society that cuts much deeper than critical catch phrases like 'the birth of rock and roll' or the 'death of the American West.' To both Presley and Shepard is attached the idea of 'the noble savage.' They both apparently came from nowhere, reached the top of their professions with no formal training, rapidly became the stuff of popular myth. But beneath each persona lies an objective, calculating artist who has basically altered the way we look at things."
January 29, 2020
Lawless Media of Galisteo, New Mexico has announced the upcoming publication of a new book by John Miller on Sam and artist Ed Ruscha.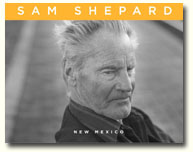 The synopsis reads:
In 1963, artist Ed Ruscha photographed filling stations from Oklahoma to LA. He published them in Twentysix Gasoline Stations, generally considered the first modern artist's book.

Ruscha took 60 photographs which he edited to 26. The unpublished images from New Mexico are reproduced here, from the artist's original negatives.

Sam Shepard, Pulitzer Prize-winning playwright, author, screenwriter, actor, and director had a deep bond with Santa Fe, where he lived in the 1980s and from 2010-2015.

But Shepard had some nomad in him, and beginning with Motel Chronicles in 1982, he spent much time crisscrossing the deserts of New Mexico.

As Johnny Dark said: "He lived in Santa Fe, but he also lived in hotels and on the road... He might have been running away or he might have been running toward something."

Twenty years earlier, traveling from Oklahoma to LA, the artist Ed Ruscha traversed the same territory, creating ghostly images of New Mexico gas stations.

Now, in this special volume, these two restless storytellers combine their talents to paint a unique portrait of New Mexico.
The description does not mention the number of pages nor the size of the book, but it appears to be more of a coffee table book with black and white photos by Ruscha and quotes from Sam's writings about New Mexico.
A sample is given from Sam's "Motel Chronicles":
In Santa Fe they stopped long enough to gas up and then headed north toward Chimayo.

The sweet smell of juniper blew through the open windows.
Crows floated above the highway scanning for dead lizards and rabbits.

The Black Mesa appeared on their left and they all agreed that they understood why the Indians considered it sacred.

But none of them actually explained why they thought that.
The event date for the book is listed as Saturday, March 14, 2020 at 3:00 pm at Bookworks, 4022 Rio Grande Blvd NW in Albuquerque, NM.
January 12, 2020
Netflix documentary IT TAKES A LUNATIC profiles Wynn Handman, who's hailed as "the keystone of American theatre." He founded the highly influential American Place Theatre in New York City, directing a number of plays and he taught acting classes for more than 50 years. His former students such as Richard Gere, James Caan, Michael Douglas, and Frank Langella reflect on his influence on their careers as well as the theater community through his desire to give opportunities to upcoming talent. You'll also spot Sam Shepard in this film, which is currently available thru Netflix. Shepard productions in the American Place's early years included 1967's "La Turista," and "Killer's Head".
* * * * *
And speaking of "Killer's Head", the play has been announced in an upcoming double bill by Odyssey Theatre Ensemble in Los Angeles. The second half is his 1969 one-act "The Unseen Hand" - that is part of the Odyssey's 50th Anniversary "Circa '69" Season of significant and adventurous plays that premiered around the time of the company's inception. Check for dates running from January 25 thru March 8 at the theatre web site.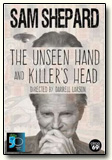 October 6, 2019
My apologies are in order for this web site being offline for the past week or so. My tech support informs me they were having server issues but all is well now. My frustration levels were at an all-time high in the amount of time it took to resolve these problems. Grrr....

On September 24, Patti Smith's latest memoir "Year of the Monkey" was released by Knopf publishers. It's a short book at 171 pages. Amy Skorheim of Digg writes, "Like everything Smith does, the book is suffused with honesty and poetry. If you read it and aren't sure where reality ends and imagination begins, you're probably reading it correctly. Each chapter is headed by one of Smith's photographs taken over the course of a year in which Smith experiences loss, wanders, travels, witnesses a polarizing election and drinks a lot of coffee. Travel through that year with her and get an artist's take on death, aging, politics and dreams, shot through with insight and optimism in the darkness."
Here are some comments reviewers have made regarding Sam:
Adrienne Gaffney, SF Chronicle:
"In May, she's in Midway, Kentucky with Sam Shepard, who is being overtaken by ALS. The pair spend hours editing one of his final books 'The One Inside' and endlessly discussing literature, Smith spending her nights asleep on his sofa. What has been lost is apparent to both. 'From the window, we could see his horses coming up by the fence. Horses that he could no longer ride. He never said a word about it.' Smith doesn't turn away, and they find delight wherever they can, delightedly making bets on the Derby."
David L. Ulin, LA Times:
"The real reckoning 'Year of the Monkey' makes, however, is with mortality — This means 'Sandy' Pearlman, fading in Marin County, and most essentially, Shepard, cared for by his sister in Kentucky, surrounded by the horses he can no longer ride. 'We've become a Beckett play,' Shepard jokingly tells Smith, leading her to imagine them 'rooted in our place at the kitchen table, each of us dwelling in a barrel with a tin lid, we wake up and poke out our heads and sit before our coffee and peanut-butter toast waiting until the sun rises, plotting as if we are alone, not alone together but each alone, not disturbing the aura of the other's aloneness.'"
Airmail.com:
"One friend Patti speaks of often is Sam Shepard. She writes beautifully and tenderly about sleeping on the couch at his place in Kentucky, listening to the sounds of him breathing and the night outside. Patti helped Sam write his final book, 'Spy of the First Person'. She recounts how, when he can no longer write, she does it for him; she describes seeing his guitar in the corner on its stand—at the ready, but never to be played by him again. She is losing him little by little."

"Sam comes up again toward the end of the book. She reflects on their relationship and writes about the present and her fear of a future without him—things we don't think about before a certain age. She writes about Sam living with his sister in Northern California, and the way she describes his sister's devotion and love is simple and moving. You can feel his decline—the silence, the inevitable. Yet every day they work, because that's what he has always done and will do until the end. Which is coming fast. Patti keeps moving through it all, something she has always done."
Kaitlyn Tiffany, Vox:
"Smith's decades-long friendship with Shepard — along with their tumultuous love affair in the 1970s — is a part of her mythology, one of the many connections she's made by chance in some bar in Chelsea and that came to define the trajectory of her career. But it's not often that she's spoken of it in such personal and frank terms as she does in this book, setting down an image of one of the country's greatest playwrights while he struggles to use his hands. She makes no effort to play up or explain her devastation, which is obvious: 'He looked more like Samuel Beckett than ever, and I still harbored the hope that I would not be destined to grow old without him,' she confesses, before moving quickly forward."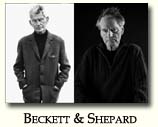 Deborah Dundas, Toronto Star:
"During this year she visits him often on his Kentucky ranch. It's difficult even to read about Shepard in a wheelchair — the celebrated playwright, always a handsome and vital man — is losing the use of his hands as the ALS he was diagnosed with in 2010 gets progressively worse; far more so to imagine what it's like for Smith. 'We had trips planned, and all kinds of things we were going to do in the future,' including to Ayers Rock in Australia, she says. 'I never saw that coming. He was always so healthy. I never anticipated that.'"
In a recent NY Times interview, Patti was asked why the two split after writing "Cowboy Mouth". She replied, "Well, he was married and he had a child and it was sad, but it was just the right thing to do." And was she surprised when Sam became a leading man in Hollywood? She responded, "No, because, first of all, he was a really great actor in plays and theater. He had a magnetism. He was one of the most handsomest guys you would ever see, more even in person than in film. But that isn't even what I liked about him, which was funny because it was so obvious that he was so handsome. People were just drawn to him. We'd walk down the street and women would come up, hit on him and they'd just say right in front of me, 'Get rid of the kid.'"
And in a book interview with Billboard, Patti shares, "With this book, my challenge to myself was try to keep it in time. Sometimes I did regress backwards to explain this and that. I was not anticipating that I was going to have to write about the death of one friend in time, and then the struggles of one of my closest people, Sam, also in time. It was different in that way. The dignities of these two men were very important to me, so I had to really think about how to express certain things. But also, you know, have a certain amount of discretion, and anticipate how each man - since I knew them both so well - would feel about what I wrote. I felt like both of them would appreciate what I wrote. I didn't feel like I wrote anything that they'd be unhappy about."
August 28, 2019
On August 12, 2019, Brian Tanguay of the Santa Barbara Independent wrote a review on Sam's final collection of writings - SPY OF THE FIRST PERSON. Tanguay writes, "As a writer and man, Shepard was ever seeking. 'What exactly is the experience of the present?' he wonders, and goes on to answer, 'The experience of the present is one of anonymity. Complete anonymity.' Perhaps that is what Shepard felt as the end drew near."
But how could the man feel ANONYMITY? We're talking facelessness, namelessness, nowheresville and obscurity. Now, if you think of the antonyms, there's where the truth lies - celebrity, fame, notoriety and renown. Like it or not, Sam, you were FAMOUS!
* * * * *
AGES OF THE MOON will receive its long-awaited UK premiere at the Vaults Theatre in London on October 17, 2019. The play will be directed by Alexander Lass and will star Christopher Fairbank and Joseph Marcell. Curtain time is 8 pm on Tues-Sat and 3 pm on Sat-Sun with the production running through November 24th. Description: On a hot summer's night, deep in the American wilderness, Byron and Ames are reunited by mutual desolation. By the fading light of an eclipsing moon, the pair reflect on love and life over a bottle of whiskey - and as old rivalries flare, their forty-year friendship is put to the test at the barrel of a gun.

July 31, 2019
Sam's daughter-in-law MAURA HARRINGTON passed away at age 53 on July 16, 2019. She is survived by her husband, Jesse Shepard, her parents, Tom and Dianne Harrington, her sister Bridget and her brother Michael. In lieu of gifts, donations are welcomed at defenders.org.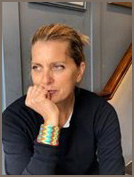 An unusual obituary follows. Perhaps it was written by Jesse -
She was a trailblazer of all things creative, artistic, political and gastronomic. She was a maverick.
She understood humans and little creatures and trees and Spirit.
She was kind, generous beyond belief.
She was sharp, quick and smart about it.
She was fluid, easy, and graceful in all her actions.
She was the face of Love.
She raised up the sight line for everyone.
And, not the least of it, she was fun - an adventurous traveler, always good for lively conversation, played great music you'd never heard before, threw together the most memorable dinner parties.
She was a prolific painter, furniture designer, graphic artist, photographer and collector- always applying her precise sensibility and innate aesthetic to everything in her life
Good design was everything to her and she didn't lack opinions about it.
She was a storyteller.
She spoke Norwegian, French and Spanish and could get by in Mandarin. If she didn't speak your language, she would be sure to connect with you through her eyes and a smile.
For so many, Maura was a north star and a compass.
She shall ever be so.
Maura was a pioneer in the Healdsburg community, co-founding the award-winning Flying Goat Coffee in 1994 with partner, Phil Anacker. She continually worked at the business to deliver the quality for which it is renowned while always advocating women's equality in coffee- from farmers in Africa and Latin America, to her staff in Sonoma County.
There's a new addition to The Sam Shepard Web Site. An excerpt from Jesse's 2003 collection of short stories called "Jubilee King" can be found on this page.
July 27, 2019
On July 27, 2017 Sam left us but his presence lives on in our memories and through his many works as an actor, director and writer. Graeme Wood has written an article for next month's issue of The Atlantic called "Sam Shepard Saw It All Coming: The family battles he described foreshadowed our current national crisis." You can read it at this link.
Wood writes, "He died two years ago, at the age of 73, and although the valedictions from the dramatic world were respectful, few suggested that his work was acutely relevant. Some hinted that he represented the classic Western, a genre whose exhaustion Shepard himself had lampooned. Obituaries noted the good looks (described as 'rugged,' although only his teeth were craggy) that helped make him a movie star, and his status as the 'paragon playwright of the American West' (Los Angeles Times). Shepard, one might be forgiven for thinking, chronicled a cowboy world that is no more, and that indeed ceased to live in the American collective imagination sometime between the last episode of 'Bonanza' and John Travolta's dismount from the mechanical bull in 'Urban Cowboy'. But Shepard plays are back in season, and they are neither antiquarian nor regional. They are modern—even visionary—and disturbingly universal."
Tobias Carroll of InsideHook agrees and writes, "Graeme Wood makes the case that Shepard's body of work has become even more relevant to modern American society in recent years. It's a thoughtful examination of how Shepard's preferred themes converge with the present state of American politics, and why his work resonates more deeply than ever. A number of Wood's conclusions are chilling, even as they also leave the reader clamoring for more revivals of Shepard's plays."
Previous News:
January-June 2019
July-December 2018
May/June 2018
April 2018
March 2018
February 2018
January 2018
December 2017
November 2017
October 2017
September 2017
July-August 31, 2017
January-June 2017
July-December 2016
January-June 2016
July-December 2015
January-June 2015
July-December 2014
January - June 2014
July-December 2013
January-June 2013
July-December 2012
January-June 2012
July-December 2011
January - June 2011
July - December 2010
January - June 2010
July - December 2009
January - June 2009
July - December 2008
January - June 2008
July-December 2007
January-June 2007
November 2005 - December 2006