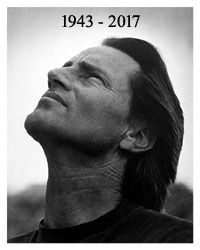 January 25, 2019

Last night Ethan Hawke and Paul Dano bowed as brother versus brother in the Broadway revival of TRUE WEST at Roundabout Theatre Company. Hawke first saw the play when he was about 14 years old and confessed, "It made me want to be an actor, or be involved in whatever they were doing. So to get the chance to do it now is very meaningful to me." Though Hawke has worked on numerous Shepard plays, he reveres True West. He praises the man with "He is one of the great American poets we've ever had. He had the swagger of a real cowboy and he had the brains to back it up." Alexis Soloski of The Guardian agrees, "Shepard is the great poet of wounded masculinity, of men who would be cowboys if the world would only offer them territories, frontiers, wildernesses. Instead they ride in circles, tearing up their own internal turf."
Hawke relates his initial thoughts on the play - "Before Sam died, I had wanted to direct it with women to expose how the female psychology is just as vulnerable to this war. I started working on it with Marin Ireland and Martha Plimpton, and it was amazing! I wish we could do that production, but Sam didnít want to. Samís cut from another cloth. Heís from a different tree in the forestóan older part of the forest! He was utterly baffled by the suggestion!"

A finalist for the Pulitzer Prize in 1983, True West is arguably Sam Shepardís funniest play. Directed by James Macdonald, this revival stars Ethan Hawke as Lee and Paul Dano as Austin. I am a great admirer of Ethan Hawke's work but I have to admit the sight of Dano annoys the hell outta me. Truly. Though Hawke is receiving rave reviews, many theater critics are not enthralled with Dano's performance.
Robert Hofler of The Wrap writes, "Hawke nails Lee... He is giving the performance of his stage career... Dano has mastered a low-key, naturalistic style of speaking, but Austin is anything but understated in the second act when he challenges his brother for supremacy in their motherís house, as well as the world beyond. Dano doesnít make a convincing drunk, which is a real problem for a role that requires his character to be totally smashed for most of the second act. But more serious is his inability to match Hawkeís energy, presence and intensity. Instead of confronting Lee, Danoís Austin literally flounces.
* * * * *
French photographer Brigitte Lacombe included a portrait of Sam among her selected 40 images in her October 2018 exhibit in Bucharest by The Romanian National Theatre Festival. There's a reflection in the second photo showing a visitor taking the photo. I've never seen this portrait obviously taken after he became ill.
December 6, 2018
A year later, Sam's friend Wim Wenders wrote a short review of "Spy of the First Person". He wrote, "I like short books. Sam Shepardís last novel, which he finished with the help of Patti Smith, as he couldnít type any more himself, is a miniature novel and was published posthumously. It has been my favourite reading lately, and for once I wish it would have been much longer. Actually, I was so addicted I read it again the next night. Sam Shepard wrote like nobody else: his prose is sparse, pure and sharp, and his dialogues flow from the pages as if his characters had been recorded live. Yet they talk like no other people; tentatively, hesitantly, always making sure they follow the otherís drift. Samís universe, in all its simplicity, reveals a deep understanding of the American soul."
* * * * *
The 1982 New York staging of "True West" starred John Malkovich and Gary Sinise. In a recent interview Malkovich confessed that he didn't know whether Sam had seen the whole play. He remembers, "It was at a lovely little theatre in New York, Cherry Lane, and there would be Antonioni or Kurt Vonnegut or Jacqueline Onassis or Bowie - kind of everybody came. But I don't believe I met Sam during the run. Sam wasn't a conventional movie star. He wasn't a conventional anything. He was a real one-off." He adds, "He was very funny, super-laconic. It was no surprise he played cowboys and astronauts. But there was something sweet, lonely and poetic about him too."
October 13, 2018

Another movie page has been completed. 1994 was a banner year for great films and I remember buying a CD for the wonderful movie soundtracks that year. Perhaps that's why "Safe Passage" suffered a bit at the box office. So much competition! The family drama, based on the novel by Ellyn Bach with a screenplay by Deena Goldstone, was headed by Susan Sarandon, one of Hollywood's greatest actresses. I like to think of this film as a valentine for all mothers. This is a feel-good movie that's so heartwarming. I just loved all the dynamics of this wacky family. With so many stories about dysfunctional families, this one was so refreshing and reaffirming. It'll also give you a chance to see Sam play the piano.
* * * * *
Our playwright will be celebrated with an afternoon of performances and readings at London's Royal Court Theatre on November 12. Curated by Lloyd Hutchinson, Nancy Meckler and Stephen Rea, the event will feature scenes from Sam's plays and poetry he wrote during his lifetime. A number of his plays were staged at the Royal Court throughout the 1970s and 1980s. Fool For Love, Buried Child and A Lie of the Mind have all recently been revived in London, with a West End production of True West beginning this winter. The event will take place at 3 pm in the Jerwood Theatre Downstairs. All proceeds will go towards supporting emerging playwrights.
* * * * *
Flashback: May 22, 1984 - ''Fool for Love'' won the Obie Award for best new American play of the 1983-1984 theater season. Obies for best performance were also presented to the play's leads, Ed Harris and Kathy Baker.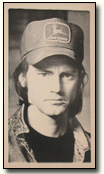 The play will be performed during the next month at The Actors Studio in NYC. Performances will run on a Thursday, Friday, Saturday & Monday at 7pm with a Sunday matinee at 3pm from October 18- November 12th.
July 27, 2018
From santafenewmexican.com:

He had the right stuff: Honoring Sam Shepard

Itís been a year since Sam Shepard died, leaving behind a legacy of deeply American stories. Shepard spent five decades upending quaint, romanticized notions of familial love and loyalty. In the process, he ensnared the creative imagination of Scott Harrison, founder of Ironweed Productions, a local theater company that has presented a number of Shepardís plays over the years. Harrison and other Ironweed actors pay tribute to the Pulitzer Prize-winning playwright in An Evening Honoring the Work of Sam Shepard at 7 p.m. Sunday, July 29, at El Museo Cultural de Santa Fe (555 Camino de la Familia). Readings of Shepardís works are followed by a reception. There is no charge for admission. For more information, visit ironweedsantafe.com.
July 18, 2018

I have added the "Bright Angel" film page today. Though it premiered at an Italian film festival in 1990, it wasn't released in the states until June 1991. TV Guide headlines the film with "Spare and elliptical, 'Bright Angel' sets a violent coming-of-age story against the bleak backdrop of the modern American West." First and foremost though, it is a road movie with Dermot Mulroney and Lili Taylor as its lead stars. Sam plays Dermot's father, a spare, angry man. He has good advice to give, and even some love, but his life has been spoiled by disappointment and he cannot create a harbor for his lonely, doubting son.
Adapted by author Richard Ford from two of his own short stories, the film is directed by Michael Fields who makes the most of the iconography of the West. Some say it has a David Lynch vibe and I would agree. It just so happens that on July 31, the Quad Cinema in NYC will be screening it with director Michael Fields and author Richard Ford in attendance.

Some of you may remember that Richard Ford was a good friend of Sam's. He, too, was a Pulitzer Prize winner. They appeared together for readings at the Unterberg Poetry Center at 92nd Street Y in NYC in 1997 and 2006. On the back of the hardcover edition of "Great Dream of Heaven", you'll find this Ford blurb - "These are wonderful stories, by turns intuitive and well-wrought, satisfyingly unpredictable, smart, irreverent, knowledgeable about important human matters, often quite sweet, and at all times a pure pleasure to read. Mr. Shepard absolutely makes the form be his own, and for that reason, these stories are irresistible."
July 12, 2018
The New Mexico Actors Lab in Santa Fe is staging "Ages of the Moon" now through July 22. Director Robert Benedetti told the press, "Shepard is one of the authentic voices that make up the cultural identity of American theater. We really wanted to do a Shepard play in this year after his death. And especially since he spent so much time in Santa Fe." Shepard lived in the capital city on and off between 1983 and 1986, and again from around 2010 to 2015.
In this 80-minute play, two men in their sixties sit on a Kentucky porch one summer afternoon, awaiting a total eclipse of the moon while they listen to country music, drink too much bourbon, and argue. Regret and intermittent rage dominate their long dayís journey into night. In 2010, Sam told The New York Times, "Iíve come to feel that if I canít make something happen in under an hour and a half, itís not going to happen in a compelling way in a three-hour play." He said he was fond of Ages, especially its honest relationship to the ravages of alcohol, which he admitted had taken a toll on his own life. "Ages is like a Porsche," he said. "Itís sleek, it does exactly what you want it to do, and it can speed up but also shows off great brakes."

Nicholas Ballas, who plays "Ames" said that he met Sam more than 30 years ago in Santa Fe. He even claims to have saved his life one night on the street when somebody grabbed a knife and went for him in the midst of a very complicated bar fight. In playing "Ames", Ballas has come to recognize Shepard-ish aspects in the character. He says, "I got to realize that he was a bit of a tortured soul. And that comes out in the show a lot... Itís classic Shepard, you know, two men in opposition who are very much joined at the hip by need, by disappointment, by love. And thatís kind of the beauty of it. Sam knows the male psyche ó and he creates it ó like nobodyís business."
* * * * *
From the UK comes news that "True West" will be staged in the West End at the Vaudeville Theatre from November 23 to February 16 with press night on December 4. The play will be directed by Matthew Dunster, who said, "There is something dangerous about 'True West'. Itís always unsettled me. I was always scared of reading it. Fearful of its burning content but also of its brilliance. When Sam Shepard died, I went back to it and I knew I had to find a way of doing it."
* * * * *
An LA production of "Cowboy Mouth" was performed last month and this review gave it high marks - "Extemporaneous and absolutely beautiful in all its savage bizarreness. 'Cowboy Mouth' is an exquisite often darkly comical wrapper for many mutually excessive conflicts and polarities contrasting love and hate, beauty and ugliness, power and powerlessness, poetry and prose and on and on. Shepard and Smith wrote pure genius into this piece which is ultimately a journey of our own making despite our dreams for happiness or our downfalls in search of it. Directed, art directed and performed to a rare, extraordinary, odd perfection."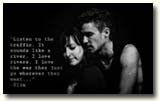 June 30, 2018
In my attempt to complete this web site, I will be adding new material in the months ahead. Today I have posted the PURGATORY page. This fantasy western with its "Twilight Zone" vibes, aired on TNT in January 1999. Anita Gates of the NY Times writes, "Very few men can stand quietly in the middle of an empty street with the authority and the tough, soft-spoken sexiness of Sam Shepard." I'll second that!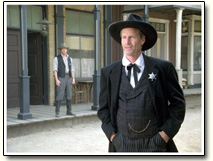 When Sam was asked why he chose to do the film, he responded, "It felt like a traditional western even though it had this odd twist to it, and that it was being directed by a German fascinated me. Europeans seem to have some way or another a more objective take on westerns. I was fascinated about what a German would do with the material. It might have a kind of starkness and a non-sentimentality about it. Forrest also seemed like a great character reminiscent of 'High Noon' and those traditional western heroes."
And how did filming go? He replied, "I had never done a western on the back lot in Hollywood. It was at Warner Bros. in Burbank on the old 'Maverick' sets. You have to stop shooting there when there are helicopters flying over. It was totally crazy. The camera can't go high or it will catch the telephone wires and the condominiums. It was actually like purgatory shooting the thing."
Through the years, there were two Westerns that Sam ultimately regretted turning down - "Lonesome Dove" and "Unforgiven". With "Lonesome Dove", it was an extremely long shoot, some six months and he didn't want to commit to that because of his children. And with "Unforgiven", he explained, "I do this thing sometimes where I just read the first two pages of a script. It had that horrendous female assault where the woman gets cut up. I picked it up and threw it away thinking, 'I don't want to do this. Good Lord, this is outrageous.' So I just threw it away. Oh, well."
As to why there still remains a mystique about the "Wild West", Sam's response was - "I think you have to make the balance between the actuality and the romance of it, but still, I think, what's fascinating about it is that it still offers some kind of mystery. The promise about it is still unfulfilled and probably never will be fulfilled, so I think that's what magnetizes a lot of people's imagination. There is this huge vast, still, vast tract of land that hardly anybody ever walks on.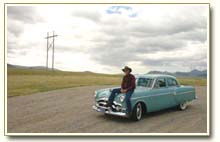 * * * * *
In the fall of 2014 Sam's last play "A Particle of Dread" was about to get its US premiere at NY's Signature Theatre. This is a new photo of Sam attending one of the production rehearsals.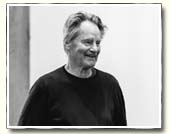 Here are some new movie stills of Sam from his last film, "In Dubious Battle".
June 22, 2018
Another of Sam's books has undergone a translation. "The One Inside", originally published in February 2017, was released in Italy by publisher La nave di Teseo on May 24, 2018. Its Italian title is "Quello di dentro". Choosing Canadian street photographer Fred Herzog was certainly an odd choice. The cover photo is called "Curtains". The artwork appears to have no connection to the stories whereas the original one at least conveys the strangeness and bleakness of the landscape that Sam inhabits in his writing.
The publisher writes, "In this splendid novel by Sam Shepard, the rhythms of the theater, the language of poetry and the subtle irony of the narrative are intertwined in a story about life: festive, surreal, moving, unforgettable.
* * * * *
This photo was taken by the paparazzi while Sam was in NYC during his later years. He's reading Vladimir Nabokov's autobiography "Speak, Memory". Yeah, what else?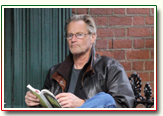 * * * * *
The Telegraph lists "Days of Heaven" as one of the 100 best films on Netflix UK. Their description: "Terrence Malick's second, and for many, greatest film is a mesmerisingly gorgeous love triangle set in the Texas Panhandle in 1916, loosely based on an Old Testament parable. Richard Gere and Brooke Adams are the lovers who pose as brother and sister to fool a rich, dying farmer, played by Sam Shepard. Nestor Almendros' astounding magic-hour photography right won an Oscar, and Linda Manz supplies heartbreaking, plainspoken narration as Gere's younger sister."
June 4, 2018
I've been on holiday in the past month. Thus, the lack of updates. A couple weeks ago Nobelman Publishing of The Netherlands published a Dutch translation of Sam's "Spy of the First Person". Having bought the rights from A. Knopff, they opted to choose another book cover, not quite as bleak as the original one. The publishing company hopes to also do a Dutch translation of "The One Inside" by the end of this year.
* * * * *

Chris Jones of the Chicago Tribune reviewed "Buried Child", now playing through June 17 at the Writers Theatre in Glencoe, IL. Jones writes, "We think of Shepard as a poet of the West, a bard of wide-open spaces, but he understood the Middle West better than any writer of his generation. Chicago had David Mamet; the rest of Illinois was charted by Shepard and it has not changed course."
* * * * *
Here's a new youtube video of Sam talking about how he met Ellen Stewart of LaMaMa. Click on photo below to view it.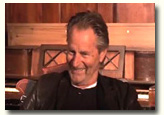 * * * * *

The Los Angeles production company Better Lemons, will be staging "Cowboy Mouth" this month. It will be performed three times at The Broadwater - Second Stage. The dates are: June 9, 14 and 23. Synopsis: "Set in 1979 Los Angeles when punk, rock and new wave collide, the play is the story of a woman who kidnaps a young man with a wife and kid off the street at gunpoint, with the hopes of inspiring him to be a rock and roll star. But the play has an underlying theme far more universal. "Cowboy Mouth" is about the importance of taking responsibility for our own creativity, falling in love with the person, not the potential." At the preview on May 31, after the curtain, the director read a letter from Patti Smith about Sam Shepherdís final days. It was a perfect epilogue to the play.
* * * * *
Looking back - May 9, 1984: Sam attending the LA premiere of "The Natural" at Samuel Goldwyn Theater in Beverly Hills. That man is a movie star!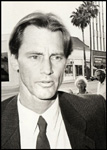 May 8, 2018

Shannon Blake Skelton an assistant professor at Kansas State University and author of "The Late Work of Sam Shepard", has contributed a chapter on Sam Shepard to the recently published collection, "Visions of Tragedy in Modern American Drama". In the collection, Skelton joins faculty from other universities in exploring the contours of tragedy within the spectrum of American theatre. According to the publisher Bloomsbury, "This volume responds to a renewed focus on tragedy in theatre and literary studies to explore conceptions of tragedy in the dramatic work of seventeen canonical American playwrights. The chapters explore whether there is a distinctively American vision of tragedy developed in the major works of canonical American dramatists and how this may be seen to evolve over the course of the twentieth century through to the present day."
* * * * *
When I first saw this photo many years ago, I refused to believe it was Sam. The photographer is Greg Gorman. I still see no resemblance to our playwright. If someone told me it was Alexander SkarsgŚrd, I'd believe them.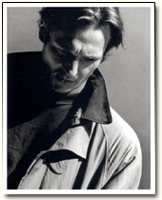 April 30, 2018
DC's Rep Stage has decided to close their 25th season with TRUE WEST. Vincent Lancisi, who directed the first show at Rep Stage and also directed "Buried Child" in 1994, will return to direct. While many people know Shepard as a movie actor, Lancisi champions him as a visionary playwright. "He had a lot to say about Hollywood and duality and personalities, the motivation of money and how it waters down our artistic impulse and creativity," he says. "He was a bit of a rebel and it was sort of an irony that he became a pretty good movie star because he was breaking all the rules of conventional theater with these plays. At the same time, he was part of this Hollywood machine that he wails against in 'True West'."
Rep Stage Producing Artistic Director Joseph W. Ritsch says, "Vinny is really wonderful at helping actors create specific characters. The balance of comedy and dark in this piece is really important. When Shepard was alive, he often talked about the insider vs. the outsider and where that switches in this play and I think Vinny has done a wonderful job of crafting that journey. I think right now there are a lot of us feeling like insiders and a lot of us feeling like outsiders and the chaos of the wild west vs. the collaboration of democracy and who we are as citizens is very much a large conversation right now. This play, which premiered back in the í80s, feels very relevant."
The play will run from April 26 to May 13, 2018.
On March 2, 2000, a Broadway revival of True West opened at the Circle on the Square Theatre featuring Philip Seymour Hoffman and John C. Reilly, who alternated playing the lead roles. This critically acclaimed production earned Tony Award nominations for best actor (both Hoffman and Reilly), best director, and best play. Here's a photo of Sam with the two leads.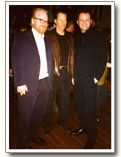 * * * * *
From Motel Chronicles: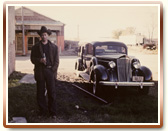 "I remember trying to imitate Burt Lancaster's smile after I saw him and Gary Cooper in Vera Cruz. For days I practiced in the back yard. Weaving through the tomato plants. Sneering. Grinning that grin. Sliding my upper lip up over my teeth. After a few days of practice, I tried it out on the girls at school. They didn't seem to notice. I broadened my interpretation until I started getting strange reactions from the other kids. They would look straight at my teeth and a fear would creep into their eyes. I'd forgotten how bad my teeth were. How one of the front ones was dead and brown and overlapped the broken one right next to it. I'd actually come to believe I was in possession of a full head of perfect pearly Burt Lancaster-type of teeth. I didn't want to scare anyone so I stopped grinning after that. I only did it in private. Pretty soon even that faded. I returned to my empty face."

4/25/81
Homestead Valley, CA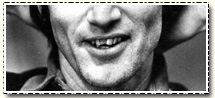 Previous News:
April 2018
March 2018
February 2018
January 2018
December 2017
November 2017
October 2017
September 2017
July-August 31, 2017
January-June 2017
July-December 2016
January-June 2016
July-December 2015
January-June 2015
July-December 2014
January - June 2014
July-December 2013
January-June 2013
July-December 2012
January-June 2012
July-December 2011
January - June 2011
July - December 2010
January - June 2010
July - December 2009
January - June 2009
July - December 2008
January - June 2008
July-December 2007
January-June 2007
November 2005 - December 2006