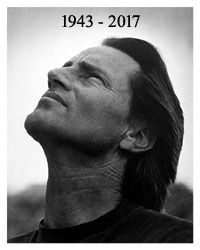 April 18, 2018
New York's Signature Theatre has announced its 2018-19 season and among its six works will be "Curse of the Starving Class", directed by Terry Kinney. Living a stagnant, unhappy existence in rural California, the struggling Tate family is desperate for change, but every family member has a different way of trying to improve their station in life. The play will run at The Irene Diamond Stage next year from April 23 to June 2, 2019. Sam was Signature's Playwright-in-Residence during the 1996-97 season when they first produced the play. Signature is honoring his legacy with this revival.
April 16, 2018
Theatre critic Rick Levin (Eugene Weekly):
Between my two favorite American playwrights, Tennessee Williams and Sam Shepard, I find Shepard to be, inexplicably, the more familiar but less accessible of the two.

For all the remarkable similarities found in their themes — family dysfunction, alcoholism, killer secrets, and the crass materialism and spiritual bankruptcy of the American dream — Williams is far and away the more classical artist, irreducibly genteel no matter how grotesque his subject matter. His work traffics in grand archetypes, whereas Shepard's characters seem blurry and emaciated, like a fading Kodachrome in someone else's family album.

This takes away nothing from Shepard, a master of restraint who tackled his chosen territory with a muted desperation and broiling anger that sometimes border on poetic incoherence. The mumble and the shrug are Shepard's true domain. Because of this, ironically, he is the funnier of the two writers, and his tragedies are more unbearable.
* * * * *
Hey, here's our Marlboro man!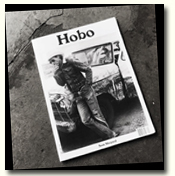 April 14, 2018
The Sam Shepard Papers are split between the Wittliff collections at the Texas State University and the Harry Ransom Center at the University of Texas at Austin. The Ransom collection is filled with drafts and revisions of many of Sam's plays, stories, poems, and other works. Especially interesting is a series of notebooks in which he recorded thoughts and ideas related to his plays, acting roles, songs, and travels.
In his notebooks, you may find a list of trees: cottonwood, dogwood, apricot, willow, polar, locust, crab apple, silver maple. Or a list of lilies - Citronella, Scarlet Emperor, Thunderbolt, Golden Sunburst, Silver Stain. Or guitar chords with Spanish lyrics. Or passages of prose. Or unattributed quotes from overheard conversations. In the back of one notebook is a photocopied review of his 1983 play, "Fool for Love" that's folded up with an article about fly-fishing.

Often the notebook covers are torn and taped together. Many are the classic A6 with cream-colored paper and pale blue lines, small enough to fit into a pocket. One is spiral-bound with a faux snakeskin jacket. Several have the same earth red cover and thick black spine.

Inside the notebooks stage sets are sketched out next to maps of land divided into vegetable patches. Scraps of prose and notes about horse keeping are recorded in the same loose script. Phone numbers for Wim Wenders on location and Susan Sontag's NY address appear between other lists: things to buy for a party, actors to cast in a movie or Christmas gifts for his family.
For a complete list of the Sam Shepard Papers at the Harry Ransom Center, visit this link.
Sam writing on a June day in 2006 at a West Village cafe -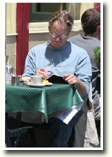 April 5, 2018
From the Salida, CO Regional Library - a few comments on "Spy of the First Person":
"This little book is classified as fiction, but it has a taste of autobiography about it. Sam Shepard wrote it, later dictated it to family members, as the disease that eventually took his life, took over. One of the book's central characters, an old man on a porch, is weakened and ill, but alert. He could be taken as a reflection of Sam himself. And this character takes on shades of another of the book's characters, so much so that it's difficult to ascertain who's who. But maybe that's the point. At times it seems like the old man is being observed by himself; sort of an out of body experience by himself. The structure of the sentences have a hint of Gertrude Stein, short and repetitive. And it's all in Sam's slow, easy voice. A reconciling of becoming older and remembering the past."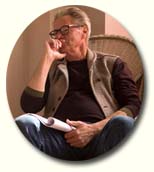 April 2, 2018
Clerkenwell Actors Studio of London has announced an event called "Encounters with Sam Shepard", directed by Miriam Lucia. Staged at the Hen & Chickens Theatre will be scenes and monologues from "True West, "Action", "Cowboy Mouth" and more. Performances will be at 7:45 pm on May 9, 10 & 11, 2018.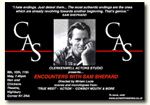 * * * * *
Like father, like daughter? Unbeknownst to me, Hannah Jane Shepard (often H.J. Shepard) is in print! She is published in the 2015 edition of "Flash Fiction International: Very Short Stories from around the World". You can read her short story called "Please Hold Me the Forgotten Way" at this link.
Back in 2013 the History Department at Fordham University recognized excellence among their graduate students by awarding a prize for the best paper written in a research seminar. The best paper for 2013 was award jointly to Hannah and another student. Her paper was called "Vanished in Plain Sight: Scots-Irish Presbyterians in Wisconsin, 1830-1890".
Let's hope we see more from this very literate woman. Here's a recent photo of her taken in late February in NYC.

March 29, 2018
"Fools for Love: a Dramatic and Musical Tribute to Sam Shepard" will take place at 8 p.m. on April 7 at The Rock House in Glenview, Illinois. It is also a fundraiser for the Les Turner ALS Foundation, the disease that claimed Sam's life. The show is in three parts beginning with reading an excerpt from one of his final works. A musical performance will follow with songs that Sam's sister, Sandy Rogers, wrote for Robert Altman's film version of "Fool for Love." Following the music, a shortened, adapted version of the play "Fool For Love" will be performed.
* * * * *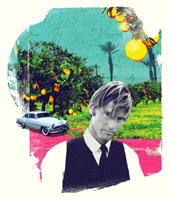 "I feel like I've never had a home, you know? I feel related to the country, to this country, and yet I don't know exactly where I fit in... There's always this kind of nostalgia for a place, a place where you can reckon with yourself."
...Sam Shepard
March 23, 2018
William Shakespeare's "Romeo and Juliet" may be the epitome of the story of star-crossed lovers, but Sam Shepard certainly gave the bard a run for his money with his 1983 play "Fool for Love." In honor of his memory, Flagstaff Shakespeare Festival will be putting on a production of his Pulitzer Prize-nominated play. While the company's mission is to faithfully portray Shakespeare's works, it also includes "other actor-driven plays."

"It still seems natural to do an American classic as our first departure and especially Sam Shepard because so much of his writing is based in the Southwest," said Dawn Tucker, executive director of FlagShakes. She continues, "I read that when he wrote the first scene he just loved the characters so much that he didn't want it to end, he just wanted it to go on and on."
Performances of "Fool for Love" will be the last two weekends of March. The Momentum Aerial Arts Studio will host the production Friday and Saturday, March 23 and 24, before it moves to La Posada Hotel in Winslow the following weekend, March 30 and 31.
March 20, 2018
Roundabout Theatre Company has announced that Ethan Hawke and Paul Dano are teaming up for a new Broadway production of "True West". The play will be directed by James Macdonald with previews beginning on December 27 ahead of an official opening on January 24, 2019 at the American Airline Theatre in New York. Additional cast and creative team members will be announced at a later date. Hawke was a longtime collaborator and friend of Sam's and gave the following tribute last summer:
For my generation, there's a bit of hero worship that went along with Sam. He was someone who could act and direct and write at such a high level. He's a poet of the first order. I first saw a production of True West when I was 14. That production did for my generation what Brando and Streetcar had done for a generation earlier. It was the same time he was in The Right Stuff. Playing Chuck Yeager is one of the coolest performances this side of Rebel Without a Cause. The first time I met him I was 24. I was at a urinal during intermission of the first read-through of Buried Child in Chicago. I later told [film director] Richard Linklater, and he said, "Well, you're pissing in the tall grass with the big dogs now!"

What a lot of young people get wrong about Sam is that he wasn't just cool. When you worked with him, he was a very serious person. He'd come to rehearsal and talk about Greek myths and weird obscure playwrights. I once went into a bookstore and found him in the Spanish section, poring over how to learn Spanish in six weeks or less. He was disarmingly humble and wildly self-serious. He could walk that razor's edge.

Here's one of my favorite stories: I was living at the Chelsea Hotel, and I had to wake up at dawn to walk my puppy. Outside was Sam Shepard reading all the famous artist plaques on the wall. We'd worked together a bunch already, and I invited him in for coffee. We were heading to the elevator, and Sam was telling me about how he used to live there and wrote with Patti Smith there, when we run into the owner of the Chelsea — Stanley Bard, this old-school New Yorker. Sam said hi and then, 'What do you gotta do to get a plaque on the wall? I did some good writing here!' And Stanley said, 'Well, unfortunately, Mr. Shepard, you have to die.' And Sam went, 'I see Arthur Miller's got one out there, and he's not dead.' And Stanley went, 'Well, Mr. Shepard, I'm sure I'm not the first to tell you you're no Arthur Miller.' Sam burst out laughing so hard.

In the years I knew him, he could be many different people. He was a complicated person. He was wise, and I think he got wise fighting a lot of things about himself. He was a deeply curious person, always learning, always staying interested. He was writing beautifully at the highest level even at the end. I wish he hadn't been sick, and I really wish we could have worked together again. It was always an honor.
March 12, 2018
Several years ago Sam and actor Scott Glenn teamed up for a reading of "Ages of the Moon" at the Egyptian Theatre in Boise, Idaho. You may remember that the pair starred together in "The Right Stuff". The play is about a couple of dudes sitting on a front porch in the country, waiting to witness an eclipse of the moon. Ames and Byron are old friends who, accompanied by whiskey, spend a night reminiscing, bickering and growing hostile.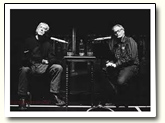 Here are several photos from the July 28, 2011 event:
* * * * *
As a tribute to Sam, the University of Tulsa will present two of his plays at the Chapman Theatre from April 12 to April 15. Directed by senior students, "Action" and "Fool for Love" will be staged.

March 2, 2018
In the early 90s, Carol Rosen interviewed Sam for her book, "Sam Shepard: A Poetic Rodeo", which became part of the Modern Dramatists Series. In this excerpt, Sam discusses directing:
When I started, with the first play I ever directed in London, I was terrified of the situation because I'd never done it before. So I immediately conferred with two people who I thought were the best directors in the world. One was Peter Brook and the other was Joe [Chaikin]. I sort of talked to them at length about the process and all that kind of stuff. When I went in, I found myself sort of trying to imitate certain things from their points of view, but discovered that it was futile, that you have to deal with the actors that you've got right in front of you and find out what the experience is like: directing. You can't use a formula to approach it, so I never developed a formula for it. I like actors who are incredibly courageous and enthusiastic. I think Malkovich is a good example: extremely intelligent, fearless, and enthusiastic. Just does not give a shit about how this fits into somebody else's idea of what it should be, just goes for ideas that are completely off the wall. They may be wrong but he'll go for them.
At the time of Sam's death, Malkovich described him as "very cool and authentic" with "great simplicity on screen."
* * * * *
Human Sacrifice Theatre of Melbourne, Australia, has announced an event called "I Lost Track of Time" - A celebration of the writings of Sam Shepard. There will be three performances between March 25 - 27. The extracts presented in this unique entertainment include his early Off-Off Broadway period when the plays were often performed against an aural background of hard rock music, the award winning main stage family dramas, personal observations and movie scripts. All accompanied by a live original music score which pulses with the rhythms of Sam Shepard's writing. A man who walked the line between movie star and rebel, a punk cowboy "who never ceased to grow, to explore, to confront, and to listen to new music."

February 25, 2018
A few excerpts from The Wrap, July 31, 2017:
"It's something of a show-business truism that writers sink into the background, shoveling the coal below deck while the glamorous actors and charismatic directors do their work in a more public setting. Part of what makes Sam Shepard's career so fascinating was his apparent ease on both sides of the camera... but Shepard wasn't merely a strong character actor; he was sexy and charismatic in a way that made him a pin-up for people who read the New York Review of Books... Playwrights don't generally become household names outside of Broadway circles, but Shepard was becoming well known to moviegoers with striking acting turns in films."
"Naturally, the ever-snotty Spy magazine couldn't resist taking a dig at Shepard's two branches of fame; a writer there once sniffed that Shepard thought he was Gary Cooper crossed with Eugene O'Neill when he was really a mix of Randolph Scott and Zane Grey."

"The writing slowed down in the last several decades of his life, but the acting roles continued, with Shepard excelling both in leads and supporting performances. Spy's opinion notwithstanding, there was something very Gary Cooper-ish about Shepard's handsome, rugged features and his ability to convey a great deal of emotion with a minimum of dialogue."
"He leaves behind a rich legacy of acting work. If you're in the mood for some deeper cuts, check out Volker Schlöndorff's 1991 'Voyager' or the Kathy Bates-directed 'Dash and Lilly'".

"Whether crafting his own words or performing those written by others, he was an extraordinary American artist."
* * * * *
Most fans recognize Sam as a movie star, some as a playwright, but fans of underground music know him as the drummer for seminal New York avant-garde folk band the Holy Modal Rounders. The band is best known for its song, "If You Want to be a Bird", which plays during the classic scene in "Easy Rider" in which Dennis Hopper, Peter Fonda and Jack Nicholson roar down the highway on their motorcycles. That's Sam playing drums as Rounders founders Peter Stampfel and Steve Weber whoop and yowl. You can view that scene at this youtube link.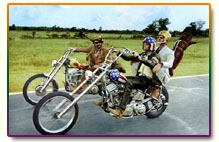 One of my favorite moments in the film is when Nicholson takes a swig of Jim Beam and then flaps one arm like a chicken and exclaims in his traditional drunken chant "Neh! Neh! Neh!" During his long career, he made famous a few other lines as well - "Heeeere's Johnny!", "You can't handle the truth!", and "Ever dance with the devil in the pale moonlight?" What a career!
* * * * *
An unusual photograph showing Sam in his younger days:

February 23, 2018
Men's Journal, August 2017:

"It only takes a glance to see that Shepard packed several lifetimes into one, all of them cloaked in the mystery that comes with tight-lippedness and a penchant in his stories for mixing fiction with autobiographical detail (or the other way around). He liked the road. He knew the highways of the West as well as a long-haul trucker, and his stop-off points were no less obscure. If he wanted an experience, it appears he went and got it. The weird America was in his blood."

* * * * *

Hub Theatre Company of Boston will kick off its highly anticipated sixth season with "True West", directed by Daniel Bourque. The show runs Friday, April 13 through Saturday, April 28, 2018 at First Church Boston, 66 Marlborough Street in Boston's Back Bay. Performances are Thursdays at 7:30 pm, Fridays and Saturdays at 8 pm, and Sundays at 5 pm. All performances are "Pay-What-You-Can." Donations of non-perishable food items will be collected at each performance for local charities.

February 20, 2018

Released by Audible.com, the new edition of Tom Wolfe's "The Right Stuff" is narrated by Dennis Quaid, who played astronaut Gordon Cooper in the 1983 film adaptation, directed by Philip Kaufman. The unabridged audiobook was released on February 6th and is 15 hours and 46 minutes. Quaid said he loved the spark of Wolfe's prose style, the chance to relive the making of the film and the chance to play, at least in one medium, all of the characters. He admitted it was his favorite film in his career. [What's your favorite Quaid film? For me, it's a toss-up between "Great Balls of Fire" and "The Big Easy".]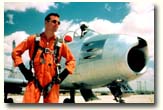 In his Oscar-nominated role as Chuck Yeager, Sam said, "I'm not a Method actor. I just go for it. I could have cared less about the sound barrier. I was trying to capture something about the man. Something about his independence, something about his arrogance, something about his humility and his courage... I asked Chuck what it was like to be an ace pilot, and he said, 'Well, by the time I was 12 years old, I'd already killed 26 black bears.' He had no fear."
Have you ever wondered why Sam didn't do the narration in the film? According to the director, Levon Helm had that voice that Tom Wolfe ascribed to Chuck Yeager, that sort of West Virginia drawl that Sam didn't have and that's why Levon took on the narration. The Levon Helm Memorial Boulevard is just a mile from my home so I see his name often.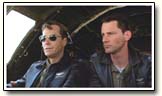 I love watching the camaraderie between the two of them with Sam's line - "Hey Ridley, got any Beeman's?"
February 18, 2018
Here's a book review from playwright/journalist Jonathan Leaf: "Advertised as a novel, 'Spy of the First Person' has received praise in publications whose critics should know better. In fact, one might well place 'novel' in quotation marks. Fewer than 20,000 words in length, it's far too disjointed to fit the common meaning of the word."
[I believe that novella would have been a more apt description]
"It reads more like a rambling exercise in prose-poetry composed by a 14-year-old who just discovered the beatniks. Permit me to quote a typical passage:
I remember sometimes you would start whole stories. Sometimes paragraphs. Sometimes sentences with the word 'sometimes.' Do you remember how you did that? I thought it was a good way to start. 'Sometimes.' In other words not always but sometimes. In other words sometimes not always. Sometimes this or that. Sometimes birds. Why birds, you would say. Why birds? Sometimes. Why color? Sometimes. Why . . . wind? Dogs. Sometimes it made complete sense to me. It made complete sense."
"The novel's story, such as it can be made out, concerns a crippled and dying old man. This is plainly based on Shepard himself, a victim of Lou Gehrig's disease who was relegated to a wheelchair in his last days. Shepard has even given this character children with the same names as those of his own. A second figure is an observer tailing the old man. It is not clear why this stalker is engaged in this task or why it is of any significance, but interlarded with it are references to Pancho Villa and a number of garages and single-family homes in California and New Mexico. Much of it reads like 'automatic writing': words randomly assembled. This inability to construct a logical tale has been a Shepard characteristic."
* * * * *
Ironweed Productions of Santa Fe has announced an evening of Shepard readings on Sunday, July 29th, marking the anniversary of his death. This will be a free event from 7 to 10 pm at El Museo Cultural where "True West" was staged in 2006. The evening will include readings from "Fool for Love", "True West" and "Buried Child", as well as selected pieces from "Motel Chronicles", "Cruising Paradise", "Great Dream of Heaven", "Day Out of Days" and his final book "Spy of the First Person". Following the readings there will be a reception in the gallery space.
February 13, 2018
In 1962, a teenaged Mt. San Antonio College student named Steve Rogers wrote a 15-minute play entitled THE MILDEW. That play was published in the campus literary magazine MoSAiC. The author of the play left the school at the end of that year and changed his name to Sam Shepard. Now, 56 years later, that play will have its first production. It was be staged with two other plays at Mt. SAC at 8 p.m. for three nights - February 13-15.

It's a short script described as a stark, morbid comedy that explores many of the same themes Sam would become famous for. A proper young man tries to introduce the audience to his ideal life and neighborhood, only to have his vision of his life destroyed by strangers who pass by.
According to Sam's biographer John J. Winters, the play shows "a remarkable eagerness to experiment and a transgressive sense of humor." However, he continues, "The Mildew ultimately lacks the things that set Shepard's later work apart. While it's strange and at times humorous, it lacks the sustained tension and the knowing irony of his produced work, as well as the dark humor and linguistic flights."
February 11, 2018

Magic Theatre of San Francisco has announced that the theatre's 2018 gala fundraiser, Magic Masquerade, will be held at the Julia Morgan Ballroom on Friday, March 9, 2018 at 6:00 p.m. The gala will honor Sam by bestowing the inaugural Sam Shepard Legacy Award to longtime Magic supporters John Marx and Toni Rembe Rock. The evening will also include a Sam Shepard Tribute Performance. The theatre statement reads, "Almost 50 years ago Sam Shepard embarked on a journey with Magic Theatre - a journey that would include the creation and premiere of 7 of his most enduring works. Magic Theatre provided him with an artistic home to explore, create and thrive during these formative years. The art he created allowed audiences to viscerally explore the essential elements of humanity and dared audiences to feel beyond themselves. Sam challenged the status quo and forged the way for countless other playwrights to dream and discover their own voices. Magic Theatre has continued to be the artistic safe-haven for the writer's vision to flourish. This accomplishment has only been made possible by visionary cultural stakeholders, like John Marx and Tony Rembe Rock, who were galvanized by Sam's unprecedented impact on the American theatre."
February 5, 2018
In the winter of 2011, production began on the film SAVANNAH, in which Sam played actress Jaimie Alexander's father. When he died last summer, Jaimie wrote this kind tribute and posted it online along with some photos.
Dear Sam, you were the best movie Dad a girl could ask for. A good friend and an incredible teacher. I'll never forget our long conversations over multiple glasses of wine while filming in Savannah, your incredible kindness, all the books you gave to me, that yellow pocket knife you carried and then gave to me (I carry it still today), that crazy good food we ate at The Shed in Santa Fe, but most of all…your goofy sense of humor. You were such a smart ass! I feel incredible sadness today…but also joy at the thought of you. I'm so grateful our paths crossed. I'll carry love and admiration for you always. Rest In Peace.
* * * * *
Here are more Shepard drawings. Love the middle one!
Previous News:
January 2018
December 2017
November 2017
October 2017
September 2017
July-August 31, 2017
January-June 2017
July-December 2016
January-June 2016
July-December 2015
January-June 2015
July-December 2014
January - June 2014
July-December 2013
January-June 2013
July-December 2012
January-June 2012
July-December 2011
January - June 2011
July - December 2010
January - June 2010
July - December 2009
January - June 2009
July - December 2008
January - June 2008
July-December 2007
January-June 2007
November 2005 - December 2006