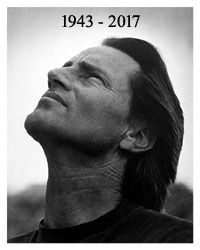 February 13, 2018
In 1962, a teenaged Mt. San Antonio College student named Steve Rogers wrote a 15-minute play entitled THE MILDEW. That play was published in the campus literary magazine MoSAiC. The author of the play left the school at the end of that year and changed his name to Sam Shepard. Now, 56 years later, that play will have its first production. It was be staged with two other plays at Mt. SAC at 8 p.m. for three nights - February 13-15.

It's a short script described as a stark, morbid comedy that explores many of the same themes Sam would become famous for. A proper young man tries to introduce the audience to his ideal life and neighborhood, only to have his vision of his life destroyed by strangers who pass by.
According to Sam's biographer John J. Winters, the play shows "a remarkable eagerness to experiment and a transgressive sense of humor." However, he continues, "The Mildew ultimately lacks the things that set Shepard's later work apart. While it's strange and at times humorous, it lacks the sustained tension and the knowing irony of his produced work, as well as the dark humor and linguistic flights."
February 11, 2018

Magic Theatre of San Francisco has announced that the theatre's 2018 gala fundraiser, Magic Masquerade, will be held at the Julia Morgan Ballroom on Friday, March 9, 2018 at 6:00 p.m. The gala will honor Sam by bestowing the inaugural Sam Shepard Legacy Award to longtime Magic supporters John Marx and Toni Rembe Rock. The evening will also include a Sam Shepard Tribute Performance. The theatre statement reads, "Almost 50 years ago Sam Shepard embarked on a journey with Magic Theatre - a journey that would include the creation and premiere of 7 of his most enduring works. Magic Theatre provided him with an artistic home to explore, create and thrive during these formative years. The art he created allowed audiences to viscerally explore the essential elements of humanity and dared audiences to feel beyond themselves. Sam challenged the status quo and forged the way for countless other playwrights to dream and discover their own voices. Magic Theatre has continued to be the artistic safe-haven for the writer's vision to flourish. This accomplishment has only been made possible by visionary cultural stakeholders, like John Marx and Tony Rembe Rock, who were galvanized by Sam's unprecedented impact on the American theatre."
February 5, 2018
In the winter of 2011, production began on the film SAVANNAH, in which Sam played actress Jaimie Alexander's father. When he died last summer, Jaimie wrote this kind tribute and posted it online along with some photos.
Dear Sam, you were the best movie Dad a girl could ask for. A good friend and an incredible teacher. I'll never forget our long conversations over multiple glasses of wine while filming in Savannah, your incredible kindness, all the books you gave to me, that yellow pocket knife you carried and then gave to me (I carry it still today), that crazy good food we ate at The Shed in Santa Fe, but most of all…your goofy sense of humor. You were such a smart ass! I feel incredible sadness today…but also joy at the thought of you. I'm so grateful our paths crossed. I'll carry love and admiration for you always. Rest In Peace.
* * * * *
Here are more Shepard drawings. Love the middle one!
January 31, 2018
In the March 2018 issue of Sight & Sound magazine, there's a piece on Sam called "Cinema's Existential Cowboy". Here are some excerpts:
If Sam Shepard Rogers ('Steve' to his folks) wasn't strictly a cowboy, he could at least shear a sheep and clean out a stable. He grew up in Duarte, 20 miles east of Hollywood, and enrolled in college to study agriculture, but before he was 20 he had hightailed it to his second home, Off-Off Broadway. Sam Rogers, his father, was a bomber pilot, a teacher, a drummer, a farmer, a lost soul, an abusive drunk and the ghost who haunts so much of his son's best writing.

It was 1962 and Shepard plunged into the experimental theatre scene, carving out a new name for himself as a bold and brilliant young playwright. He wrote quickly, freely, channeling voices like music: identity is fluid, character fractured and fragmented. Shepard would call these early works 'incantations'. Written between 1976 and 1984, his mature and most acclaimed plays, Buried Child, True West and A Lie of the Mind, are honky-tonk exorcisms of errant fathers, broken families, wounded, wounding men...

"A man playing cowboys" was how Patti Smith described Shepard as early as 1971. The image fit like a Stetson: lean, tall and handsome with piercing blue eyes, he spoke low and slow without giving much away, just a certain dry detachment...

...And he didn't pursue stardom, keeping all that at arm's length. Hollywood pegged him as a character actor in westerns and neo-western crime dramas, and that was just fine – but deeply ironic that he was typed as the embodiment of everything he struggled with in his writing, that legacy of machismo the movies laid down for American males.
January 27, 2018
Know Theatre of Binghamgton, NY will be presenting TRUE WEST at the Binghamton City Stage from February 8-25. For more information, call 607-724-4341.

"It's clear, funny, naturalistic. It's also opaque, terrifying, surrealistic. If that sounds contradictory, you're onto one aspect of Shepard's winning genius; the ability to make you think you're watching one thing while at the same time you're presented another." – San Francisco Chronicle
* * * * *
BURIED CHILD will come to Sebastopol, California next month. The Pulitzer Prize-winning drama will be staged at Main Stage West from February 2-25. The production info reads - "Humor and pathos abound in this masterwork of modern drama, a tribute to the late Sam Shepard."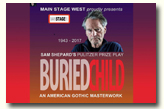 January 22, 2018
Last night's SAG Awards paid tribute to Sam in their Memoriam segment. You can view it at this youtube link. The clip is from Black Hawk Down.
* * * * *
Shepard Drawings
* * * * *
Flashback to June 2011:

You don't readily think of Sam when it comes to fashion, but here's a photo of our playwright with stylist extraordinaire Aleksandra Woroniecka. The celebration they were attending was the launch of Swedish designer Johan Lindeberg's latest foray into the fashion world; a new pop-up shop for his BLK DNM label as well as the inaugural issue of his new poster-sized magazine, Gazette. An intimate dinner was held at the ultra-stylish restaurant, Indochine, a favorite among New Yorkers with its exotic French-Vietnamese cuisine.
January 20, 2018

BURIED CHILD, the legendary play that earned Sam the Pulitzer Prize for Drama in 1979, is being staged at the Riverwalk Theatre (Lansing, Michigan) this weekend. Performances will be held January 18-21 and January 25-28. Director Janet Colson said she was enthralled to take the reins of an original Shepard production. "His persona's so interesting. As an actor and an artist, he's this very sexy, interesting, dynamic, and outrageously creative person." Colson said.
* * * * *
Journalist T.M. Collins of the Albuquerque Journal mentioned Sam in his review of the Geronimo Restaurant in Santa Fe. It looks like a beautiful place.
"There's the fond, not-too-distant memory of Sam Shepard, alone at the bar doodling in a notebook, our brief discussions about bourbons - he was 'prejudiced', he said, and it was Kentucky only for him - and buying him a drink, anonymously, afterward. Here's to you, Sam."

January 17, 2018
La MaMa continues its season-long celebration of the life and work of Sam Shepard with WEEKEND WITH SAM, two days of readings and excerpts from Sam Shepard's plays, prose and poetry, directed by Neil La Bute, Lois Weaver, Scott Wittman and Joel Zwick. It will be held in The Ellen Stewart Theatre (66 E. 4 St.) February 3 – 4, 2018. All readings are free and open to the public, but not open for review by critics.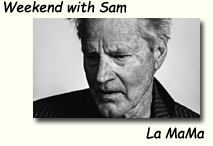 Sam did much of his early work at La MaMa and was one of the playwrights championed by La MaMa founder, the late Ellen Stewart. His original scripts, playbills, production photos and posters are part of the La MaMa Archives.

The weekend kicks off on Saturday, February 3 at 7:30 pm, with Scott Wittman directing Hawk Moon featuring excerpts and monologues from Hawk Moon, Motel Chronicles, Tongues, Cowboy Mouth and other works read by Matthew Broderick, John Slattery, J. Smith-Cameron, Phil Burke, Erin Markey, Monk Hopper and Larry Saltzman (on guitar).

Weekend with Sam will continue on Sunday, February 4 at 4 pm with a triple bill of works by the playwright. The program begins with Killer's Head, directed by Lois Weaver and featuring Peggy Shaw reading the role originated by Richard Gere, followed by two unpublished, early plays originally produced at La MaMa: Dog, directed by Joel Zwick, featuring Harry Mann and Zack Segel and Rocking Chair directed by Neil LaBute, featuring Fred Weller and Gia Crovatin.

Free reservations are now open to La MaMa Members and will be open to the public online at www.lamama.org beginning Monday, January 22, 2018.
January 12, 2018
The Susquehanna Stage Company of Marietta, PA will be presenting TRUE WEST, running from January 12-14 and 18-21. Actor Tom Riggs talks about the play - "Shepard has a good ear for American language. I think of cowboy poetry. There's grit in it. Shepard is working with ideas about creativity and the battle between hard work and inspiration, about fear and courage."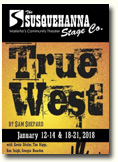 * * * * *
Unit 102 Actors Company of Toronto, Canada is presently staging THE LATE HENRY MOSS. The play runs until January 20 at The Assembly Theatre from Tuesday to Saturday at 8:00 pm with added Sunday matinees at 6:00 pm. Critic Jordan Bimm writes, "A fitting elegy for Shepard, the show has present-day currency as a cautionary tale about American exceptionalism, antagonism and white-hot rage. Clocking in at almost two-and-a-half hours, the strong cast, volatile action and impressively realistic and detailed pueblo-styled set (right down to desert plants seen through the back door) keeps you on the edge of your seat the whole time."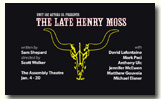 * * * * *
The Aeneid Theatre Company at the University of Southern California will present TONGUES and SAVAGE/LOVE from February 1-4 at the Massman Theatre. The performance consists of strange, arresting stream of consciousness "concertos" written by Sam and Joseph Chaikin that explore the foundations of human lineage, story-telling, and romance.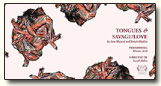 * * * * *
Modesto's Center Stage Conservatory is presently staging A LIE OF THE MIND through January 21. Hailed as the playwright's richest and most penetrating play, the dark comedy explores family dysfunction and the nature of love set against the backdrop of the gritty American West. Told in three acts, the story alternates between two families in the wake of a severe and life-altering incident of domestic abuse. The two stories collide in an isolated cabin in rural Montana, where the tensions that separate the families grow increasingly disturbing and dangerous.

* * * * *
In St. Augustine, Florida, FOOL FOR LOVE will be staged by the Limelight Theatre with African-Americans in the three main roles. It will run from January 18 through February 11.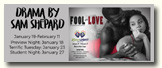 It's not the first time the play has been done with a black cast. Back in 1985 Sam agreed to a black cast at the Los Angeles Theatre Center. According to producer Diane White, "The idea had never occurred to him. He was neither wild about it nor against it. He thought it was OK to do as long as we got a great cast". The play was still set on the edge of the Mojave Desert, but the mood was less poor white trash and more street-wise black. Personally, the play wouldn't work for me.

January 8, 2018
The Golden Globe Awards were held last night. Here is a list of some of the folks who attended - Meryl Streep, Frances McDormand, James Franco, Sam Rockwell, Willem Dafoe, Richard Jenkins, Diane Kruger, Denzel Washington, Elizabeth Moss, Natalie Portman, Jessica Biel, Ewan McGregor, Sarah Paulson, Susan Sarandon, Hugh Jackman, Halle Berry, Liev Schreiber, Penelope Cruz, Shirley MacLaine, Salma Hayek and Reese Witherspoon. Big names and what do they have in common? They have all co-starred with Sam Shepard. See if you movie fans can name all those films.
January 5, 2018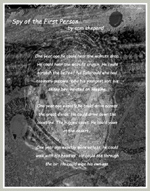 January 1, 2018
Lily Janiask, SF Chronicle: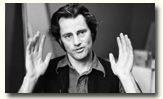 The greatest plays of Sam Shepard seem to encompass both any descriptor you might apply to them as well as its opposite. "Buried Child," "Fool for Love," "True West," "Curse of the Starving Class" and "A Lie of the Mind" are earthy yet surreal, starkly funny yet grotesque, savage yet full of heart. It's hard to imagine any contemporary artist taking up the reins of Shepard's macho, cowboy aesthetic, or being able to tear an American family apart in a way that seemingly reverberates across the Western horizon, the way Shepard did. That's as it should be — we need plays and aesthetics for our own time — but that doesn''t mean we can't feel deeply the loss of a mighty conjurer of both the distance and the primal connection between loved ones, a poet of dusty landscapes, a chronicler of men who are unknown even, or especially, to themselves.
* * * * *
Klik Magazine:
Patti Smith & Sam Shepard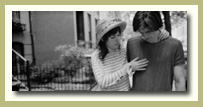 A love of short duration and a love of eternity ... A relationship lasting half a century.

That great actor, theatrical writer, screenwriter, awarded in 1979 with a Pulitzer for Buried Child. A subversive drummer, cowboy but also romantic, a "hero" of the New York underground scene of the 1970s.

"When you hit a wall of your own imagined limitations, just kick it in." he once said on the occasion of the creative process. A man who managed to kick in many walls during his career.

She ... A poet, a musician, a singer, a photographer and a writer ... Notorious but also dreamer ... The "goddess of punk" as they called her. A fine woman with wild beauty and intense personality who grew up reading poems of her beloved Arthur Rimbaud ...
The two of them first lived a short, illegal erotic story, but it turned into a strong friendship. So strong that it kept them connected for many, many years ...

They were aware of the difficult times of getting started in New York. Then they drew dreams for the future without the stress of success and celebrity. Patti refers to the little scars that have been left forever on their bodies. Sam had a half-moon between his thumb and index and she had a lightning bolt on her left knee.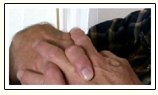 A few months ago, Sam Shepard is leaving life and Patti Smith writes a very tender and moving letter to New Yorker. She writes,

"I knew that I would see Sam again somewhere in the landscape of dream, but at that moment I imagined I was back in Kentucky, with the rolling fields and the creek that widens into a small river. I pictured Sam's books lining the shelves, his boots lined against the wall, beneath the window where he would watch the horses grazing by the wooden fence. I pictured myself sitting at the kitchen table, reaching for that tattooed hand."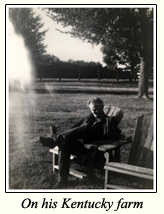 December 30, 2017
Oklahoma's Carpenter Square Theatre opens the New Year with "Ages of the Moon", one of Sam's last plays. The comedy-drama about two old friends plays January 12-27, 2018. All performances are at the theater, located at 800 W. Main in downtown Oklahoma City. "Ages" continues some of the themes that have been ever present in Sam's work, such as the troubled and comical sides of family life, friendships, and experiences of love. Byron and Ames are old friends reunited by mutual desperation. Ames has retreated to an old shack to lick his wounds after his wife kicked him out of their house for some adulterous indiscretion he can't even recall. Over bourbon on ice, they reflect and bicker until fifty years of love, friendship, and rivalry are put to the test at the barrel of a gun.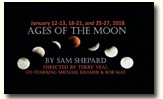 Terry Veal directs with assistance from Michael Greene as stage manager. Rob May and Michael Kramer co-star as Ames and Byron. Reservations are highly recommended for the intimate 90-seat theater. Visit www.carpentersquare.com for more information.
* * * * *
Counterpoint Press has announced that "Sam Shepard: A Life" by John J. Winters will be published in paperback in March. It will include an epilogue recounting Shepard's last days, the many tributes that poured in, and more. Upon Sam's death last summer, John issued the following statement:
I was in Chicago when word reached me that Sam had passed. Though I'd heard that his health had been failing for some time, the news somehow surprised me. I never doubted that when it happened it would bring me great sadness, which it did.

Sam will be remembered as an American original. He was an important American writer, one of the greatest American playwrights of the past half century, and as an actor he graced the screen with an authenticity that was always coupled with a surprising vulnerability. To encounter his work in any medium meant never forgetting it.

I hope my book will remind people why he mattered, and with any luck, will be around to tell future generations about this talented and versatile artist. I believe he will be well remembered for many generations, if not longer. As one of the many saddened commentators following Sam's obituary in the Times put it: "Punch a whole in the sky, Sam." I'll add only, God speed, and thank you for the words and images.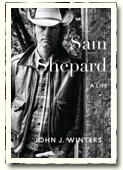 * * * * *
Dustin Illingworth, LA Times, book review:
"Spy of the First Person" is an eloquent, if necessarily brief, valediction. At just 96 pages, its effect is one of atmosphere rather than narrative, an aching requiem sung in the shadow of extinction. It is also partly autobiographical. Like Shepard, the narrator is an old man dying of a debilitating illness. His flickering consciousness ranges over great temporal distance, blending present-day observations with fragments from a disintegrating past.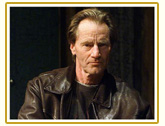 From the NY Times, 12/29/17 - Deaths in 2017:
Pillars of the theater fell: the directors Peter Hall, who towered on both sides of the Atlantic, and Max Ferra, who championed the work of Latinos; the British actors John Hurt, Roy Dotrice and Alec McCowen; and the playwrights A. R. Gurney and Sam Shepard, though "playwright" alone does little justice to the uncontainable Mr. Shepard's manifold artistry, which branched as well into movies, television, music and fiction.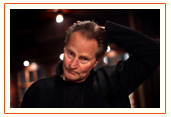 * * * * *
Mick LaSalle, SF Chronicle, 12/29/17 - 2017 in Review:
Sam Shepard: We had other notable movie deaths — Jerry Lewis, in particular — but before Shepard became ill, he was at the top of his game. Thus, at 73, he was a real loss to the art. He thought of himself mainly as a playwright, but his acting was hardly a sideline. He had a philosophical quality in his very being, a kind of courageous acceptance of the truth, and an honesty that called forth honesty in others. He was a convincing hero, and as a villain he was terrifying, because he still maintained his familiar aura of moral certitude. Nothing could dissuade him. Sam Shepard was a great actor.
When Sam died in July, LaSalle wrote the following: "'I didn't go out of my way to get into the movie stuff,' Sam Shepard once said. 'I think of myself as a writer.' And in the end, it's as a playwright that Shepard will probably be most remembered. But then again, maybe not. Plays have to be produced and rehearsed and presented to the public. But movies are everywhere, and Shepard not only made a lot of them, but lots of very good ones spread out over three decades. He distinguished himself in these films as a strong and distinct screen presence."
* * * * *
Michael Cavna of The Washington Post wrote, "From music to movies, we mourn pioneers and performance icons in 2017." As a memoriam for a way to say "thanks", he posted this work from the Comic Riffs sketchbook.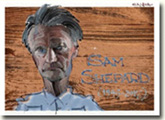 * * * * *
My Sam Books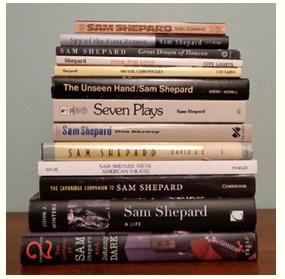 Previous News:
December 2017
November 2017
October 2017
September 2017
July-August 31, 2017
January-June 2017
July-December 2016
January-June 2016
July-December 2015
January-June 2015
July-December 2014
January - June 2014
July-December 2013
January-June 2013
July-December 2012
January-June 2012
July-December 2011
January - June 2011
July - December 2010
January - June 2010
July - December 2009
January - June 2009
July - December 2008
January - June 2008
July-December 2007
January-June 2007
November 2005 - December 2006