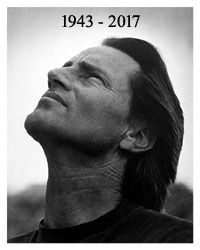 January 12, 2019
Netflix documentary IT TAKES A LUNATIC profiles Wynn Handman, who's hailed as "the keystone of American theatre." He founded the highly influential American Place Theatre in New York City, directing a number of plays and he taught acting classes for more than 50 years. His former students such as Richard Gere, James Caan, Michael Douglas, and Frank Langella reflect on his influence on their careers as well as the theater community through his desire to give opportunities to upcoming talent. You'll also spot Sam Shepard in this film, which is currently available thru Netflix. Shepard productions in the American Place's early years included 1967's "La Turista," and "Killer's Head".
* * * * *
And speaking of "Killer's Head", the play has been announced in an upcoming double bill by Odyssey Theatre Ensemble in Los Angeles. The second half is his 1969 one-act "The Unseen Hand" - that is part of the Odyssey's 50th Anniversary "Circa '69" Season of significant and adventurous plays that premiered around the time of the company's inception. Check for dates running from January 25 thru March 8 at the theatre web site.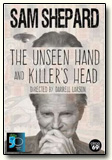 October 6, 2019
My apologies are in order for this web site being offline for the past week or so. My tech support informs me they were having server issues but all is well now. My frustration levels were at an all-time high in the amount of time it took to resolve these problems. Grrr....

On September 24, Patti Smith's latest memoir "Year of the Monkey" was released by Knopf publishers. It's a short book at 171 pages. Amy Skorheim of Digg writes, "Like everything Smith does, the book is suffused with honesty and poetry. If you read it and aren't sure where reality ends and imagination begins, you're probably reading it correctly. Each chapter is headed by one of Smith's photographs taken over the course of a year in which Smith experiences loss, wanders, travels, witnesses a polarizing election and drinks a lot of coffee. Travel through that year with her and get an artist's take on death, aging, politics and dreams, shot through with insight and optimism in the darkness."
Here are some comments reviewers have made regarding Sam:
Adrienne Gaffney, SF Chronicle:
"In May, she's in Midway, Kentucky with Sam Shepard, who is being overtaken by ALS. The pair spend hours editing one of his final books 'The One Inside' and endlessly discussing literature, Smith spending her nights asleep on his sofa. What has been lost is apparent to both. 'From the window, we could see his horses coming up by the fence. Horses that he could no longer ride. He never said a word about it.' Smith doesn't turn away, and they find delight wherever they can, delightedly making bets on the Derby."
David L. Ulin, LA Times:
"The real reckoning 'Year of the Monkey' makes, however, is with mortality — This means 'Sandy' Pearlman, fading in Marin County, and most essentially, Shepard, cared for by his sister in Kentucky, surrounded by the horses he can no longer ride. 'We've become a Beckett play,' Shepard jokingly tells Smith, leading her to imagine them 'rooted in our place at the kitchen table, each of us dwelling in a barrel with a tin lid, we wake up and poke out our heads and sit before our coffee and peanut-butter toast waiting until the sun rises, plotting as if we are alone, not alone together but each alone, not disturbing the aura of the other's aloneness.'"
Airmail.com:
"One friend Patti speaks of often is Sam Shepard. She writes beautifully and tenderly about sleeping on the couch at his place in Kentucky, listening to the sounds of him breathing and the night outside. Patti helped Sam write his final book, 'Spy of the First Person'. She recounts how, when he can no longer write, she does it for him; she describes seeing his guitar in the corner on its stand—at the ready, but never to be played by him again. She is losing him little by little."

"Sam comes up again toward the end of the book. She reflects on their relationship and writes about the present and her fear of a future without him—things we don't think about before a certain age. She writes about Sam living with his sister in Northern California, and the way she describes his sister's devotion and love is simple and moving. You can feel his decline—the silence, the inevitable. Yet every day they work, because that's what he has always done and will do until the end. Which is coming fast. Patti keeps moving through it all, something she has always done."
Kaitlyn Tiffany, Vox:
"Smith's decades-long friendship with Shepard — along with their tumultuous love affair in the 1970s — is a part of her mythology, one of the many connections she's made by chance in some bar in Chelsea and that came to define the trajectory of her career. But it's not often that she's spoken of it in such personal and frank terms as she does in this book, setting down an image of one of the country's greatest playwrights while he struggles to use his hands. She makes no effort to play up or explain her devastation, which is obvious: 'He looked more like Samuel Beckett than ever, and I still harbored the hope that I would not be destined to grow old without him,' she confesses, before moving quickly forward."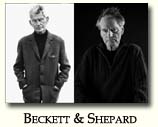 Deborah Dundas, Toronto Star:
"During this year she visits him often on his Kentucky ranch. It's difficult even to read about Shepard in a wheelchair — the celebrated playwright, always a handsome and vital man — is losing the use of his hands as the ALS he was diagnosed with in 2010 gets progressively worse; far more so to imagine what it's like for Smith. 'We had trips planned, and all kinds of things we were going to do in the future,' including to Ayers Rock in Australia, she says. 'I never saw that coming. He was always so healthy. I never anticipated that.'"
In a recent NY Times interview, Patti was asked why the two split after writing "Cowboy Mouth". She replied, "Well, he was married and he had a child and it was sad, but it was just the right thing to do." And was she surprised when Sam became a leading man in Hollywood? She responded, "No, because, first of all, he was a really great actor in plays and theater. He had a magnetism. He was one of the most handsomest guys you would ever see, more even in person than in film. But that isn't even what I liked about him, which was funny because it was so obvious that he was so handsome. People were just drawn to him. We'd walk down the street and women would come up, hit on him and they'd just say right in front of me, 'Get rid of the kid.'"
And in a book interview with Billboard, Patti shares, "With this book, my challenge to myself was try to keep it in time. Sometimes I did regress backwards to explain this and that. I was not anticipating that I was going to have to write about the death of one friend in time, and then the struggles of one of my closest people, Sam, also in time. It was different in that way. The dignities of these two men were very important to me, so I had to really think about how to express certain things. But also, you know, have a certain amount of discretion, and anticipate how each man - since I knew them both so well - would feel about what I wrote. I felt like both of them would appreciate what I wrote. I didn't feel like I wrote anything that they'd be unhappy about."
August 28, 2019
On August 12, 2019, Brian Tanguay of the Santa Barbara Independent wrote a review on Sam's final collection of writings - SPY OF THE FIRST PERSON. Tanguay writes, "As a writer and man, Shepard was ever seeking. 'What exactly is the experience of the present?' he wonders, and goes on to answer, 'The experience of the present is one of anonymity. Complete anonymity.' Perhaps that is what Shepard felt as the end drew near."
But how could the man feel ANONYMITY? We're talking facelessness, namelessness, nowheresville and obscurity. Now, if you think of the antonyms, there's where the truth lies - celebrity, fame, notoriety and renown. Like it or not, Sam, you were FAMOUS!
* * * * *
AGES OF THE MOON will receive its long-awaited UK premiere at the Vaults Theatre in London on October 17, 2019. The play will be directed by Alexander Lass and will star Christopher Fairbank and Joseph Marcell. Curtain time is 8 pm on Tues-Sat and 3 pm on Sat-Sun with the production running through November 24th. Description: On a hot summer's night, deep in the American wilderness, Byron and Ames are reunited by mutual desolation. By the fading light of an eclipsing moon, the pair reflect on love and life over a bottle of whiskey - and as old rivalries flare, their forty-year friendship is put to the test at the barrel of a gun.

July 31, 2019
Sam's daughter-in-law MAURA HARRINGTON passed away at age 53 on July 16, 2019. She is survived by her husband, Jesse Shepard, her parents, Tom and Dianne Harrington, her sister Bridget and her brother Michael. In lieu of gifts, donations are welcomed at defenders.org.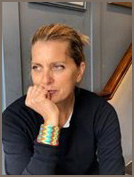 An unusual obituary follows. Perhaps it was written by Jesse -
She was a trailblazer of all things creative, artistic, political and gastronomic. She was a maverick.
She understood humans and little creatures and trees and Spirit.
She was kind, generous beyond belief.
She was sharp, quick and smart about it.
She was fluid, easy, and graceful in all her actions.
She was the face of Love.
She raised up the sight line for everyone.
And, not the least of it, she was fun - an adventurous traveler, always good for lively conversation, played great music you'd never heard before, threw together the most memorable dinner parties.
She was a prolific painter, furniture designer, graphic artist, photographer and collector- always applying her precise sensibility and innate aesthetic to everything in her life
Good design was everything to her and she didn't lack opinions about it.
She was a storyteller.
She spoke Norwegian, French and Spanish and could get by in Mandarin. If she didn't speak your language, she would be sure to connect with you through her eyes and a smile.
For so many, Maura was a north star and a compass.
She shall ever be so.
Maura was a pioneer in the Healdsburg community, co-founding the award-winning Flying Goat Coffee in 1994 with partner, Phil Anacker. She continually worked at the business to deliver the quality for which it is renowned while always advocating women's equality in coffee- from farmers in Africa and Latin America, to her staff in Sonoma County.
There's a new addition to The Sam Shepard Web Site. An excerpt from Jesse's 2003 collection of short stories called "Jubilee King" can be found on this page.
July 27, 2019
On July 27, 2017 Sam left us but his presence lives on in our memories and through his many works as an actor, director and writer. Graeme Wood has written an article for next month's issue of The Atlantic called "Sam Shepard Saw It All Coming: The family battles he described foreshadowed our current national crisis." You can read it at this link.
Wood writes, "He died two years ago, at the age of 73, and although the valedictions from the dramatic world were respectful, few suggested that his work was acutely relevant. Some hinted that he represented the classic Western, a genre whose exhaustion Shepard himself had lampooned. Obituaries noted the good looks (described as 'rugged,' although only his teeth were craggy) that helped make him a movie star, and his status as the 'paragon playwright of the American West' (Los Angeles Times). Shepard, one might be forgiven for thinking, chronicled a cowboy world that is no more, and that indeed ceased to live in the American collective imagination sometime between the last episode of 'Bonanza' and John Travolta's dismount from the mechanical bull in 'Urban Cowboy'. But Shepard plays are back in season, and they are neither antiquarian nor regional. They are modern—even visionary—and disturbingly universal."
Tobias Carroll of InsideHook agrees and writes, "Graeme Wood makes the case that Shepard's body of work has become even more relevant to modern American society in recent years. It's a thoughtful examination of how Shepard's preferred themes converge with the present state of American politics, and why his work resonates more deeply than ever. A number of Wood's conclusions are chilling, even as they also leave the reader clamoring for more revivals of Shepard's plays."
April 28, 2019
Netflix will be releasing the documentary "Rolling Thunder Revue: A Bob Dylan Story by Martin Scorsese" on June 12.
Netflix hasn't released many details about the content of the film, other than the previously issued logline, which says that the film "captures the troubled spirit of America in 1975 and the joyous music that Dylan performed during the fall of that year" and describes it as "part documentary, part concert film, part fever dream." The only cast list being released for now mentions Joan Baez, Allen Ginsberg and Sam Shepard, who wrote a book about the experience.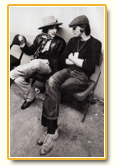 Concurrent with the streaming release, the film will have theatrical engagements in New York and Los Angeles. The night before the official release, Netflix will present one-time "road show" theatrical showings set for 20 cities - London, Paris, Washington, D.C., Nashville, Philadelphia, San Francisco, Boston, Austin, Dallas, Houston, Portland, Tulsa, Tempe, Chicago, Cleveland, Minneapolis, Bologna and Sydney — as well as in L.A. and New York, the two cities where the film will continue to play the following day and beyond.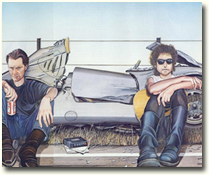 April 6, 2019
San Diego theatre group The Casual Company will present Sam's "Geography of a Horse Dreamer" as part of a month-long tribute called "Deep in Shepard Territory". The reason for doing this now is that it was in April 40 years ago that Sam won his Pulitzer Prize for "Buried Child." And the reason for picking "Horse Dreamer" for the full production was because it was a play that project director Joe Powers had done 27 years ago and he saw that it resonated in new ways now. Powers believes Sam had a gift for defining rural America.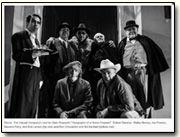 Powers explains, "It's the family's struggling to find their way through America and keep up with it, but at the same time not lose the essence that formed this country. There's an immense amount of old West imagery in the Sam Shepard stuff. There is a connection to the land, a disconnection with family, and then there's a feeling of trying to reconnect and mostly I think it was visceral. There's a reality to it that's also enhanced by fantasy and taking it to the next level. And 'Horse Dreamer' pits a lot of archetypal characters against each other. Things like old cowboys, old gangsters. It's very American, very rural, very human, I think more than anything, it's very human. There's an immense poetry to his work. When you get deep in Shepard territory, that's where the poetry is. You get these monologues that are these people expressing their angst or expressing their love or expressing whatever it is they're expressing. And then all of a sudden it's just flowing and it's very, very poetic. But it is also just people talking and I think that's probably what Shepard does really, really well."
Each evening after a performance, audience members will be asked to bring a one-to-three-minute piece from their favorite Shepard work and ask one of the actors to read it. In addition, there will be staged readings of "Buried Child" on April 16 and "Fool for Love" on April 22.
"Deep in Shepard Territory" hopes to remind audiences of what Sam's legacy is. Performances begin April 5 at Tenth Avenue Arts Center.
* * * * *
Also in California is the Preatorean LLC Productions' staging of "Simpatico", directed by Derek Long. First produced in New York 1994, the play is an American drama set in California and Kentucky. It is running through May 5 on Sundays at 8 pm at The Whitefire Theatre, 13500 Ventura Blvd, Sherman Oaks.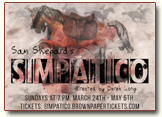 Gorgeous poster! As a equestrian and horse breeder himself, Sam had a strong connection to horses and they inevitably show up in his books, several of his films, as well as on stage. In 2008, he attended the World Science Festival in NYC where he related this humorous story called "You Can Lead a Horse to Water". Presented with an innovative storytelling organization, The Moth, scientists, writers and esteemed artists tell on-stage stories about their personal relationship with science. In keeping with Moth tradition, each story must be true, and told without notes in ten minutes. The story that Sam relates is about the time he brought his personal horse to the set of "The Right Stuff". You can watch his performance at this link.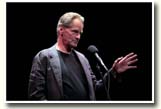 * * * * *
I recently came across these wonderful black & white photos from the 1997 film "The Only Thrill".
Sam's role as Reece McHenry is one of my favorites and he nails it with the help of Diane Keaton. Kevin Thomas of the L.A. Times expresses my sentiments exactly - "The Only Thrill proves to be a poignant, contemplative drama about lost chances with luminous portrayals by a perfectly matched Diane Keaton and Sam Shepard, who were first teamed in 1987's Baby Boom... The chiseled, laconic Shepard is the actor of choice if you want reticence in spades, but he goes beyond that to show us a man shriveling up before our eyes, seeming to grow literally smaller... Frankly, it's hard to imagine the film working without Shepard, who can suggest so much that's knotted up behind a stoic facade. The Only Thrill offers him one of his most substantial screen roles, right up there with Volker Schlondorff's neglected 1991 Voyager."
Here's an additional treat - a montage of several scenes created by an anonymous blogger.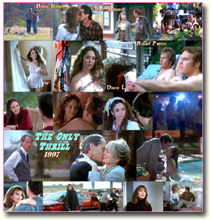 April 2, 2019
Casting is complete for the upcoming off-Broadway revival of the drama "Curse of the Starving Class". Tony nominee Terry Kinney will direct the production, which will begin previews on April 23 and open on May 13 at the Pershing Square Signature Center. Tickets are now on sale. Last produced by Signature more than 20 years ago, the play follows the Tate family, who are living a stagnant, unhappy existence in rural California and are desperate for a change. The production is scheduled to play a limited run through May 26.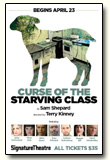 March 10, 2019
Before Sam died in 2017, he asked Ethan Hawke to star in the Broadway revival of "True West", stressing that he wanted the revival to be truer to the idea that the brothers are not interchangeable, as other productions have cast them as. According to Vulture, one of Hawke's preshow rituals includes a tribute to the playwright. Sam's first book was titled "Hawk Moon" and Hawke has a fake-ink crescent applied before every performance. "I think in his early 20s, he had a little hawk moon tattooed on his hand, a little green sliver of a moon. The first sliver of moon in November is sometimes called the hawk moon. I've always been fascinated by it because he writes about that moon which usually happens on his birthday, which is November 5. Mine is November 6," Hawke says. "There's something about this play that feels directly distilled from his heart, his brain, and so I wear that tattoo for the run in a kind of homage to the playwright."

Attending the opening night after party on January 24th were Sam's children Hannah and Walker. The second photo shows the pair photograhed with the play's director and cast, including Ethan Hawke and Paul Dano.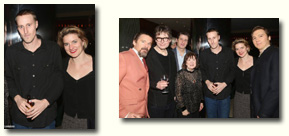 Besides the Broadway revival, "True West" was also staged at London's Vaudeville Theatre from December 4 through February 23. The production, which marks the first U.K. production of a Shepard play since his death, stars "Game of Thrones" star Kit Harington and "Hangmen" alum Johnny Flynn. Here's a photo of Sam's daughter Hannah with Harington and Flynn at the after party at the Foundation Bar on December 4th.

January 25, 2019

Last night Ethan Hawke and Paul Dano bowed as brother versus brother in the Broadway revival of TRUE WEST at Roundabout Theatre Company. Hawke first saw the play when he was about 14 years old and confessed, "It made me want to be an actor, or be involved in whatever they were doing. So to get the chance to do it now is very meaningful to me." Though Hawke has worked on numerous Shepard plays, he reveres True West. He praises the man with "He is one of the great American poets we've ever had. He had the swagger of a real cowboy and he had the brains to back it up." Alexis Soloski of The Guardian agrees, "Shepard is the great poet of wounded masculinity, of men who would be cowboys if the world would only offer them territories, frontiers, wildernesses. Instead they ride in circles, tearing up their own internal turf."
Hawke relates his initial thoughts on the play - "Before Sam died, I had wanted to direct it with women to expose how the female psychology is just as vulnerable to this war. I started working on it with Marin Ireland and Martha Plimpton, and it was amazing! I wish we could do that production, but Sam didn't want to. Sam's cut from another cloth. He's from a different tree in the forest—an older part of the forest! He was utterly baffled by the suggestion!"

A finalist for the Pulitzer Prize in 1983, True West is arguably Sam Shepard's funniest play. Directed by James Macdonald, this revival stars Ethan Hawke as Lee and Paul Dano as Austin. I am a great admirer of Ethan Hawke's work but I have to admit the sight of Dano annoys the hell outta me. Truly. Though Hawke is receiving rave reviews, many theater critics are not enthralled with Dano's performance.
Robert Hofler of The Wrap writes, "Hawke nails Lee... He is giving the performance of his stage career... Dano has mastered a low-key, naturalistic style of speaking, but Austin is anything but understated in the second act when he challenges his brother for supremacy in their mother's house, as well as the world beyond. Dano doesn't make a convincing drunk, which is a real problem for a role that requires his character to be totally smashed for most of the second act. But more serious is his inability to match Hawke's energy, presence and intensity. Instead of confronting Lee, Dano's Austin literally flounces.
* * * * *
French photographer Brigitte Lacombe included a portrait of Sam among her selected 40 images in her October 2018 exhibit in Bucharest by The Romanian National Theatre Festival. There's a reflection in the second photo showing a visitor taking the photo. I've never seen this portrait obviously taken after he became ill.
Previous News:
July-December 2018
May/June 2018
April 2018
March 2018
February 2018
January 2018
December 2017
November 2017
October 2017
September 2017
July-August 31, 2017
January-June 2017
July-December 2016
January-June 2016
July-December 2015
January-June 2015
July-December 2014
January - June 2014
July-December 2013
January-June 2013
July-December 2012
January-June 2012
July-December 2011
January - June 2011
July - December 2010
January - June 2010
July - December 2009
January - June 2009
July - December 2008
January - June 2008
July-December 2007
January-June 2007
November 2005 - December 2006