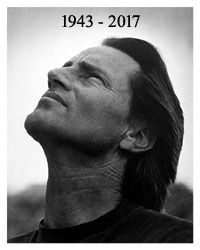 August 5, 2020
The photo below is the recent cover of the Catalan edition of "Spy of the First Person," Sam's last book. It was published in March by Quid Pro Quo. I can't make up my mind if this is an improvement over the English edition. Neither one sparks any interest or meaning.

One of the photos used in connection to this book's edition was the following photo. It wasn't labeled but I was able to track it down to a most likely screen shot of Sam from the 2014 film "Cold in July".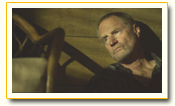 The cover of the Turkish edition of "The One Inside", another 2017 Shepard book, shows a very recognizable photo. Since Patti Smith wrote the foreward, obviously someone wanted to capitalize on her notoriety as well.

* * * * *
If you're as old as I am, you probably remember the legendary New Yorker film critic Pauline Kael. I recently discovered her review of "The Right Stuff" and want to share this excerpt:
"As the lanky Sam Shepard embodies him, Chuck Yeager, the 'ace of aces' who broke the sound barrier in 1947, evokes the young, breathtakingly handsome Gary Cooper. And Yeager and the other test pilots have a hangout near the home base of the U.S. flight-test program: a cantina in the Mojave Desert, with a wall of photographs behind the bar —snapshots of the flyers' fallen comrades. Presided over by a woman known as Pancho (Kim Stanley), the place recalls the flyers' hangout in the Howard Hawks picture 'Only Angels Have Wings' and the saloons in Westerns."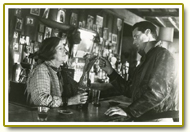 "Shepard's Yeager is the strong, silent hero of old movies —especially John Ford movies. On horseback in the desert, he looks at the flame-spewing rocket plane that he's going to fly the next morning, and it's like a bronco that he's got to bust."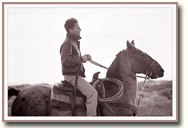 "Kaufman uses Sam Shepard's cowboy Yeager as the gallant, gum-chewing individualist. He has some broken ribs and a useless injured arm when he goes up in that fiery rocket, and he doesn't let on to his superiors; he just goes up and breaks the sound barrier and then celebrates with his wife over a steak and drinks at Pancho's. He expresses his elation by howling like a wolf."
* * * * *
| | |
| --- | --- |
| | "I grew up in the San Gabriel Valley out there towards that semi-desert country in California working at Santa Anita Park racetrack as a hot walker and working in a lot of those lay-up farms. I mostly did grunt work. I was mucking out stalls and working in the alfalfa fields. You know in high school you didn't get very glamorous jobs back then." ...Sam Shepard |

* * * * *
I've come across terms, such as Shepardian and Shepardesque, but I wasn't familiar with Shepardscape. Do you like it?
July 30, 2020
Mill Creek Entertainment will release THE PLEDGE on Blu-ray on October 13, 2020. The 2001 psychological thriller was directed by Sean Penn and starred Jack Nicholson. The supporting cast is full of big names - Robin Wright, Sam Shepard, Aaron Eckhart, Vanessa Redgrave, Helen Mirren, Benico del Toro, Harry Dean Stanton, Mickey Rourke, Lois Smith and Patricia Clarkson.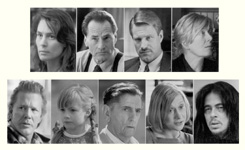 I had never created a movie page for this film so that has now been completed. The screenplay, written by Jerzy Kromolowski, was adapted from the crime novella by Swiss author Friedrich Dürrenmatt. The book was called "The Pledge: Requiem for the Detective Novel" and was published in 1958.
Penn had previously worked with Nicholson on "The Crossing Guard" and after reading Dürrenmatt's novel, he knew he wanted to direct him in the role of retired cop Jerry Black. Penn says, "I was looking for another project to do with Jack when we got the rights to the book."
The story follows detective Jerry Black who reaches retirement on the day when the mutilated body of an eight-year-old girl is found in the icy mountains. Black takes it on himself to tell her parents and pledges to find the killer. When his cocky young replacement forces a confession from a mentally retarded American Indian, who later commits suicide, the case is closed. But Black is skeptical and begins his private crusade to hunt the murderer.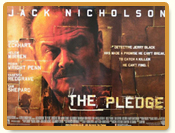 Nicholson told the press - "Every day I came to work with another great actor, wondering what they were going to do with their character. The quality of the actors Sean was able to attract to the project, that's what gives the picture its richness. The film maintains its suspense and a lot of that has to do with the quality of the performances of the actors, all of whom are really quite wonderful."
In the first half of 2000, Penn directed Shepard and in the second half Shepard directed Penn. Yes, after "The Pledge" was filmed, Penn joined the cast of Sam's play, "THE LATE HENRY MOSS", which premiered at San Francisco's Magic Theatre on November 14th. The play's cast also included Nick Nolte, Woody Harrelson, Cheech Marin and James Gammon.
July 13, 2020
This month Cowboys & Indians magazine featured an article on the book "Sam Shepard; New Mexico" by John Miller. They wrote, "The new book manages to weave together a new experience using powerful passages from different times and places. Shepard's stark, sometimes desperate inner dialogues from weary days on the roads of New Mexico are complemented by landscape photographs from the respected artist Ed Ruscha."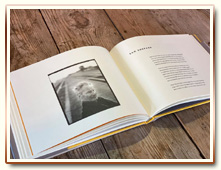 Miller says, "I wanted to include images with [Shepard's words] that were not just pictures of him. Ed Ruscha's one of my favorite artists. ... I'm sure Shepard knew of Edward Ruscha — he's a pretty well-known artist and had spent a lot of time in California, too. ... Ed was a big admirer of Sam, and that's kind of why he agreed to do this. His studio found these, basically, outtakes from the Twentysix Gasoline Stations book. And he was very generous in letting me use them... I've put it in the bookstores here in town [Sante Fe], but also in some galleries. Every place I go has a Sam Shepard story. He's a favorite son here even though he's not from here — everybody loves him and claims him as their own."
And what quality binds the two artists? Miller explains, "I think it's the desolation. The emptiness of those gas stations really mirrors where [Shepard's] stuff is set, you know, in a motel room or in a car. And it's always on the way somewhere."
* * * * *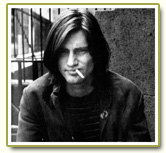 "First off, let me tell you that I don't want to be a playwright. I want to be a rock and roll star. I want that understood right off. I got into writing plays because I had nothing else to do. So I started writing to keep from going off the deep end. That was back in '64. Writing has become a habit. I like to yodel and dance and fuck a lot. Writing is neat because you do it on a very physical level. Just like rock and roll. A lot of people think playwrights are some special brand of intellectual fruit cake with special answers to special problems that confront the world at large. I think that's a crock of shit. When you write a play you work out like a musician on a piece of music. You find all the rhythms and the melody and the harmonies and take them as they come. So much for theory."
...Sam Shepard, 1971
July 3, 2020
Today the American Film Institute Movie Club celebrated THE RIGHT STUFF, ranked #19 on AFI's 100 Years of the greatest American films of all time. Sam's role as Chuck Yeager earned him an Oscar nomination for Best Supporting Actor. Great performance!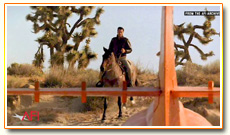 You can check out the AFI web site and watch a brief video of Ed Harris and Ron Howard discussing the film.
June 30, 2020
Last fall Minnesota native Jessica Lange published her third collection of black and white photographs called "Highway 61" which were also exhibited at Howard Greenberg's NYC gallery. Highway 61 originates in the city of Wyoming, Minnesota running 1400 miles along the Mississippi River all the way down to New Orleans. She dedicated both the book and exhibit to Sam and when Rolling Stone asked her about the dedication last October, she replied, "Yeah. (Long pause) I miss him every single day of my life, and I thought, 'Well, this would be a good dedication because there was a man who loved the road and spent a good portion of his life driving different highways.' So, yeah." (Smiles)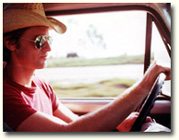 I believe this was the first time that Ms. Lange spoke publicly about Sam since his death three years ago. Why she never did remains a mystery as well as why she didn't join the family at his bedside where he lay dying. At least ex-girlfriend Patty Smith loved him enough to care for him in his final weeks.
Another film page added! As most Shepard fans know, the married Sam and the beautiful actress became an item while filming "Frances" so it wasn't surprising that he would be considered for the role of Gil Ivy in a film called COUNTRY that she was about to co-produce and star in. It was a project that concerned Ms. Lange at that time. She told the press, "The part of Jewel Ivy was more familiar to me than any other part I've played. I drew from all my aunts in rural Minnesota. I wanted to convey the tremendous strength and tenacity of these women in balance with a heartbreaking vulnerability."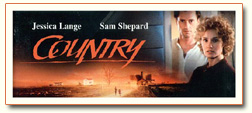 "Country" was the story of the trials and tribulations of a rural family as they struggled to hold on to their farm during the trying economic times experienced by family farms in the 1980s. Coincidentally, there were three movies released in 1984 with stories about the farmers' plight told from the perspective of a strong heroine. Remember Sissy Spacek in "The River" and Sally Field in "Places in the Heart"?
It was a troubled project from the beginning. The script by Austin's William D. Wittliff was rejected by most Hollywood studios and when production began in late 1983, Wittliff, who was set to also direct, resigned three weeks into filming after his differences with Lange and Shepard proved insurmountable. Richard Pearce took over the cold and difficult winter shoot in Iowa. In the end, Sam did contribute to the screenplay though his name does not appear among the credit titles.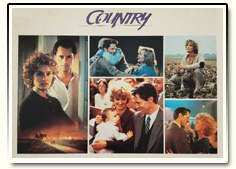 During filming, Sam continued to write to his pal Johnny Dark and there are two interesting excerpts I'd like to share. The first one was written in October 1983 in which Sam discusses his frustration with the production.
"Well, a lot of shit has hit the fan since I started this letter 10 days ago. The cinematographer has been fired, the director's quit & I've quit until they get a replacement. They've threatened to sue me if I don't go back to work but threats always make me more stubborn. It's a strange situation to be in because Jessica has a big stake in this film & she wants to get it done come hell or high water. At this point I just want to go back home & ride my horses & shoot my new shotgun & maybe build a fire in the fireplace. I really can't stand this movie crap anymore - it gets harder & harder to do it."
"I don't really know what's going to happen now. The producers are frantically looking for a new director & trying to keep the film rolling so they don't lose money. I suppose this move on my part is going to brand me as 'difficult' & 'temperamental' in Tinsel Town. I really don't give a shit anymore. Jessie & me are closer than ever but life in the movies is just not my game so I guess I'll just have to accept this fact that I'm hooked up with a movie star & allow her to play that out & maybe just ride along beside her on the sidelines somehow."
This would be Sam's 8th film and though he describes his disdain for movie making, he did go on to make 50 more films! The second excerpt is from a December 10, 1983 letter in which he professes his love for Ms. Lange.
"I wanted to give her a ring & ask her in the corniest way possible if she'd be my wife and have my kids and live with me forever. I bought this great Sapphire ring set in gold. I stuffed it in my pocket & got all excited about asking her. I waited for her to come into the motel where we watch the dailies every afternoon & when I saw her coming, I swept her outside into the cold wind and snow & popped the question. We jumped up and down together like little kids, giggling in the snow."
Obviously, the marriage never happened and perhaps that was the right decision for Sam since he had a problem staying faithful to any woman.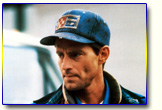 What some critics pointed out in their movie reviews was that Sam was definitely miscast and I agree with them wholeheartedly. One critic wrote, "T

he husband is basically a weak man, unable to hold up to pressure. Shepard doesn't look like he has a weak bone in his body. It's a little like casting John Wayne as a coward." Texas Monthly wrote, "As Jewell's husband Gil, Shepard flashes a wolfish grin at the beginning and is sneakily appealing, but as the farm slips away, Gil turns into a bitter, moist weakling. Sam Shepard wasn't born to play weaklings - his bones were built for heroism". And from the Daily Titan - "Shepard, the playwright-actor, who has been hailed as a modern Gary Cooper, is hopelessly miscast as the suddenly spineless Gil Ivy." Certainly his conversion from devoted husband to petulant and abusive drunk is too extreme and results in a confused audience in defining his character.

Although the film failed at the box office, it was generally admired by critics. Ms. Lange was nominated for both an Oscar and Golden Globe "Best Actress" award for her performance. She also joined Sissy Spacek and Jane Fonda in testifying before the United States Congress about the traumatic conditions of America's heartland. The film also caught the attention of then-president Ronald Reagan, who decried the supposed propaganda of the picture even though part of its provocation also stemmed from the prior policies of Jimmy Carter.
June 25, 2020
It was the second time for Sam to sit in the film director's chair in the spring of 1992 as he began production for his screenplay called SILENT TONGUE. For the film's location, he chose the desolate landscape on the plains of southeastern New Mexico - Llano Estacado, or Staked Plains. His story, a bizarre combination of western film revisionism and Greek tragedy, takes place in 1873. He described his chosen location - "This was probably the most terrifying piece of real estate west of the Mississippi. It was absolutely scary. It's a flat table of land with no vegetation at all except burned-out mesquite and cactus. It's wide open. In order to cross it, you were totally exposed to these raids that were pretty persistent up until the Texas Rangers came in."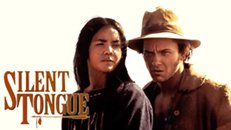 Inspired by the 1954 western bestseller "The Searchers" by Alan LeMay and John Ford's 1956 screen adaptation, Sam wrote "Silent Tongue" in just 10 days, revised it half a dozen times, then handed it out replete with camera directions and location sites. The script was initially rejected due to its lack of commercial appeal. Sam opined - "Two years later an Indian film wins the Academy Award ("Dances With Wolves") and a ghost film ("Ghost") is number one at the box office. That was kind of an odd twist of fate." In no way does this screenplay come close to the overwhelmingly positive reception of those two cleverly-crafted films.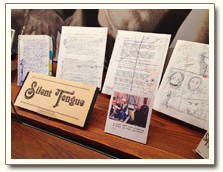 The photo above is from the Wittliff Collection showing Sam's scribbling and sketches. Certainly, his first failed attempt as a film director/writer with "Far North" didn't help. However, he had his own take - "The biggest difference between that film and this one is I didn't shoot enough footage with 'Far North.' I just didn't have enough material for that one. When I sat down to cut it, I was forced to get stock footage, which was an awful predicament. I'm shooting a lot more on this one and printing a lot, a lot more angles and coverage."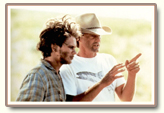 He also told the press, "Directing feels great; I'm really happy to be doing this. It's rough going, we're working our butts off, we're doing 40 set-ups a day, but it's still better than working in a bank or cleaning horse stalls."
The cast of "Silent Tongue" was obviously impressive starting with the theater and film talent of Irish actor Richard Harris and British actor Alan Bates. Then, add Dermot Mulroney and River Phoenix. Since Sam had just finished "Thunderheart", he also gave a major role to his co-star, Native American Sheila Tousey. It is important to note that this was River's last film to be released after he died from a tragic drug overdose on October 31, 1993.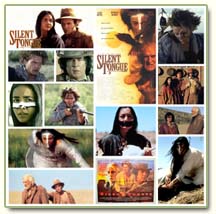 This tale of revenge and mysticism is grounded in all the familiar Shepardian themes - dysfunctional families, painful father/son relationships, insanity, horses, alcoholism, and buried secrets that fester. Sam explained, "I think it has more to do with 'lostness' than anything else."

"Silent Tongue" takes its plot from the attempt of a distraught Irish-American youth, played by River Phoenix, to guard the corpse of his half-Kiowa wife. His vigil leads to a battle with her vengeful Indian ghost, and destroys what semblance of peace existed in both their families.
Financing for the film was a bit odd for a western. It was an entirely French-financed American production. Belbo Films, based in France, successfully orchestrated funding for the $8.5-million independent production from StudioCanal and Hachette Premiere. But, the French do adore Sam Shepard! When the film was released in France, it was called "Le gardien des esprits".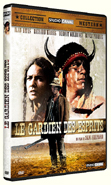 An early version of the film premiered on January 28, 1993 at the Sundance Film Festival. The photo below shows Sam at the Egyptian Theatre where he took questions after the screening. The film did not receive a warm reception.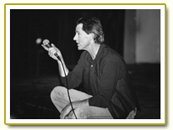 He edited it considerably and it later went on to screen that year in November at both the London Film Festival and Native American Film Festival. It lacked a distributor until February 1994 when it was released in the US to mostly negative reviews. It was the last film that Sam ever directed.
At this time in 1992 while filming, Sam still didn't have his Directors Guild card but he admitted, "I've always found it embarrassing to receive awards. I'm really genuinely not doing it for achievement anymore. It might have been the case when I was 19, but it's so different now than it was then."
At this time, motivated by writers, such as Vladimir Nabokov, Pablo Neruda, Samuel Beckett, Peter Handke and Jim Harrison, Sam was about to focus on storytelling - "I absolutely think that there's a level of storytelling just around the corner that you can tap into, that I'm really interested in now. I can't explain it very clearly but it's different from anything I've ever done before. I used to think it was about images and visions. Now I'm convinced it's about storytelling, storytelling for the purpose of the human deal and not dragging people down, for supporting the fact of persisting and going on."
June 19, 2020
In 1977 the Magic Theatre had moved from its Berkeley storefront into a new home in a Fort Mason warehouse. The new theater would be inaugurated with Sam's latest work. On a $15,000 grant from the Rockefeller Foundation, he spent six weeks with eight actors and eight musicians developing an improvisational jazz opera called INACOMA. It was like nothing Sam wrote before or afterward, the exploration of the twilight psyche of Karen Ann Quinlan, a young woman who triggered an early "right to die" controversy after falling into a long coma.
Shepard was intrigued by this story - identity and destiny. "At first," he explained, "All I could visualize was a hospital bed, the coma victim and creature-characters. Then various scenes would start popping up, all out of context and wandering in and out of different realities. The scenes were joined by sounds of breathing, then music, then back to sounds. I kept abandoning the idea of even starting to write something because the subject became too vast and uncontrollable."
This photo shows Sam in February 1977 in rehearsal. The play opened on March 18, 1977 with six weeks of performances.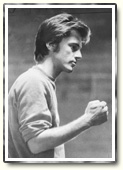 Theater critic Misha Berson was fresh out of college at that time working as the performing arts coordinator at Fort Mason and took every excuse to nose around the rehearsals. She reminisces, "Except for the song lyrics, I recall the piece as largely nonverbal and probably as close to performance art as anything Shepard ever authored. I discreetly watched from the unfinished bleacher seating as he developed the piece, intently focused on his intrepid cast (which included his gifted then-wife, O-Lan Shepard), conferring with them in a soft reedy voice tinged with twang."
"Reflecting the eclectic theatrical inventions bubbling up in San Francisco back then, 'Inacoma' emerged from movement and musical improvisations, yielding images of spinning orderlies in white jumpsuits and a Quinlan-like character who rose from her hospital bed to dance. What I gleaned from that now-obscure production was that Shepard was a true seeker and experimentalist, an artistic stretcher and prober, forever scouting for not just his literary voice but his voices."
Berson also adds, "Wearing leather jacket, blue jeans, and shades, his dark hair flopping over his forehead, Sam was so cool he could've been an extra from the iconic hipster film 'Easy Rider'. But in the late 1970s he was already famous in his own right, at least among theater folk, for his cowboy-beatnik charisma and his sui generis, rock-the-genre plays."
The play didn't become one of Sam's most important works. Chronicle theater critic Bernard Weiner interviewed Sam and described the show as beginning with a series of visual images in the author's mind, and developing out of improvisational work with the actors and musicians.

"Many of my plays center around a character in a critical state of consciousness. I like to operate off that dynamic," Sam said. "The comatose state is especially fascinating because, from the outside, nobody really knows what's going on inside the person in the coma."

The play featured veteran Magic Theatre actors James Dean, Ann Matthews, O-lan Shepard, John Nesci, Fred Ward, Sigrid Wurdchmidt and Jane Dornacker, most of whom had been in his San-Francisco-produced plays.

San Francisco was a welcome fit for the playwright's creativity. "After years of struggling to find an audience in New York, it's nice to find people here and in London finally catch on to what you're doing," Sam said. "It's been good here. There's more freedom to experiment, to breathe."
As an aside, Christopher Arnott of the Hartford Courant noted this observation on Sam's death in 2017 - "One mark of how influential Shepard was beyond the traditional boundaries of American theater is the number of contemporary rock bands that have been named after his plays. These include Savage Love, True West, Inacoma and, yes, Cowboy Mouth and Buried Child... Sam Shepard's not dead. He rocks on."
* * * * *
As a kid, Sam had gone by the name "Steve Rogers" to distinguish himself from his father. In 1963 at the age of 20, Sam decided to re-invent himself by changing his given name. He said, "I always thought Rogers was a corny name because of Roy Rogers and all the associations with that. But Samuel Shepard Rogers was kind of a long handle. So I just dropped the Rogers part of it... Now in a way I kind of regret it. But it was, you know, one of those reactions to your background. Years later, I found out that Steve Rogers was the original name of Captain America in the comics."
June 9, 2020
Some critics consider true "True West" to be the third in a trilogy including "Curse of the Starving Class" and "Buried Child", while others consider it part of a quintet which includes "Fool for Love" and "A Lie of the Mind". The play was a finalist for the Pulitzer Prize for Drama in 1983 and it hasn't left the theatrical landscape since it first premiered with Peter Coyote at San Francisco's Magic Theater in 1980. Chicago's Steppenwolf Theatre's 1982 production with John Malkovich and Gary Sinise remains legendary and its popularity continues with Broadway's outing with Ethan Hawke and Paul Dano staged seventeen months ago at the Roundabout Theatre.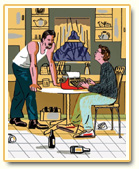 Set in 1980 in an out-of-the-way Southern California suburb, it remains a visceral look at played-out Wild West stereotypes, familial envy and revenge, and false value surfacing as Hollywood cliches. Today I've updated the TRUE WEST page with more information and photos. Though I had seen the stage performance with Sinise and Malkovich on videotape, I hadn't been aware of the that production's televised airings - first in 1984 on the PBS series - "American Playhouse" and then in 1998 on "Great Performances". There was also a filmed version of an Idaho production starring Bruce Willis in 2002 on Showtime.
* * * * *
Here's the cover of a 1985 issue of the Western Writers series devoted to Sam's plays. The 50-page edition was written by Vivian Patraka and Mark Siegel and published by Boise State University.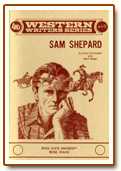 Excerpt:
"Only the avant-garde had taken much notice of Shepard in his early years, and even those who did write about him seemed to promote him without much exegesis. However, by the early 1980s Shepard had been virtually canonized by the critical establishment as the most important and interesting to analyze of contemporary playwrights. Even when such critical powers of bourgeois culture, they found his work fascinating and challenging. Elizabeth Hardwick, Susan Sontag, and Ruby Cohen all championed Shepard against the few conservative figures, such as Walter Kerr and Tennessee Williams, who still found Shepard an anathema... Again and again, Shepard has been perceived by critics as both a truly American playwright and a writer of universal value and distinction, as both 'ruthlessly experimental and uncompromising' (John Lahr) and as a playwright who deals with and illuminates traditional American and dramatic concerns."
June 7, 2020
Galisteo publisher John Miller created the book "Sam Shepard; New Mexico" sharing Sam's writing with the photographs of Ed Ruscha. It was published this past winter. Mr. Miller writes,
Sam Shepard had a deep bond with Santa Fe, where he lived in the 1980s and again in 2010–2015. But Shepard had some nomad in him, and as he recorded in his Motel Chronicles in 1982, he spent as much time crisscrossing the deserts of New Mexico as he did living in any one city. As Shepard's friend Johnny Dark said, "He lived in Santa Fe, but he also lived in hotels and on the road. . . . He might have been running away or he might have been running toward something." Twenty years earlier, the artist Ed Ruscha, traveling from Oklahoma to Los Angeles, traversed New Mexico and created ghostly photographs of New Mexico gas stations. Together, Shepard's writing and Ruscha's images evoke a poetry of loneliness.
Included in the book are quotes from Bob Dylan, Taylor Sheridan and Josh Brolin.

You might ask what connection Josh Brolin has to Sam Shepard and in this moving farewell that Josh shared on Instagram back in July 2017, he answers that question.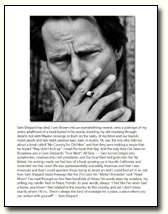 * * * * *
Taos-raised actor, writer, director, producer and poet Arron Shiver recently mused on life under lockdown in LA. One of his poems about Sam was published in the spring issue of the Taos Poetry Journal.
Shiver says, "I wrote that poem 'My Hero' to commemorate one of my theater heroes. If I look back at the bits of my own writing I'm proud of, and even some of the acting, to be honest, I can see a direct link to Sam, so it shook me when he passed. I pretty much had read all of his stuff, and it had a tremendous effect on me. formed me, in a lot of ways. So when he passed away back in 2017, I was in LA, and we all sat around drinking tequila and reading his lines out loud, and everything I remembered about my interactions with him came out. This poem was an offshoot of that. Stuff I remembered from that time. Funny stuff, mainly. Almost fights, a lot of drinking, some wonderful advice he gave me about acting. At that time he usually would rather talk about horses than acting. He had worked hard and he had worked a long time, and all he really wanted to do by the time I met him, as far as I could tell, was fish and ride horses."
The first verse reads -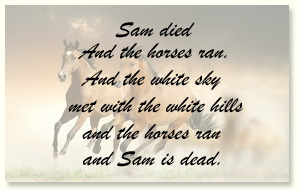 * * * * *
DID YOU KNOW that when Warren Beatty was ready to cast "Reds", Sam was considered for the role of "Eugene O'Neill" before Jack Nicholson was offered the role. You may remember he played writer Dashiell Hammett in the A&E TV production "Dash & Lily" in 1999.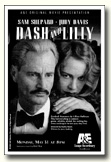 Previous News:
January-May 2020
July-December 2019
January-June 2019
July-December 2018
May/June 2018
April 2018
March 2018
February 2018
January 2018
December 2017
November 2017
October 2017
September 2017
July-August 31, 2017
January-June 2017
July-December 2016
January-June 2016
July-December 2015
January-June 2015
July-December 2014
January - June 2014
July-December 2013
January-June 2013
July-December 2012
January-June 2012
July-December 2011
January - June 2011
July - December 2010
January - June 2010
July - December 2009
January - June 2009
July - December 2008
January - June 2008
July-December 2007
January-June 2007
November 2005 - December 2006