June 22, 2010
Mythical cowboys

The Spanish media has given us more info on BLACKTHORN as well as another photo, this time of the lone cowboy on horseback. In a recent interview with screenwriter, Miguel Barros stated that his story has nothing to do with the mythical "Butch Cassidy and the Sundance Kid." The duo supposedly ended their days in Bolivia in November 1908 during a shootout with the Bolivian army. These two thieves serve as inspiration for Barros but he only took the Cassidy character and created a story in which the outlaw survives this assault. The script was written in two to three weeks in record time. The starting point is that Butch Cassidy is still alive under the name of James Blackthorn, and twenty years after his supposed death, he is dedicated to raising horses in a small village in Bolivia. Barros showed the script to Mateo Gil, who quickly fell for the project.
One of the things that Gil and Barros were clear on was that the lead actor had to be an American. The first name that came up was Nick Nolte's. Initial contact was good but due to problems with intermediaries, they offered the role to another mythical figure - Sam Shepard. When our playwright received the script, he was hooked. Barros admits it was an honor to have another writer like something you've written. Sam accepted all the conditions and within 15 days of his "yes", Gil was already with him in NY reviewing the script.
Both Gil and Barros made several trips to Bolivia to pick the locations and filming began in April and lasted nine weeks. Barros - "It was hard work for everyone because we were at an average altitude of 3,000 or 4,000 meters with the logical problems of altitude sickness and variable climatic conditions, from the tropical sun to freezing cold. But, at the same time, it was fun."
Barros speaks wonders of the cast and praises Sam. "It was great and wonderful. He's demanding, but he is not a prima donna. He's a warm person, generous and sympathetic." Details of the film are limited but Barros says, "I wanted to write a western and it is a simple story of characters. The protagonist recovers a spirit believed to be lost and wants to return to his home in Utah to die there and shares that road with a Spanish engineer."
Digging up old photos...
Here's a trio from the 2007 Venice Film Festival, which screened "The Assassination of Jesse James...". I wish he'd take those darn sunglasses off!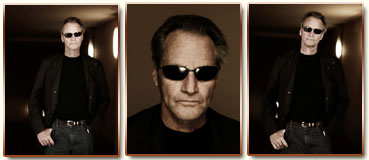 A Taos appearance
Taos, New Mexico has long been a haven for the creative soul. Since the arrival of literary notables Willa Cather and D.H. Lawrence in the early twentieth century, literature has played a prominent role in the area's rich cultural landscape. As the literary arts flourished, the need for formal community support became apparent, which ultimately led to the non-profit incorporation of SOMOS in 1983. Today, it has expanded into its present role as a respected resource center whose outreach extends to the greater community of Northern New Mexico – and beyond. Their live readings, workshops, conferences, and festivals are designed not only to showcase accomplished writers, but also to encourage creativity in novice writers from all walks of life. Sam will be participating in this year's fundraiser on Sunday, September 26th. It will be held at the Taos Center for the Arts.
Where fiction meets nonfiction...
I thought I'd share an excerpt today from "Costello", one of Sam's short stories in his latest book, DAY OUT OF DAYS. This observation is so Shepard, so autobiographical. The man is oh so timid in his interviews but you can touch his soul in his writing.
I make no bones about my obsession with observation. I enjoy making notes. Jotting things down. I prefer not to be stared at when I'm furtively staring at others. There is a subtle art to the sneaking of glances. Timing is everything. To look as though all your attention is completely absorbed in the subject of your notebook when, in fact, you are lurking; waiting for the moment he picks up his coffee cup, takes a chomp out of the donut then unabashedly sucks the sticky sugar off his fingers while continuing to scan the Racing Form. These are the ripe spans of time where you seize the opportunity to look deeply into the essence of a man; see the source of his greed without his having the slightest clue. Still, you have to be constantly alert; wary of not getting caught by his quick glance. In the flash of an eye he might become aware that you are a witness and begin subtly altering his every manifestation; playing out the illusion that he is in total control of his character or worse – he might become hostile and paranoid. I've seen it happen. People hate to be seen. They hate the sensation of eyes on them; being looked at for what they are and not what they imagine themselves to be. Very few people can handle the blatant stare except children under five. This has been my experience anyway.
June 14. 2010
"Inhale" returns to original title for German DVD
Splendid Films has just announced that INHALE will have a DVD release on August 27th in Germany under its original name, RUN FOR HER LIFE. A Blu-ray release will also be available, but neither edition will include any bonus material.

It's a wrap!
Here are the first photos of Sam starring in BLACKTHORN! The Butch Cassidy western was shot in Bolivia over nine weeks and wrapped production on June 5th in the town of Viacha. In an interview via phone this weekend, co-producer Paolo Agazzi told the Spanish media that the film is now in post-production, which will continue in Spain through early 2011. Agazzi believes the greatest challenge to filming was logistical because every scene was in a different location, some more complicated because of the altitude and cold. Many locations were remote from urban centers, and it often took a long time to arrive and return from them. Filming was also made more difficult due to transporting horses and a team of over 100 people. Being an action film, there were many stunts needed, which demanded two doubles each for Sam and co-star Eduardo Noriega. One of the stuntmen for Sam was identified as Argentine rider Hugo Antonio Dietz.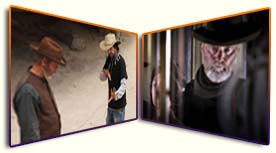 El Pais, Spain's most popular newspaper, described Sam - "His life has cultivated a magnetism and a special mystery. A chiseled face... A love for writing old stories about dilapidated motels in the American Midwest and characters at the brink of moral and physical collapse... A continuous display of talent as a writer of plays, stories, screenplays, and as a film actor and director."
Director Mateo Gil says working with Sam was pretty easy. "Shepard read the script and quickly accepted the proposal... Every day he studied the dialogue and suggested changes to make it more alive. I appreciated it. You never see the actor, just the character." Gil says he has stripped the myth of the shy Shepard and warns audiences not to expect the silent cowboy. This time around you'll find Sam very talkative, dining in the company of others while telling stories. He referred to working with Sam and co-star Stephen Rea "as an honor because they are both larger than life on many levels."
June 9. 2010
"Inhale" screening

An international conference at the University of California, Berkeley, was the setting for a screening last month of INHALE (note the new poster). The subject of the conference was on combating illegal trafficking in human organs and tissues. A second film, "H.O.T. - Human Organs Trafficking", a 2009 documentary was also shown. Todd Brown of Twitchfilm.net had the chance to view a promo reel of the film and this was his take - "Dermot Mulroney is essentially being asked to carry this film - he features in every shot of the promo - and he looks to be a stellar fit as the sort of weathered anti-hero Kormakur prefers, playing a DA forced to travel to Mexico to procure an illegal organ transplant to save the life of his young daughter. One of the things I love best about Kormakur is how his films interact with their environments and it was fascinating to see how the shift from Iceland to a desert environment has forced him to change his preferred palette while still retaining his signature shooting style. This one hasn't sold in North America yet but it could very well end up being something of a solid little sleeper hit for fans of intelligent, morally complex thrillers." In a May 11th Spanish interview, director Baltasar Kormákur indicated that the film will premiere in the U.S. and other countries in the autumn. Be sure to click on the film link above for more publicity stills.
"Tough Trade" production photos
No word yet on when the pilot for the EPIX new TV series, TOUGH TRADE, will be aired but I did come across some production photos taken last winter at the Thistletop Inn in Goodlettsville, Tennessee. The inn, constructed by master builder and preservationist Braxton Dixon, was chosen as the set location because of its unique architecture. The contemporary one-hour drama tells the story of three generations of a Nashville music dynasty whose penchant for drink, debauchery and divorce has left it on the verge of bankruptcy. Sam plays the family patriarch, Linwood Tucker.
June 4, 2010
Like father, like son...
We all know how music has played a major role in Sam's life, and it looks as though the apple doesn't fall far from the tree. Walker Shepard will be 23 years old in a few days and presently plays with the band, The Dust Busters, who have been featured on the Down Home Radio Show. Both Walker and his dad also appear together on banjo on Patti Smith's album, "Twelve". Though Sam recently referred to his son as "very, very shy", Walker's social anxiety obviously doesn't prevent him from stepping in front of an audience!
BAM event to be rescheduled
As part of the Brooklyn Academy of Music's "Eat, Drink and be Literary" program, BAM Cafe invites contemporary authors for intimate evenings of readings, discussion as well as dinner and wine. Sam was scheduled to be their guest last night. However, due to "unforeseen circumstances", the event was cancelled and every effort is being made to reschedule it this month. According to the BAM web site, a new date will be announced shortly. For further information, you can cell BAM Ticket Services at 718-636-4100.
May 21, 2010
Those military roles...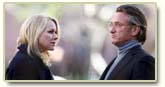 According to news from Cannes, specifically the premiere of FAIR GAME, it has been noted that Sam has a cameo appearance as Sam Plame. Director Doug Liman's film tells the story of outed spy Valerie Plame, played by Naomi Watts, with Sean Penn as her blowhard husband, Joe Wilson. It's not easy obtaining info on the film since it has no official web site or trailer though a scene with Watts and Penn can be viewed on youtube. The Hollywood Reporter describes the movie's pivotal moment when Valerie seeks advice from her parents - "Sam Shepard, playing her retired Air Force officer dad, straightens her out about how loyalty to one's country is a two-lane street." The role is close to home since Sam's own father was a military man in the Air Force. Through his film career, our playwright has often been cast in military roles - The Right Stuff, Black Hawk Down, Stealth, Brothers, and the telefilm, One Kill. It's a great role and he plays it quite well but it's ironic that in real life, he's rather a pacifist.
April 30, 2010
The Yin and the Yang
We all know the history of Patti Smith and Sam Shepard and since they coincidentally have published books at about the same time, there's much to be compared between the two artists. I came across this anonymous blog this morning and will share it here:
Patti Smith's "Just Kids" is a sweet memoir and a tribute, I think, to her soul partner, the late Robert Mapplethorpe. I say sweet because Patti's voice is soft & clear throughout, its tenderness pervades her storytelling and her passions for things spiritual. Her courage to leave her loving family home without nearly enough money to go to NYC and to brave the obvious challenges for a new start there. Her quest to make it as an artist and the creative heights it may lead her to, will demand much for her climb. She's resilient, courageous, passionately faith-filled, and tender. You root for her, and Robert.

Another approach... not defined enough to root for... another journey is Sam Shepard's "Day Out Of Days". Sam's voice undercurrents his prosaic tales as he wanders America's not-so-well-known highways, two-lane blacktops, less beaten paths. The characters that use them, like the author himself, are characters indeed.

Instead of Patti's exalted & reverential renderings of a majestic world where young artist gods stumble into a future where something/anything can happen…Sam is one hardened cynic, one stoic watcher of human folly and devastation around him (including the guy in the mirror). He eloquently tells his short troubled tales (nightmares almost) with too few words that expand & expound on too much. His dismal, beautiful glimpses raise many questions, while raising consciousness.

One book is fueled by a cool hope, another by a warm hopelessness.
April 28, 2010
Another honor!
Sam has been named the 2010 Janet Weis Fellow in Contemporary Letters at Bucknell University. The award was established in 2002 to honor and recognize individuals who represent the highest level of achievement in the craft of writing within the realms of fiction, non-fiction or biography. Previous recipients have been John Edgar Wideman, David McCullough, Toni Morrison, John Updike, Salman Rushdie, Tom Wolfe, Joyce Carol Oates and Derek Walcott. Sam is the first playwright to receive the award.

He will be present to receive the award on October 5 and will also give a talk in the Weis Center for the Performing Arts at Bucknell. The event will be free and open to the public. Information on tickets to reserve seating will be announced in the fall.
In Bucknell President Brian C. Mitchell's announcement, he said, "Sam Shepard has been a prominent fixture on the literary landscape for decades. His plays, books and movies address the issues that are relevant to all of us at Bucknell, whether we are students coming of age or adults getting older. We are delighted to welcome him to Bucknell for a lively discussion about his work and the role of his craft in our world."
Gary Grant, a professor of theatre at Bucknell whose research and teaching has focused on Shepard and his works, says the interesting thing about Sam Shepard is that he attracts a really diverse audience. I suppose that's true because people relate to him through different channels - his brilliant plays, his seductive presence on the big screen and all his wonderful short stories and poetry.
New film page added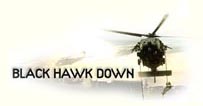 I've added the BLACK HAWK DOWN film page to the Shepard archive. Directed by Ridley Scott, this harrowing war drama tells the story of an October 3, 1993 military event, in which 18 US soldiers and as many as 500 Somalis were killed in a 17-hour battle in the capital city of Mogadishu. Scott proves once more that he's a genius at directing action films. The camera work by Slawomir Idziak and the editing by Pietro Scalia are as outstanding as they need to be in re-creating the mad tempo of sudden combat while Hans Zimmer's score accompanies the action to perfection. Sam stars as mission commander Major General William F. Garrison, who heads a team of heroic Rangers played by Josh Harnett, Ewan McGregor, Tom Sizemore, Eric Bana and William Fichtner. Absolutely, it was one of the best films of 2001 and one of the best war films ever made. Rent it today if you haven't seen it.
No privacy in NYC
Occasionally the papparazzi do catch up with the famous couple in Greenwich Village. In the photos below, they are seen walking their poodle on two occasions.

April 14, 2010
Filming has begun in Bolivia
We have our first look at Sam starring in BLACKTHORN. The photo below shows him on location is Peruvian actress/singer Magaly Solier, who confesses - "Sam Shepard is lovely! I'm definitely in love!" She goes on to comment particularly on his kindness and treating her so well. In an interview with Bolivian's newspaper La Razon, Ms. Solier explains that she got very excited when she won the role in Mateo Gil's film because she would be sharing scenes with Sam, whom she had seen in Terrence Malick's "Days of Heaven". The film will continue shooting for nine weeks in Bolivia.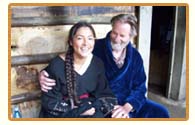 Pairing up once more?

I came across this news nugget but have no idea whether this film proposal might just be sitting on the back burner for an extended period. Martinique director/writer/producer Euzhan Palcy is planning to re-unite Sam and actress Ellen Burstyn for a comedy drama, a project close to her heart called "Midnight's Last Ride". Palcy is best known for having prodded Marlon Brando to come out of self-imposed retirement. Because he was inspired by her commitment to social change, he agreed to act in her 1989 film "A Dry White Season" without compensation. SS movie fans will remember that thirty years ago Sam and Ellen co-starred in "Resurrection." Janet Maslin of the NY times wrote, "The playwright Sam Shepard, who showed such promise as he made his acting debut in 'Days of Heaven,' realizes that promise here. As Edna's hot-tempered lover, he brings a keen, nervous alertness to the role, and a presumptuousness that turns very appealing."
More praise
Since Day out of Days was published in January, more excellent reviews continue to trickle in. Here's Kathe Connair of the Minneapolis Star Tribune:
Sam Shepard knows how to spin stories out of next to nothing and make them mesmerizing, gleeful, spooky, puzzling or heartbreaking. This collection of more than 100 sketches, poems and short stories is a delight throughout, as he illuminates horse trainers and actors, aimless travelers and bored spouses, and the disconnect, literally, between our brains and our bodies. "Saving Fats" is a rollicking story in which an overweight airline passenger draws a quiet-seeking seatmate into his account of personally helping save a tuxedo-clad Fats Domino - and his white baby grand - from Hurricane Katrina's roiling floodwaters. In 'Knoxville, Tennessee,' a solitary driver meditates on the history that informs the light 'yips' in Ralph Stanley's singing. These ruminations add up to an aging man's still vibrant sense of yearning and wonder. As Shepard says in 'Tops,' 'Things like these just come floating in these days. Uninvited.' But welcome, nonetheless.
In a review in Edge New York, contributor Robert Israel makes the following keen observation on Sam's writing - "If there is a key to understanding Shepard and his prose, it can be found in the short piece titled 'Chatter,' which gives as much insight as a reader is going to get when struggling to learn why Shepard writes the way he does, with such uncompromising intensity:"
| | |
| --- | --- |
| | "I now have an almost constant swirling chatter going on inside my head from dawn to dusk," Shepard writes. "I never could have foreseen this when I was five, playing with sticks in the dirt, but I guess it's been slowly accumulating over all these sixty-some years; growing more intense, less easy to ignore. I wake up with it. I feed chickens with it. I drive tractors with it. I make coffee with it. I fry eggs with it. I ride horses with it. I go to bed with it. I sleep with it. It is my constant companion." |
March 25, 2010
Butch Cassidy Rides Again!
If anyone was going to make a sequel to "Butch Cassidy and the Sundance Kid", you might guess that Hollywood would be all over it but it appears that the Spanish have beaten them to the punch. As reported here back in November, Arcadia Motion Pictures has announced a pseudo sequel, set years after George Roy Hill's 1969 classic starring Paul Newman and Robert Redford, and this time Sam will star as the aging Butch Cassidy. Though the film is Spanish-funded and produced, BLACKTHORN will be an English-language western set around 1910. It will be helmed by Spanish writer/director Mateo Gil, best known for his screenplay of the 2005 Oscar-winning Best Foreign Film - "The Sea Inside" starring Javier Bardeem. Co-stars include Eduardo Noriega and Peruvian actress Magaly Solier. Shooting begins early next month in Bolivia with a a $7.5 million budget.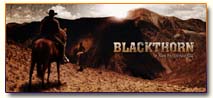 The synopsis reads as follows: James Blackthorn (Shepard) is an old Gringo living quietly in the green tropical valleys of Bolivia. He breeds horses and has a romantic friendship with a native woman. He's getting on in years and wants to die at home, in the United States. His real name is Butch Cassidy, one of the last and most famous outlaws from the far West. But the legend of his life has almost faded into oblivion as everyone believes him long dead.

As he crosses the high plateau on his way home, James encounters another rider, far younger and inexperienced. A Spanish mine engineer by the name of Ernesto Apodaca (Noriega) who is fleeing after having robbed a mine. Remembering his past and in need of money, Blackthorn decides to accompany the young man on his frantic flight across Bolivia. During this time the two men, although very different, will become friends amongst the violence and the loneliness of the Bolivian desert. But Blackthorn is not the only one with a secret... In no man's land and hounded by more and more armed men, both men will have no choice but to reveal their true intentions and face reality, once and for all.
Director Mateo Gil discusses how he envisions the film's cinematography: "Blackthorn would not be a film made up by grandiose images and 'traditional aesthetic', of slow camera movements and tall crane shots; but of closer images, near to the characters, that allow us to see the landscape through their eyes as they reveal the most intimate side of their dramatic voyage: The deep seated feelings our main character feels for the land that has sheltered him; his feelings about the past and how they are reawakened by the appearance of his new comrade; his feelings towards the woman with whom he spends his afternoons, although the passion of love is absent, affection, respect and carnality are all present; his feelings toward a young man he has never met but who could very well be his son, to whom he writes and directs every last effort; how he feels about the small things that surround him, his clean but simple home, his horses, what he chooses to take with him on this last trek, where he chooses to sleep each night as they advance…"
Sam discusses his struggle with alcohol
As many of you know, in the winter of 2009 Sam was slapped with a DUI charge and up until this time, Sam has not commented on his struggle with alcohol. In a recent interview with The Observer (UK), he spoke about the demon that continues to haunt him. Obviously his own father's descent into alcoholism and the deterioration of any semblance of a happy and stable home did not provide enough impetus for Sam to keep his distance from booze. So, on January 3, 2009 around 2 am, a couple of officers in Normal, Illinois, clocked him on radar going 46 mph in a 30 mph zone. That sounds like a bum rap to me. However, after being pulled over, it was discovered Sam's alcohol blood level was twice the legal limit. When he appeared in court the following month, he was not only fined but also ordered to complete an alcohol treatment program and 100 hours of community service. During the past year he received counseling and treatment at a NY facility and donated 100 hours to the drama department at New York University, working with students on their theater and writing projects. (What a thrill for those students!)
In several of his literary works, the main character is haunted by the chilling possibility that he is turning into his father. Back then it was a fear; now, he says, it has become a fact.
"You think about it, you talk about it, analyze it, and then all of a sudden you have become the thing that you were most vehement against. It's very Greek. They invented this shit. Or at least gave it a name."
He's been sober, he says, for over a year. "And prior to that I was sober for four years and then I relapsed. It's a constant struggle. It's such a knucklehead disease because you refuse to see it. It wasn't until the 90s that I actually started going to AA and made a real compact with myself to quit. And I did quit for four years. And then I picked it up again. It's like being a junkie. I think I have that sort of thing in my blood, in my psyche. I can become addicted very easily, although the curious thing is that I have two sisters who are not. So I don't know. Maybe it's just a toss of the dice."
In the same interview Sam makes a comment that greatly amused me. He says, "The things that I wonder about most are not on the Internet, I promise you that." I chuckle whenever folks miscomprehend the breadth and scope of the Internet. Obviously God is not on the Internet but everything else is! I am just nine days younger than Sam so I know he's playing the Stubborn Old Man on this one. Sometimes you just can't teach an old dog new tricks...
"I have a cellphone but I have no Google, I have no gaggle." ...Sam Shepard
Now on DVD

BROTHERS, from acclaimed filmmaker Jim Sheridan, arrived on DVD and Blu-ray on March 23. It was one of my favorite films of 2009 and was sadly overlooked last fall at the box office and should have been one of the ten Oscar contenders for Best Picture. Such great performances from every cast member right down to those two little girls! If you're after good old fashioned storytelling as an antidote to the Hollywood glitz and glamour, then you will absolutely love this film. Special features start off with an audio commentary from director Jim Sheridan that's extremely informative with tidbits learned about everything from directing actors and the U2 song used to the differences between his film and the original Danish version. Also included are two featurettes - "Remade in the United States" and "Jim Sheridan: Film and Family"
March 3, 2010
A substantive review
I came across this excellent review of "Day out of Days" published on the Dossier Web Site and written by Chris Wallace. You can read it at this link. I have been previously complaining about the lack of substantive reviews, but this one is 'the real McCoy' that deserves high marks. Wallace ends his critique with "It is a beautiful and heartbreaking and sensuous consolation even if neither the narrator nor the reader will ever give up worrying, writhing or struggling. It is merely a chapter break in the rough, nostalgic saga-slash-elegy wrought by one of America's greatest men of letters, and another reminder that what drives us will destroy us, that what we run from we return to, that the brutal in his literature is the beauty of Sam Shepard's creation. It is a reminder that we will never stray far from the lonely highway of his words."
A "Lie of the Mind" Revival
On February 18th The New Group opened "A Lie of the Mind', directed by Ethan Hawke. The production has a limited off-Broadway engagement through March 20 and marks the first New York revival since the play's 1985 award-winning debut. Sam already had "Buried Child," "True West" and other plays about dysfunctional families to his credit in 1985, when he directed the premiere of his ensemble drama, which depicts two families torn by violence and resentments. Starring Harvey Keitel, Geraldine Page, Amanda Plummer and Aidan Quinn, the production ran off Broadway for six months and won the Drama Desk Award for best play, among other honors.
In a NY Times article called "Getting Faster with Age", Sam discusses the revival of this play - "I've come to see it as a bit of an awkward play. If you were to talk about it in terms of cars, it's like an old, broken-down Buick that you kind of hold together to just get down the road. All of the characters are in a fractured place, broken into pieces, and the pieces don't really fit together. So it feels kind of rickety to me now." He further admits, "I see my older plays as clunky relatives to the ones I'm doing now, to be honest, and I don't have a great deal of interest in those older plays."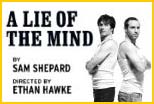 John Lahr of The New Yorker disagrees, "On the contrary, as this compelling and vivacious production proves, it's a vintage vehicle whose quirky style somehow epitomizes its era." And theater critic Ben Brantley (NY Times) gives high praise calling it "Shepard's richest and most penetrating play, a 20th-century masterwork of a family portrait to be compared with Eugene O'Neill's 'Long Day's Journey Into Night' and Harold Pinter's 'Homecoming.'
February 2, 2010
Off-Broadway Premiere
The Atlantic Theater Company production of AGES OF THE MOON has been extended by two weeks. Directed by Jimmy Fay and starring Stephen Rea and Sean McGinley, the play was originally scheduled to end March 7. Performances will now continue at the Linda Gross Theater through March 21. Here's a great publicity shot of our playwright with his "good old boys" - Irish actors Stephen Rea and Sean McGinley.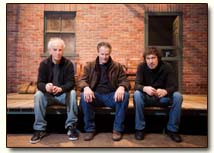 The official opening night was held on January 27th. Playbill blogger Harry Haun posted a few comments about the festive evening - "The famously press-skittish Sam Shepard opted to grin and bear it for the paparazzi-popping that accompanied the Atlantic Theater opening of his new play... At least he stayed for some group shots at the after-party at Moran's before hitting the door. 'He's not doing interviews tonight,' the publicist explained.
The first photo below shows Sam with his star Stephen Rea and the second one shows him in the company of three directors with "Ages" director Jimmy Fay, Abbey Theatre's Fiach Mac Conghail and Atlantic Theater Company's Neil Pepe. For more opening night photos and reviews, follow this link.

John Lahr of The New Yorker has just published a rather lengthy, but excellent article called, "The Pathfinder - Sam Shepard and the struggles of American manhood." I'm always looking for wonderful new ways to describe our playwright. Lahr does justice with "Shepard was homespun and handsome, with a strong jaw and a dimpled chin. He exuded the mystery and swagger of a movie star, which he would eventually become." If you have time, you can read the full article. Here's an excerpt from his review on "Ages":
Under the direction of Jimmy Fay, "Ages of the Moon" has the loose banter and percussive rhythms of Shepard's early play - it even has an eleven-o'clock "aria"—but the evening has more splash than sizzle; nonetheless, since Shepard is a cunning craftsman, the play's charm is insinuating. Ames and Byron are intended as clowns of inconsolability, a kind of country-and-Western Vladimir and Estragon. They drink; they argue; they fight; they pass the time from midday to midnight waiting for an eclipse of the moon. Twice during the evening, Byron calls Ames "hopeless"; the word evokes his marriage. "I can't ever go back now," Ames says. "I know. I can see it. The writing's on the wall."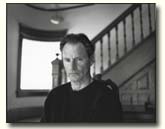 The play is slight; the weight of its sorrow is not. Shepard leaves his characters gazing poignantly into the gloaming. "Sliver of moonlight fades to black," the stage direction reads. As Ernest Tubb's bright voice sings them into shadow—"When you look at me with those stars in your eyes / I could waltz across Texas with you"—the men sit, drinks in hand, staring into space. The falling darkness plays as the declivity of Shepard's life and love. "I hate endings," he once said. "Just detest them. Beginnings are definitely the most exciting, middles are perplexing, and endings are a disaster."
Book Reading Event with Patti Smith
On January 22nd Sam and Patti Smith appeared together at a 92nd Street Y's Poetry Project event in which the two old friends and collaborators read passages from their recently published books: Smith's "Just Kids," a memoir about her life with the late artist Robert Mapplethorpe and Sam's short story anthology, "Day out of Days". The two photos on the right show the duo meeting with children at the Poetry Center School before they went on stage.
Sadly, it was impossible for me to attend (big sigh). Furthermore, I was actually offline unable to provide commentary as well as photos on all the exciting happenings of the past couple weeks. According to those who were present at the 92Y reading, these two artists gave an engaging performance. From the Wall Street Journal blog:
"I thought this could make a good story," Sam Shepard said last night at the 92nd Street Y in Manhattan, going on to outline a premise whereby two people are together for a year, go their separate ways for the next four decades, marry other lovers and start families, have separate careers, become a rock singer in the case of one, and then, "forty years later they get back together and see what happens."

Patti Smith, who was sharing the stage with Shepard, laughed and said, "That is what happens."

The pair talked in the easy way of old friends and improvised the evening, sometimes stopping and starting over again and laughing. "We're not entirely prepared but we've never been — and we're still here," Smith said.

Shepard began with an absurdist tale of a man trapped inside a Cracker Barrel bathroom and forced to listen to nothing but piped-in Shania Twain songs. Smith countered with the story of how she befriended Mapplethorpe while on a disastrous date with an older sci-fi writer. Shepard read a story about Las Vegas, New Mexico; Smith read a poem she wrote after meeting Shepard — a poem whose spirited recitation made the audience roar.

"Um, okay," Shepard said. "How do I follow that?"

Eventually, he figured out a way, picking up a guitar and dueting with Smith first on an old sea shanty and then on "You are My Sunshine," which, Shepard noted affectionately, was "my mother's favorite song."
From an anonymous blogger:
At the beginning of the event, Shepard read an excerpt of his story about a man trapped in a Cracker Barrel restroom with the music of Shania Twain constantly blasting inside. It prompted Smith to later remark to Shepard, "I'm going to get you the complete boxed set of Shania Twain." The event was very loose and informal as Smith and Shepard took turns briefly reading from their latest works. Shepard's stories conveyed a certain eccentric and quirky nature to them whether it is about an aging actor or a reference to the late jazz saxophonist Eric Dolphy. His delivery brought a charming and wry Midwestern flavor to his stories.

Smith was equally affecting with her reading of excerpts from "Just Kids," which included passages about her meeting Mapplethorpe in the late '60s and how he photographed her for the famous album cover of Smith's "Horses." Smith also told the story of meeting Shepard back when he was first known as "Slim Shadow," the drummer of the Holy Modal Rounders. When they dined out together at Max's Kansas City in New York, she later learned through a friend that "Slim" was Shepard, a successful Obie Award-winning playwright. "Well, I didn't have my eyes on Broadway and I wasn't going to drag him around like some male trophy," Smith read, "but I figured if nothing else he was sure to have the money to pick up the check."
Attendee Lena Valencia also gave her account:
"We're not prepared, but we never have been, and we're still here," Patti Smith announced as she and Sam Shepard sat down on the two armchairs on the stage of the 92nd Street Y last night, facing the sold-out crowd. They read, in a sort of call-and-response fashion, excerpts from their newest works peppered with some of Smith's poetry and a couple of pleasantly unrehearsed musical numbers at the end.

According to "Just Kids", Smith and Shepard met when she went to see him play in The Holy Modal Rounders. He introduced himself to her as Slim Shadow and Smith, oblivious to his true identity, was attracted to this "handsome hillbilly" with a "cowboy mouth"... The two sparked up a romantic relationship and went on to collaborate on the play Cowboy Mouth. Forty years later, after immensely successful careers in their respective fields, the two luminaries giggled and made digs at each other between readings as if they were alone. They finally did what everyone was hoping for and picked up the guitars, performing an acapella 17th Century Sea Shanty about crossing Cape Horn, along with "You Are My Sunshine."
From Jason Diamond from The Faster Times:
The duo, who admitted to meeting for coffee on a normal basis, kept the conversation between reading their work light and sweet. Smith, reading for the first time at 92Y, played the part of the nostalgic by reading from her wonderful new book of memories from her early days in New York, "Just Kids". Shepard, something of a veteran of readings at the Upper East Side institution, seemed just fine letting Smith be the highlight of the evening, but the guy could have just as easily carried the night on his own. Whatever the case, the sold out room was treated to an evening of two icons reading their works and having a good time being friends.
And finally, Margaret Eby from Interview magazine:
"We're not entirely prepared," Patti Smith announced to the crowd gathered at the 92nd Street Y last night. "But I've never been." Smith, the ragtag godmother of New York City punk, took the stage last night for a reading with playwright and longtime friend Sam Shepard. As it turns out, Smith's warning was more than just coy stage banter: The whole evening was mostly improvised, with Shepard and Smith unsure who was supposed to read when, or quite what to do with the guitars the Y had helpfully set up beside their chairs. Like most improvisations, the result was mixed: some nervous laughter, quite a few awkward silences, and a couple moments of pure, you-had-to-be-there magic.

Unsurprisingly, Shepard, in light of his considerable acting career, was the more animated dramatic reader. The dynamic between Smith and Shepard began as something like that of competing siblings ("This isn't a contest," Shepard reminded Smith after one selection), but metamorphosed into one of artists deeply appreciative of each other's work. Toward the end of the night, Smith began to smilingly defer to Shepard, looking like a child listening eagerly to a bedtime story.
Critiquing Shepard
It has become apparent to me that several reviews on Sam's latest book, DAY OUT OF DAYS, are just a string of capsulized versions of his stories, and not a true critique in any sense of the word. It must be disappointing to the author himself that the response of these so-called journalists is merely a regurgitation of the book. Then there are those who simply write gobbledygook like Susan Salter Reynolds (LA Times) and call it a review. Useful commentary and insight, it is not.
January 18, 2010
Old friendships
How many people get to glimpse the private space of New York rock poet legend Patti Smith? Everyone now. Last week the Robert Miller Gallery in West Chelsea opened "Objects of Life," an exhibit by photographer and filmmaker Steven Sebring and Smith, focusing on images and objects central to Smith's life. The opening reception, held January 6th, was a revolving door of celebrities and artists including Sam. Smith and Sebring collaborated for eleven years on the documentary "Patti Smith: Dream of Life', which aired on PBS on December 10th. During those years of filming, Sebring became increasingly interested in the history and mythology behind the possessions and personal treasures that Smith shared in the film's most intimate moments. It resulted in the desire to return to his roots as photographer and to recontextualise the sacred and the commonplace through his camera lens. The two artists have now put together this exhibition, which includes Patti's childhood dress, her Land 250 Polaroid camera, and a tamborine made by Robert Mapplethorpe.
Filming in Nashville
Filming for Epix's first pilot, TOUGH TRADE, began last month in Nashville. From the recent photos above, you can see that Sam will be sporting a scruffy look as Linwood Tucker, the patriarch of a three-generational Nashville music family. Lucas Black plays a talented guitarist and singer who could have followed the legacy of his grandfather (Shepard) and his father, played by Carl Elwes. However, he has no interest in pursuing a career in country music. Instead, he makes his money selling illegal ammunition. Nashville native Trace Adkins will play Scared, a friend and bodyguard to Linwood Tucker, who is fiercely loyal to the family. Joey Lauren Adams will play Shawnelle, the strong and blunt fifth Mrs. Linwood Tucker who is determined never to be the newest ex-wife. Boyd Holbrook will play Jackson, the youngest Tucker, who is poised to become the crown prince of country music by following his family's legacy. And Claire Van der Boom will play Jackson's half sister, Billie, the only woman in the world of the Tucker men who holds the family together with her strength and will. Epix is eyeing this new dramatic show as the premium channel's first original series premiering this year.
Put on your reading glasses
Sam's latest collection of short stories, Day out of Days, was released last week and a few book reviews have surfaced. (Click on the link above for excerpts) I'm looking forward to acquiring my copy shortly. Years later, I'm surprised how I still take delight in his tales written down in "Motel Chronicles" almost thirty years ago. Walter Kirn of the NY Times has one of the most awesome descriptions on Sam's latest collection - "Shepard's book has no normal beginning, middle and end. Its structure is not sequential but vertical. Using fanciful anecdotes, lyric riffs, seemingly lifelike reminiscences and quotes from our nation's founding thinkers, he drills down through the strata of our history into the bedrock of American myth. He sinks his wells at random, in offbeat spots, taking core samples from all over the country that often contain fossils of shared experience, some of them heavily crusted over with legend. His words have a flinty, mineral integrity, especially when he describes the people around him, who come off as distinctive individuals but also have an enduring archetypal feel, like the iconic figures in Whitman poems. His crackpot vagabonds, working-class survivors and footloose fellow wanderers have been with us always and probably always will be. Their names may change over time but not their souls, which eventually form the ground we're forced to cover us as we fan out to seek our fates. But their moans are still audible over our engine noise — if we only slow down enough to hear them in the way that Shepard does."
"Paris, Texas" on Blu-Ray

Winner of the prestigious Palme d'Or and FIPRESCI awards at the Cannes Film Festival, PARIS, TEXAS (1984) arrives on Blu-ray courtesy of Criterion on January 26th. German New Wave pioneer Wim Wenders ("Don't Come Knocking") brings his keen eye for landscape to the American Southwest in a profoundly moving character study written by Sam Shepard. A mysterious, nearly mute drifter named Travis (a magnificent Harry Dean Stanton, whose face is a landscape of its own) tries to reconnect with his young son, living with his brother (Dean Stockwell) in Los Angeles, and his missing wife (Nastassja Kinski). From this simple setup, Wenders and Shepard produce a powerful statement on codes of masculinity and the myth of the American family, as well as an exquisite visual exploration of a vast, crumbling world of canyons and neon.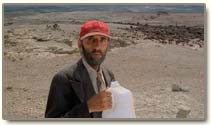 Amongst the supplemental features on the disc are: an audio commentary with director Wim Wenders; "The Road to Paris, Texas", a collage of interviews with Wim Wenders, cinematographer Robby Muller, composer Ry Cooder, actors Harry Dean Stanton, Peter Falk, Dennis Hopper, and Hanns Zischler, director Samuel Fuller, author Patricia Highsmith, and film critic Kraft Wetzel conducted by director Paul Joyce; interviews with Claire Denis and Allison Anders; deleted scenes and Super 8 footage; trailer and more. Criterion have also included a 46-page illustrated booklet containing Nick Roddick's essay On the Road Again; interviews with Sam Shepard, Nastassja Kinski, Harry Dean Stanton, and Dean Stockwell; and excerpts from the preface to "Written in the West", a collection of photographs which Wim Wenders took in 1983 while location-scouting for Paris, Texas.