NEWS: July 31, 2017 - August 7, 2017
August 7, 2017
From actor Stephen Rea:
"I wrote an introduction to one of his plays in which I said that the three great writers of the English-speaking theatre at the end of the 20th century were Beckett, Pinter and Sam. He said to me at the time: 'You shouldn't include me in that company', but he more than belonged there. His writing is heroic, he himself was heroic and he was heroic in the stoical way he faced his death. He was very candid. I saw him shoot people down once or twice but, my God, he was the kindest man; utterly truthful, witty and generous to a fault. There was no one like him."
[I always enjoy Stephen Rea on the big screen but none more than his role as the joyless husband Henry in Neil Jordan's The End of the Affair, based on Graham Greene's novel. Top performances from all three leads. That includes Ralph Fiennes and Julianne Moore. If you haven't seen it, you're missing a gem.]
From The Arts Desk:
Nicholas Wright, then artistic director of the Theatre Upstairs, recalls "a laconic, dry, very laid back, very masculine Gary Cooperish kind of style, certainly very direct, capable of being quite rude."
"My impression," says the actress Dinah Stabb, "was that he was always keenly interested in events going on outside the room. Although he was part of the world of the Royal Court, he never seemed to be of it. It's no surprise that he went on to be a film star, because he seemed like a film star when you met him. People always wanted to be part of him, to be where he was."
Jimmy Fay, who directed Shepard's plays - True West twice (once for the Lyric in Belfast, and once for the Abbey), Ages of the Moon and Curse of the Starving Class, also in the Abbey in 2011, described him as "generous, razor sharp, experimental, strange, iconic, Elvis-like", while also being "utterly engaging, interested in people, an outdoors man, a great poet who always had to write".
August 5, 2017
From Graham Hillard, National Review:
True West still rings true and stands as the greatest American drama since Long Day's Journey into Night. Sam Shepard has died, and American theater has lost one of its last remaining giants... Who, now that Shepard is gone, will seize his mantle? Tony Kushner, perhaps? Or Lin-Manuel Miranda? Had he not ensured a lifetime of poor reviews by making explicit a conservatism that had once been merely latent, my money would have been on David Mamet, an obvious genius and a dialogist of unparalleled skill.
Yet none of them can claim Shepard's fire. The man had something. He gnawed that bone until it broke.

From David Krakauer, President of the Sante Fe Institute:
"Sam was a restless, brilliant, and gracious polymath who became an important member of our community, an unlikely and passionate interlocutor at the Santa Fe Institute, and a friend with whom we would discuss novels, poetry, folk music, and the challenges of our too often thwarted efforts at creativity. He was one of the most seductive people I have met and we shall all miss him very much."

"Sam's office was in the Institute library where we could hear him typing out essays and plays on his Olympia SM9. When Cormac McCarthy and Sam worked in adjoining rooms of the library, the Institute resounded like a nineteenth-century steel mill — deafening hammering of dueling Olivettis and Olympias."
In the 2016 documentary "California Typewriter", several artists and writers, who remain devoted to the old-fashioned method of word processing, are interviewed. Sam discusses how he approached playwriting and how he values the physicality of a typewriter. You can watch a clip of his interview at this link.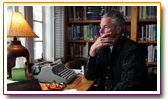 * * * * *
Troy Lennon, History editor at The Daily Telegraph, wrote about Sam's appeal to cinephiles:
"A versatile performer, he brought an intelligence, integrity and authenticity to his roles on stage, on screen and behind the scenes as a writer and occasional director. He often acted the part of farmers or ranchers on screen but also lived that role in his private life, running horses and cattle on his own ranch. Even when he played or wrote about characters like pilots, lawmen or urban dwellers, many were imbued with that same rugged rural spirit."

In 1984 when director Phillip Kaufman was looking for someone to play the pivotal role of Chuck Yeager, he found his leading man in an unlikely place. He said, "Sam had a cowboy quality to him. He was Gary Cooper". His confident cowboy swagger earned him an Oscar nomination and made him as close to a mainstream star as he ever wanted to be. Sam said, "I didn't want to be a movie star. I didn't want to have that thing of being an icon. It scared the shit out of me."

Some journalists have remained confused as to how many wives Sam had. He had only one; that was O-Lan Jones and they were married for 14 years. Here is their wedding photo taken on November 9, 1969 at St. Mark's Bowery in NYC. Together they had a son, Jesse Mojo.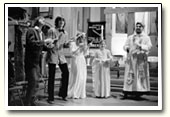 O-Lan is an actress, writer and composer and has been involved in experimental theatre, music, and opera since the age of sixteen. She's been working on a memoir called "Fire Road" for several years. You can read what she writes about Sam at this American Theater link. Through the years, I enjoyed recognizing her in these small screen roles. As a Peter Coyote fan, I first caught her co-starring with him in "Die Laughing" and the quirky film "Out", where she probably had her biggest role. She often played a waitress and it was easy to pick her out because of the space between her teeth. She even wrestled a role in one of Sam's most successful films - "The Right Stuff".
Excerpt from "Fire Road":
We [Sam & O-Lan] would steal away and drive around in his car at night, a beige Volvo station wagon. No destination, the smell of metal dust in the empty car. I watched his hands change gears in the rolling light from the streets. That car didn't seem like him; it was something you'd find in a suburban driveway. It was placid and boxy, but he was jagged, vibrant, the air rippled around him. He'd walk into any dark place and not because he wasn't scared—it was okay to be scared, it would all be gone some day anyway. Our empty places hummed together. His from fighting his way out of the suburbs, mine from the time I lived in the jungles of Yucatan, where everything I knew had been torn away down to the bare blank bottomless hollow.

He'd say, "What's the worst thing that can happen—we die?"

* * * * *
Here's the aging but still handsome Shepard in a photo shoot taken in New York 15 years ago:

August 4, 2017
Robert Faires of the Austin Chronicle wrote an article yesterday reminding folks that Central Texas will be keeping Shepard's flame alive in years to come with major archives of his work at Texas State University and the University of Texas.
The Wittliff Collections at Texas State in San Marcos is home to 27 boxes of Shepard materials, covering his career during the Eighties and Nineties, as well as an additional eight boxes that focus on Shepard's four-decade friendship with Johnny Dark, the father of Shepard's wife, O-Lan Jones. The Harry Ransom Center at UT houses 30 boxes of its own, stretching from 1965 to 2011, but chiefly focuses on the periods of 1983-87 and 2001-09.
In 2013 Texas State in San Marcos featured an exhibition for nine months called "The Writer's Road: Selections from the Sam Shepard Papers".
* * * * *
While so many mourners are praising Sam's talent as a playwright, Justin Chang of the LA Times refreshingly honors Sam as an actor. I couldn't have said it better. Here are a few paragraphs:
On the page, Sam Shepard was seldom at a loss for words, but on the screen, he was a master of resonant understatement. The men he played over more than four decades on the screen have encompassed multitudes — lovers, loners, drifters, professionals, authority figures, rebels and one very famous test pilot — but they tend to be lumped together with words such as "laconic" and "taciturn," perfectly accurate descriptors that can nonetheless seem inadequate to the task of capturing his peculiar expressiveness.

You could say that a face as beautifully sculpted as Shepard's rendered speech more or less superfluous: the flinty stare that was made for quiet brooding, the tight, dyspeptic frown, the prominent brow that became ever more majestically crosshatched with age. But his lanky physicality and craggily handsome features only partly accounted for what made him, until his death, on July 27 at age 73, such an extraordinary screen presence — one that never got old for being so reliably expressive...

Simply by showing up and inhabiting the frame for a few minutes, Shepard could inject a picture with some essential quality that it needed — gravitas, world-weary intelligence, the weight of lived experience. In recent years, the gifted independent American classicist Jeff Nichols has made particularly exceptional and varied use of this ability, casting Shepard first as a cryptic but dependable father figure in Mud (2012) and then as a disturbingly charismatic cult leader in last year's Midnight Special.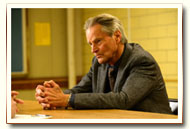 August 3, 2017
When a great man dies, there is bound to be an outpouring of beautiful words and essays written about his life, some written by folks who never even shared any space with this great man, but they think they know him because of what he wrote. Vast difference between the great man and his great works. So, it is in this spirit that I point out an essay by Hilton Als called "Sam Shepard's Soul". I immediately wrinkled up my nose. Of course, soul is different to a white man than a black man. He obviously wasn't writing about Mr. Shepard's spirituality. Mr. Als asserts, "While he was associated in films and onstage with the West, Sam Shepard's real terrain was black music." Are you kidding? In his blather, Mr. Als writes, "I wonder if Shepard ever felt that it was very difficult to live with his ambition, a talent he must have tried to hide, or felt humiliated by." Okay, enough nonsense for today.
The photos below were taken in January 2016 and at the time the public was taken aback by Sam's very frail appearance but there was no explanation given. Sam could have refused this photo shoot given his illness, but he chose to sit down and have photographer Chad Batka click away. Perhaps this was his quiet way of saying goodbye. These photos show Sam as a very humble man, unlike most celebrities obsessed with their looks. Longtime Knopf editor LuAnn Walther said he fought the neurodegenerative disease for a couple years.
Patti Smith's poetic memoir in The New Yorker makes note of Shepard's affection for another dear friend and longtime resident of Hudson, New York, screenwriter and author Rudy Wurlitzer. It was Rudy who adapted Max Frish's novel for one of my favorite Shepard films - Volker Schlöndorff's Voyager (1991). He asked Imby (Hudson's local social network) to post these two photos. The first one was taken of Sam and Rudy at Le Gamin cafe in Hudson in 2012. Imby also points out that Sam's daughter Hannah has lived for several years in Hudson and they extend their sympathy to her as well "and, for that matter, everyone else who knows and loves Sam Shepard's great work. A legend he will always be." Amen!
Last night at 7:45 pm, Broadway dimmed its lights for one minute as a tribute to the beloved playwright.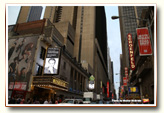 And where is Jessica Lange's tribute to her children's father? She's had at least two years to think about it. Perhaps she will create a foundation in his name or at least organize a memorial. Certainly, there's curiosity as to what their parting words were and why she wasn't present at his death bed alongside their children. This is the last photo I have come across of the pair on July 27, 2015, exactly two years ago from the date of his death. It was taken in Duluth, MN, not far from her secluded cabin.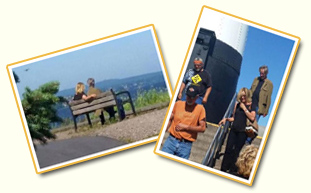 August 2, 2017
From actor Ed Harris:
"Most of Sam's plays are pretty autobiographical in terms of dealing with his own internal maelstrom. His last book, The One Inside, is a collection of episodic little stories tied together. It's the most intimate thing he wrote. Read that and it's like you're holding the essence of Sam in your hands... As a really private guy, Sam didn't talk a lot about his feelings. I'm glad I was able to spend some time with him when we were rehearsing Buried Child. He'd been diagnosed with ALS [Amyotrophic Lateral Sclerosis]. When he found out he was seriously ill, he became more open and accessible. A kindness crept into him. It allowed me to feel the nature of our friendship, and I'd like to think it was the same for him. He was a huge influence in my life. I loved the guy and I'll miss him big time."
One of Sam's last films was James Franco's "In Dubious Battle", which also starred Ed Harris. Love this photo.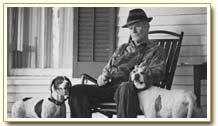 From actor Richard Gere: [Days of Heaven]
"Sam was like some washed-out sun-bleached bone you find out in the desert. Even when he was young, it felt like there was something very ancient about him... There was a desert cowboy thing about him, where he was at home being alone - but happy when he got to town and took his boots off. I think he felt comfortable with that persona."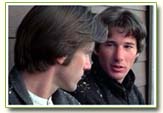 From director Jeff Nichols: [Mud and Midnight Special]
"Shepard was an American icon in a time when we manufacture a lot of celebrities, but there's a giant chasm between celebrity and an icon. And I don't want to sound too cheesy - he wouldn't want that - but that's what he was."

From director Philip Kaufman: [The Right Stuff]
"Sam didn't just write and act; he played drums and other instruments. He travelled with Dylan for a while. He was cool, and I mean the original meaning of cool. He was out of the jazz era. He was a cowboy...You always had to validate the truth of things with him. With some people, you read an obituary and that's it. But with Sam I have to reject the obituary approach, because he lived such a vivid life. The Sam I have in mind is still alive. His plays bear testimony to that, and all his varied roles in films. He was and is to me sort of a ghost, like the ghost of that father figure that hovers in so many of his plays. He's one of the rare people I've met whose voice has gotten inside of me. Therefore he's still with me."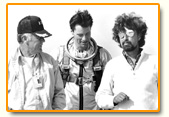 August 1, 2017
Broadway will pay tribute to Sam Shepard with a ceremonial light dimming. Marquees will go dark for one minute at exactly 7:45 pm tomorrow evening, August 2.
"Sam Shepard was a prolific storyteller who created provocative, thoughtful, and exciting work for Broadway, Off-Broadway, and film," said Broadway League President Charlotte St. Martin in a statement. "His original voice was a definite draw for audiences and had an undeniable influence on other artists. He will be greatly missed. Our thoughts are with his family, friends, and colleagues."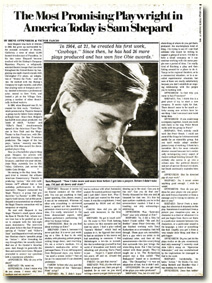 Village Voice - October 27, 1975
* * * * *
Punker pal Patti Smith has written an essay in The New Yorker called "My Buddy" as her tribute to her old friend. She was traveling in Switzerland when she learned of Sam's death. She writes how she told the sleeping lion of Lucerne, "He dreams of horses. Fix it for him, will you? Have Big Red waiting for him, a true champion. He won't need a saddle, he won't need anything." You can read the full article at this link.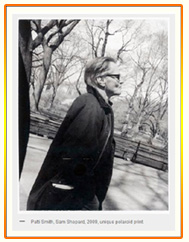 July 31, 2017
Sam Shepard, the celebrated avant-garde playwright and Oscar-nominated actor, died on Thursday, July 27, 2017 at his farm in Kentucky. He was 73. Chris Boneau, spokesman for the Shepard family, said the cause of death was complications of ALS, more commonly known as Lou Gehrig's disease. He said Shepard was open with those who asked him about ALS and was not afraid to speak about it. He added, "He faced the disease head on without an ounce of self-pity."
He is survived by three children - Jesse, his son by his marriage to O-Lan Jones, and Hannah and Walker, his children with actress Jessica Lange. He is also survived by two sisters, Sandy and Roxanne Rogers.
Boneau also indicated that funeral arrangements remain private, and no plans have been made yet for a public memorial.

Totier Creek Farm near Midway, KY
Shepard bought his farm in 2000, keeping cutting horses and cattle on it while boarding his mares at nearby Nuckols Farm. He loved breeding thoroughbreds. In a 2007 interview, he said, "I plan all the matings and never talk to bloodstock agents. I spend endless hours poring over pedigrees, but some of the best horses I've bred came from instinct."
"I loved Sam. He has been a huge part of my life, who I am, and he will remain so. I will let others talk about the importance and beauty of his work in theater and film." ...Actor Ed Harris
"From the day Sam Shepard hit New York to the day he died, his image was always in line; the music of his plays - the fantasy rhymes - sussed the spiritual impasse of his generation." ...John Lahr, The New Yorker
"I think the last time I saw him was last year on opening night for a 'Buried Child' revival at Signature. I hadn't realized he was ill, but he was having difficulty handling objects. I grieve his loss, celebrate his life and work, and give thanks for my part in it." ...Actress Lois Smith
"Sam Shepard was one of the last myths of the American West, John Ford's melancholy-rebellious son. He has bridged bridges between rural and urban America, they were hardly viable for a whole society, but they were to be crossed for individuals. But at least. Now the gulf between Prairie Home and Big City is as big as never before. And no Sam Shepard anymore." ...Georg Seeßlen, Zeit Online
"Sam Shepard's snaggle-toothed smile, craggy good looks and outlaw style as actor and writer made him an American icon in the mold of Gary Cooper and Marlon Brando." ...Jeremy Gerard, Deadline
"He was a poet of the first order. I've acted in many of his plays and directed 'A Lie of the Mind'. He played my father twice on film. Some days he could be irascible. At other times he could be profoundly wise and kind. He was the writer any serious American actor of my generation cut their teeth on. It is a gross understatement to say, he will be missed." ...Actor/director Ethan Hawke
"Buried Child' will certainly go down as one of the great works of 20th-century drama, a scathing endgame for American values and emblematic of Shepard's lifelong fascination with the harrowing fragility of family bonds." ...Peter Marks, The Washington Post
"For more than half a century, playwright Sam Shepard stood as a towering presence in American theater and cinema, penning dozens of plays and earning an Oscar nomination as an actor in his own right. Delving deeply into the complicated, often bleak nature of family life, the Pulitzer Prize winner earned the title — in drama critic Jack Kroll's words — of 'poet laureate of America's emotional badlands.'" ...Charles Sykes, NPR
"At about the time his playwriting was beginning to peak, he did something one would have never imagined O'Neill or Williams doing: He became a romantic movie lead. The shift was so unexpected that many of his fans in the theater thought it had to be somebody else when his name appeared with Richard Gere's and Brooke Adams' among the leads in 'Days of Heaven'... but his on-screen magnetism was powerful enough to match, if not overpower, Gere's own." ...Film critic Gene Seymour
"Shepard was that perfect bundle of contradictions that only an artist could ever justify: Someone who craved privacy and outwardly resented the opposite and yet acted in movies and revealed his rawest truths on the pages of his plays. Or perhaps he wasn't so oblique after all — just too complicated for the Hollywood celebrity machine." ...Lindsey Bahr, QCOnline.com
Everyone remembers the moment that Shepard opened a door for them that they've been walking through for the rest of their career. If you still haven't walked through that door, start with 'Buried Child', move onto 'Fool for Love' or 'True West', and then drift along, like a cowboy poet, through the vast expanse of his America, fractured, at risk of forgetting itself, grasping towards the ineffable with heartbreak and grace." ...Isaac Butler, Slate magazine
"It is probably no accident that his written work and onscreen presence fascinated European directors like Michelangelo Antonioni and Wim Wenders: In his understated masculinity he was a throwback, an endangered species. He seemed vaguely tortured, and he wasn't about to tell you why." ...Jim Windorf, NY Times
"Throughout all his various works and appearances, Shepard established a (perhaps unwanted) iconic status. Attractive and rustically 'all American' in a way that seemed stolen from a Dorothea Lange photo, yet a cultural renegade, Shepard offered a certain weathered appeal to members of his generation and beyond." ...Gabriel Bell, Salon magazine
* * * * *
Here is a rare photo of Sam with O-Lan Jones on their wedding day in 1969 in New York City. They were married for 14 years.