My apologies are in order for this web site being offline for the past week or so. My tech support informs me they were having server issues but all is well now. My frustration levels were at an all-time high in the amount of time it took to resolve these problems. Grrr....

On September 24, Patti Smith's latest memoir "Year of the Monkey" was released by Knopf publishers. It's a short book at 171 pages. Amy Skorheim of Digg writes, "Like everything Smith does, the book is suffused with honesty and poetry. If you read it and aren't sure where reality ends and imagination begins, you're probably reading it correctly. Each chapter is headed by one of Smith's photographs taken over the course of a year in which Smith experiences loss, wanders, travels, witnesses a polarizing election and drinks a lot of coffee. Travel through that year with her and get an artist's take on death, aging, politics and dreams, shot through with insight and optimism in the darkness."
Here are some comments reviewers have made regarding Sam:
Adrienne Gaffney, SF Chronicle:
"In May, she's in Midway, Kentucky with Sam Shepard, who is being overtaken by ALS. The pair spend hours editing one of his final books 'The One Inside' and endlessly discussing literature, Smith spending her nights asleep on his sofa. What has been lost is apparent to both. 'From the window, we could see his horses coming up by the fence. Horses that he could no longer ride. He never said a word about it.' Smith doesn't turn away, and they find delight wherever they can, delightedly making bets on the Derby."
David L. Ulin, LA Times:
"The real reckoning 'Year of the Monkey' makes, however, is with mortality — This means 'Sandy' Pearlman, fading in Marin County, and most essentially, Shepard, cared for by his sister in Kentucky, surrounded by the horses he can no longer ride. 'We've become a Beckett play,' Shepard jokingly tells Smith, leading her to imagine them 'rooted in our place at the kitchen table, each of us dwelling in a barrel with a tin lid, we wake up and poke out our heads and sit before our coffee and peanut-butter toast waiting until the sun rises, plotting as if we are alone, not alone together but each alone, not disturbing the aura of the other's aloneness.'"
Airmail.com:
"One friend Patti speaks of often is Sam Shepard. She writes beautifully and tenderly about sleeping on the couch at his place in Kentucky, listening to the sounds of him breathing and the night outside. Patti helped Sam write his final book, 'Spy of the First Person'. She recounts how, when he can no longer write, she does it for him; she describes seeing his guitar in the corner on its stand—at the ready, but never to be played by him again. She is losing him little by little."

"Sam comes up again toward the end of the book. She reflects on their relationship and writes about the present and her fear of a future without him—things we don't think about before a certain age. She writes about Sam living with his sister in Northern California, and the way she describes his sister's devotion and love is simple and moving. You can feel his decline—the silence, the inevitable. Yet every day they work, because that's what he has always done and will do until the end. Which is coming fast. Patti keeps moving through it all, something she has always done."
Kaitlyn Tiffany, Vox:
"Smith's decades-long friendship with Shepard — along with their tumultuous love affair in the 1970s — is a part of her mythology, one of the many connections she's made by chance in some bar in Chelsea and that came to define the trajectory of her career. But it's not often that she's spoken of it in such personal and frank terms as she does in this book, setting down an image of one of the country's greatest playwrights while he struggles to use his hands. She makes no effort to play up or explain her devastation, which is obvious: 'He looked more like Samuel Beckett than ever, and I still harbored the hope that I would not be destined to grow old without him,' she confesses, before moving quickly forward."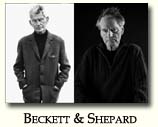 Deborah Dundas, Toronto Star:
"During this year she visits him often on his Kentucky ranch. It's difficult even to read about Shepard in a wheelchair — the celebrated playwright, always a handsome and vital man — is losing the use of his hands as the ALS he was diagnosed with in 2010 gets progressively worse; far more so to imagine what it's like for Smith. 'We had trips planned, and all kinds of things we were going to do in the future,' including to Ayers Rock in Australia, she says. 'I never saw that coming. He was always so healthy. I never anticipated that.'"
In a recent NY Times interview, Patti was asked why the two split after writing "Cowboy Mouth". She replied, "Well, he was married and he had a child and it was sad, but it was just the right thing to do." And was she surprised when Sam became a leading man in Hollywood? She responded, "No, because, first of all, he was a really great actor in plays and theater. He had a magnetism. He was one of the most handsomest guys you would ever see, more even in person than in film. But that isn't even what I liked about him, which was funny because it was so obvious that he was so handsome. People were just drawn to him. We'd walk down the street and women would come up, hit on him and they'd just say right in front of me, 'Get rid of the kid.'"
And in a book interview with Billboard, Patti shares, "With this book, my challenge to myself was try to keep it in time. Sometimes I did regress backwards to explain this and that. I was not anticipating that I was going to have to write about the death of one friend in time, and then the struggles of one of my closest people, Sam, also in time. It was different in that way. The dignities of these two men were very important to me, so I had to really think about how to express certain things. But also, you know, have a certain amount of discretion, and anticipate how each man - since I knew them both so well - would feel about what I wrote. I felt like both of them would appreciate what I wrote. I didn't feel like I wrote anything that they'd be unhappy about."
On August 12, 2019, Brian Tanguay of the Santa Barbara Independent wrote a review on Sam's final collection of writings - SPY OF THE FIRST PERSON. Tanguay writes, "As a writer and man, Shepard was ever seeking. 'What exactly is the experience of the present?' he wonders, and goes on to answer, 'The experience of the present is one of anonymity. Complete anonymity.' Perhaps that is what Shepard felt as the end drew near."
But how could the man feel ANONYMITY? We're talking facelessness, namelessness, nowheresville and obscurity. Now, if you think of the antonyms, there's where the truth lies - celebrity, fame, notoriety and renown. Like it or not, Sam, you were FAMOUS!
* * * * *
AGES OF THE MOON will receive its long-awaited UK premiere at the Vaults Theatre in London on October 17, 2019. The play will be directed by Alexander Lass and will star Christopher Fairbank and Joseph Marcell. Curtain time is 8 pm on Tues-Sat and 3 pm on Sat-Sun with the production running through November 24th. Description: On a hot summer's night, deep in the American wilderness, Byron and Ames are reunited by mutual desolation. By the fading light of an eclipsing moon, the pair reflect on love and life over a bottle of whiskey - and as old rivalries flare, their forty-year friendship is put to the test at the barrel of a gun.

Sam's daughter-in-law MAURA HARRINGTON passed away at age 53 on July 16, 2019. She is survived by her husband, Jesse Shepard, her parents, Tom and Dianne Harrington, her sister Bridget and her brother Michael. In lieu of gifts, donations are welcomed at defenders.org.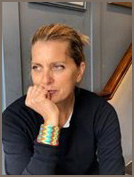 An unusual obituary follows. Perhaps it was written by Jesse -
She was a trailblazer of all things creative, artistic, political and gastronomic. She was a maverick.
She understood humans and little creatures and trees and Spirit.
She was kind, generous beyond belief.
She was sharp, quick and smart about it.
She was fluid, easy, and graceful in all her actions.
She was the face of Love.
She raised up the sight line for everyone.
And, not the least of it, she was fun - an adventurous traveler, always good for lively conversation, played great music you'd never heard before, threw together the most memorable dinner parties.
She was a prolific painter, furniture designer, graphic artist, photographer and collector- always applying her precise sensibility and innate aesthetic to everything in her life
Good design was everything to her and she didn't lack opinions about it.
She was a storyteller.
She spoke Norwegian, French and Spanish and could get by in Mandarin. If she didn't speak your language, she would be sure to connect with you through her eyes and a smile.
For so many, Maura was a north star and a compass.
She shall ever be so.
Maura was a pioneer in the Healdsburg community, co-founding the award-winning Flying Goat Coffee in 1994 with partner, Phil Anacker. She continually worked at the business to deliver the quality for which it is renowned while always advocating women's equality in coffee- from farmers in Africa and Latin America, to her staff in Sonoma County.
There's a new addition to The Sam Shepard Web Site. An excerpt from Jesse's 2003 collection of short stories called "Jubilee King" can be found on this page.
On July 27, 2017 Sam left us but his presence lives on in our memories and through his many works as an actor, director and writer. Graeme Wood has written an article for next month's issue of The Atlantic called "Sam Shepard Saw It All Coming: The family battles he described foreshadowed our current national crisis." You can read it at this link.
Wood writes, "He died two years ago, at the age of 73, and although the valedictions from the dramatic world were respectful, few suggested that his work was acutely relevant. Some hinted that he represented the classic Western, a genre whose exhaustion Shepard himself had lampooned. Obituaries noted the good looks (described as 'rugged,' although only his teeth were craggy) that helped make him a movie star, and his status as the 'paragon playwright of the American West' (Los Angeles Times). Shepard, one might be forgiven for thinking, chronicled a cowboy world that is no more, and that indeed ceased to live in the American collective imagination sometime between the last episode of 'Bonanza' and John Travolta's dismount from the mechanical bull in 'Urban Cowboy'. But Shepard plays are back in season, and they are neither antiquarian nor regional. They are modern—even visionary—and disturbingly universal."
Tobias Carroll of InsideHook agrees and writes, "Graeme Wood makes the case that Shepard's body of work has become even more relevant to modern American society in recent years. It's a thoughtful examination of how Shepard's preferred themes converge with the present state of American politics, and why his work resonates more deeply than ever. A number of Wood's conclusions are chilling, even as they also leave the reader clamoring for more revivals of Shepard's plays."