June 27, 2012
"Heartless" cast announced
The world-premiere production of Sam's newest play, HEARTLESS, directed by Daniel Aukin for Signature Theatre Company, will feature Lois Smith, Betty Gilpin, Julianne Nicholson, Jenny Bacon and Gary Cole. The production crew includes the following designers: Eugene Lee for scenery, Kaye Voyce for costumes, Tyler Micoleau for lighting and Eric Shimelonis for sound. Donald Fried is production stage manager. The synopsis reads - Sally, played by Ms. Nicholson, lives with her mysterious family in a cavernous home overlooking Los Angeles. When Roscoe, played by Cole, pays them a visit, Sally's dark secrets, and the secrets of those around her, threaten to come to light. Sally's mother, Mable, is played by Lois Smith. Gilpin and Bacon play either Sally's older sister Lucy or Elizabeth, Mable's nurse.

The Off-Broadway production will begin previews August 7 with an official opening night set for August 27. It will then have a limited engagement at the Irene Diamond Stage through September 16. Single tickets go on sale July 10th. To purchase tickets, call the Signature Theatre Box Office at (212) 244-7529 or visit signaturetheatre.org.
Shepard Film Series at Stanford
As part of Stanford University's Summer Theater program, the Sam Shepard Festival will be held, which will include a film series. Screenings are free and open to the public in Annenberg Auditorium on Monday evenings, July 9 - August 6, beginning at 7 pm. Stanford faculty and Summer Theater members will provide a brief introduction to each film and lead a post-screening discussion with the audience.

The schedule is as follows:
July 9 - Days of Heaven, directed by Terrence Malick (1978)
July 16 - Thunderheart, directed by Michael Apted (1992)
July 23 - Voyager, directed by Volker Schlöndorf (1991)
July 30 - Don't Come Knocking, directed by Wim Wenders (2004)
August 6 - Fool for Love, directed by Robert Altman (1985)
Irish connections
When Sam visited Ireland in April, he hosted an actors' workshop on April 11th at The Playhouse in Derry with Stephen Rea and Field Day Theatre Company, founded by Rea and playwright Brian Friel. It is expected Sam will premiere a new Field Day play as part of Derry's City of Culture 2013 celebrations. You'll note that Sam's daughter Hannah appears in two of the photos as she came to Ireland to perform with her father and Patti Smith at Dublin's Abbey Theatre on April 9th.
April in Paris, chestnuts in blossom...
Back in April, I reported that Sam was in Paris working with Irina Brook on her production of Ibsen's "Peer Gynt" for the 2012 Salzburg Festival. He was asked to write the song texts and poems for the play. In the early 70s, Sam met Irina's father, director Peter Brook, who advised Sam to write deeper characters and after that, Sam altered his writing style and began creating full dimension characters. Here are several photos [taken by Patrick Lazic] of Sam and Irina in rehearsal.
June 17, 2012
GQ Interview
I had the chance to see SAFE HOUSE since it came out on DVD last week and it's reassuring to know that Sam shares my reaction. In the June edition of GQ magazine, he voices his honest opinion about the film:
"I don't think there's a cut in it that's longer than three seconds, which is very frustrating for actors, because you never feel like there's a complete scene. They tend to interpret it as being very exciting for audiences, but I don't think so. Maybe I'm talking out of school, but I think it could have been more powerful if they'd allowed the scenes to play out a little more and actually experience the characters. But this style of filmmaking is the Bourne Identity style, you know. I don't mind being critical of it, though, because I'm on the cutting room floor half the time... I think when you treat scenes that way, where everything is pure action, you never get a chance to actually experience the character. I think it was even true of Denzel's character, which had much more scope than was allowed because of the editing." ...Sam Shepard
Yes, whack and hack prevail. Vera Farmiga is a talented actress with an interesting face. I like to watch her expressions. Not here, folks. Three quick seconds and the frame is gone!
In this GQ interview with Sam, he hands over a little more info about his new play, HEARTLESS. I have no other confirmation of any cast members except for what Sam mentions here:
"There's four females and one male, which is kind of unusual. I don't think I've ever written anything like it. Lois Smith has already committed. She's been the first actress to commit, which I'm just thrilled to have her. She did my play 'Buried Child' on Broadway years ago, and I actually think she's best known for 'Five Easy Pieces', where she played Jack Nicholson's sister. And then we're hoping to get Treat Williams for the male part. That's what we're working on now. And Carla Gugino, I don't know how you pronounce her last name. So that's where we're at with the casting. We still have to go a long distance with it."
Lois Smith, who will be 82 in November, also co-starred with Sam in both "Resurrection" and "The Pledge". I have seen her in several roles and she's always excellent.
You can read the entire GQ interview here. I think my favorite quote is:
"I don't have a computer. I don't have an Internet, I don't have the
e-mail, I don't have any of that shit." ...Sam Shepard
It sounds like he's boasting but I'd like to tell our playwright it's not an admirable quality for humankind to be resistant to change because it rightly conjures up some negativity about that person. Stodginess for starters. If one becomes stuck in the past for half a century, most likely they have nothing new to tell us. It's just same old, same old...
Blast from the Past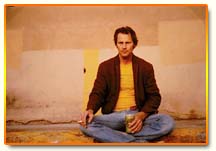 Being honored...
Back in November 2011, Sam received the first Ellen Stewart Award, sponsored by La MaMa. He was not present to receive it, but he sent along a video, which has become available online. You can view it by clicking on the photo below.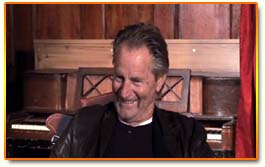 June 8, 2012
The Sad Lament of "Sam Shepard"
"I'm a writer, that's essentially what I am. The acting's just the thing that I do to make a living, because you can't make a living as a writer." ...Sam Shepard
Actually many writers have lucrative careers. It depends on their format, how often they write, and what the subject is. Had Sam become a true family man over the past 30 years, he could have written til the cows came home, partly supported by one of Hollywood's most successful leading ladies. There you go!
The man who wrote "The Sad Lament of Pecos Bill" continues to lament on the fact that his acting purely buys him time to write. His latest play, HEARTLESS, is set to open late this summer. Always uneasy when it comes to revealing details, he says, "We start rehearsals in July..." He explains that he tries not to talk too much about his plays this early in production. He does admit that the story is female-heavy, an attribute that is rare in his works. "The truth is I'm always involved," he says. "Many times I'll direct myself if I have time to do it but I found an interesting young English director, Daniel Aukin ... so I feel good about that. I like kind of coming and going because I can rewrite as rehearsals progress so sometimes it's good to stay away from everything and come back to it [and] see how the actors have taken a hold of it."
And what would Sam be doing if he wasn't a writer or actor?

He replies, "I'd probably be riding a horse somewhere."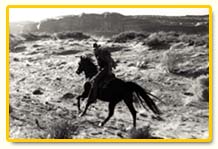 Painting with words
Speaking of writing, a Pensacola State College student wrote an essay during her spring semester on the subject of painting with words comparing authors to artists. She used "True West" as one her examples. She described the play's bizarre transformation of characters and the setting to the surreal, chaotic art of Dutch painter Heironymous Bosch, whose sources for his unusual images were created from the dark corners of his medieval imagination.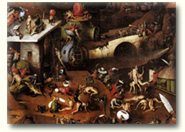 She wrote, "Shepard's tale of the moral degradation and de-civilization of man and his descriptive scene paint the picture of Hell. The transformation of kitchen and characters is Shepard's equivalent to the chaotic and surreal hellish scenes and grotesque man-beast creatures of Bosch's artwork. The color of the play mutates scene-by-scene with the change from the soft white moonlight and yellow candle-glow to the black night with a bowl of bright orange fire... Shepard's play is a nightmare of madness."
If you happen to be in the Big Apple this month and are in the mood for madness, you can purchase tickets to "True West", staged by the York Shakespeare Company. The curtain goes up tonight for a three-week engagement at Theatre 54.

May 29, 2012
And the winner is....
Neither of Sam's films competing at Cannes for the Palme d'Or picked up the coveted prize this weekend but both films fared well among the critics. You'll have to wait until September 21st to offer your own opinion on Brad Pitt's KILLING THEM SOFTLY. Don't expect Sam's screen time to be more than a cameo appearance. No release date has been given for MUD, which Screen Daily describes as "classic storytelling." Critics also point out a heavy influence of Terrence Malick on the film with parallels to "Badlands" and "Days Of Heaven". Called a richly satisfying coming-of-age story, "Mud" is another illustration that Jeff Nichols is become one of the most respected directors at work today.
As far as the winner at Cannes, that would be "Amour" by Michael Haneke, which I am eagerly looking forward to. The German filmmaker also won the 2009 Palme d'Or for "The White Ribbon". If you haven't seen that film, you should be ashamed of yourself! It's one of the most profound films of this century.
May 22, 2012
Sam passes on Cannes

After checking out the Cannes photos today showing the photocall and press conference for KILLING THEM SOFTLY, it appears that Sam decided to skip the prestigious French festival despite having two of his films in competition. Representing the film was director Andrew Dominik, Brad Pitt, Ray Liotta, Scoot McNairy and Ben Mendelson. This sales poster was featured at the festival, but it may not be the theatrical one that the Weinstein Company will eventually release. Hopefully, they'll come up with a more interesting one than this minimalist artwork, reminiscent of the 70s.
May 8, 2012
Awaiting trailers & photos....
Here are two more movie stills from MUD, the Jeff Nichols film that will be screened in Cannes this month. The festival published the following synopsis: "Mud" is an adventure about two boys, Ellis and his friend Neckbone, who find a man named Mud hiding out on an island in the Mississippi. Mud describes fantastic scenarios - he killed a man in Texas and vengeful bounty hunters are coming to get him. He says he is planning to meet and escape with the love of his life, Juniper, who is waiting for him in town. Skeptical but intrigued, Ellis and Neckbone agree to help him. It isn't long until Mud's visions come true and their small town is besieged by a beautiful girl with a line of bounty hunters in tow.
Despite only previously having directed two features, Nichols has rapidly built a name for himself after his stunning 2007 debut "Shotgun Stories" wooed critics at the Sundance Film Festival and his follow up "Take Shelter" won the the Critics Week Grand Prize at last year's Cannes. One of the lead boys is played by Tye Sheridan, familiar to the Cannes crowd after appearing in Terrence Malick's 2011 Palme d'Or winner, "The Tree of Life". When interviewed about the film, Nichols has described "Mud" along the lines of "Sam Peckinpah directing a short story by Mark Twain". Running 130 minutes, it's certainly not short! Nichols has also been quick to underline that the film remains true to his style and is a continuation of the recurring theme of love within a community.
The second Shepard film to be screened at Cannes in competion against "Mud" is KILLING THEM SOFTLY - still no poster or trailer.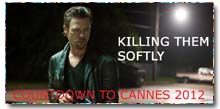 The film, originally titled "Cogan's Trade", adapted from the George V. Higgins classic 1974 crime novel of that name, will undoubtedly have some stylized violence coming from the artistic Andrew Dominik. I have to share this tidbit I found online - "Star Brad Pitt is joined by genre veterans Ray Liotta and James Gandolfini, the exceptional Richard Jenkins and the comparatively new talents of Sam Shepard." Hello! Some of these cinema blogs are written by brainless dudes. Where is Pauline Kael when we need her?
May 2, 2012
A rock 'n' roll Savoir is coming to NYC

One Old Crow Productions will present a site-specific production of COWBOY MOUTH, the play born out of the actual relationship between Sam and Patti Smith. The play will take place in a grungy space above the bar Lucky Cheng's in the Lower East Side and will incorporate elements from the streets of New York. The production will be directed by Leah Benavides and will feature Diana Beshara as Cavale and Geoffrey Pomeroy as Slim. Performances will be held June 7 & 8, 11-14, & 20 & 21 at 8pm, Friday, June 15 & 22 at 8pm and 10pm, and Sunday, June 10 & 17 at 5pm. Tickets ($15) may be purchased online at www.brownpapertickets.com or by calling 1-800-838-3006. One Old Crow Productions is a new company dedicated to producing works across multiple mediums that highlight and celebrate an experimental nature and an explorative use of space and place.
"Cowboy Mouth" was originally staged at the Traverse Theatre in Edinburgh on April 12, 1971 and 17 days later, it was performed by Patti & Sam at the American Place Theater in NY as a double bill with "Back Bog Beast Bait" (what a tongue twister!). You can read the entire play at this PDF link.
Last June...

You don't readily think of Sam when it comes to fashion, but here's a photo taken last June of our playwright with stylist extraordinaire Aleksandra Woroniecka. The celebration they were attending was the launch of Swedish designer Johan Lindeberg's latest foray into the fashion world; a new pop-up shop for his BLK DNM label as well as the inaugural issue of his new poster-sized magazine, Gazette. With Ms. Woroniecka at the helm, and contributors such as Wes Anderson featured in the magazine, it's bound to be a hot name on the publishing scene. An intimate dinner was held at the ultra-stylish restaurant, Indochine, a favorite among New Yorkers with its exotic French-Vietnamese cuisine.
From the producers of "Mud"
Producers Aaron Ryder and Marc Evans spoke with Collider.com recently about their upcoming film MUD. The producers are quite enamored with director Jeff Nichols and his "beautful script" Ryder said, "We got it right on this movie. It's probably the best thing I've ever seen Matthew McConaughey in. Reese Witherspoon is fantastic, Sam Shepard is great, Michael Shannon… And the heart of the movie are these two young boys who will break your heart." They wouldn't give any exact dates but did say the trailer will premiere in the spring. I, for one, am looking forward to its Cannes screening this month!
April 26, 2012
Sam's new play is called "Heartless"
In a recent interview, a journalist mistakenly heard "Artless" instead of HEARTLESS as a possible title for Sam's upcoming play, so now we have the corrected title. Broadway.com just announced the play and as previously noted, Daniel Aukin will direct.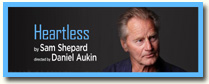 The play centers on Sally, who lives with her mysterious family in a cavernous home overlooking Los Angeles. When a visitor arrives, Sally's dark secrets - and the secrets of those around her - threaten to come into the light. It will be staged at off-Broadway's Pershing Square Signature Center at the Irene Diamond Stage from August 7 to September 16.
"Darling" not so darling....
After 46 reviews, DARLING COMPANION is registering a 15% on the Tomatometer. Roger Ebert had these words - "It is depressing to reflect on the wealth of talent that conspired to make this inert and listless movie, "Darling Companion." I walked in knowing it was directed by Lawrence Kasdan ("Grand Canyon," "The Big Chill"). And that its cast included Diane Keaton, Kevin Kline, Richard Jenkins, Dianne Wiest and Sam Shepard. How could it fail to be good? Lacking that, how could it fail to be fair? How could it be so appallingly pointless? How could it be such thin soup?"
April 19, 2012
Terrific cast, non-terrific script

Larry Kasdan's DARLING COMPANION will have a limited opening on Friday. Based on the disastrous feedback coming in this week, it will more than likely be channeled quickly to Netflix rather than have a wide theatrical release. I did predict this. After a nine-year absence, you'd think the Kasdan husband-and-wife team could come up with a smarter script. With 12 reviews so far, it's registering 0% on the Tomatometer. Nick Shager of Slant magazine calls the film, "a lost-dog drama so insufferable it makes one wish its human characters would also run off and never return." Rex Reed of The New York Observer writes, "Nobody survives a train wreck like Lawrence Kasdan's 'Darling Companion' without Band-Aids, but Diane Keaton, Kevin Kline, Dianne Wiest and Sam Shepard might need sutures. This lame and glaringly unfunny 'comedy' really does them in and the audience is collateral damage." Owen Gleiberman of EW says the film "strikes a note of rib-nudging blah coyness that feels very 1987" while AP writer Jake Coyle defines the film as "feeling utterly neutered, with little on the line and a talented cast begging for a little wit and a few jokes." Thankfully, Sam's screen presence is at a minimum while he plays the cranky old sheriff with kidney stones.
Cannes line-up announced today

Can you believe that two of Sam's films are in competition next month at the 65th Cannes Film Festival!!! Fantastic! The first selection is MUD which means that director Jeff Nichols and his stars will walk the red carpet and vie for the prestigious competition for the Palme d'Or. Nichols has steadily gained attention with his strange and powerful storytelling with his first two films, notably "Take Shelter" which won the Grand Prize in the Critics Week competition at Cannes last year. Early buzz is that "Mud", starring Matthew McConaughey and Reese Witherspoon, is an extraordinary achievement. Filmed last fall in Arkansas, the film is a coming-of-age drama centered around two fourteen-year-old boys who encounter a mysterious fugitive hiding out on an island in the Mississippi. Intrigued by this man, they enter into a pact to help him evade capture and reconnect with the love of his life. The IMDB indicates a 2013 theatrical release date.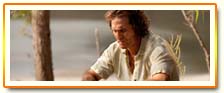 In an interview with Movieline, Sam commented on the film: "This is a beautiful script, great little script. It's a script I wouldn't even think about touching except rearranging a little bit of the language in it, but there's no way you can improve on it. I play an ex-sharpshooter from the army who lives alone on a riverboat house and is sort of the protector of the Matthew McConaughey character... The writing is totally authentic and flows. It doesn't feel like any of it is contrived."

The mobster film, KILLING THEM SOFTLY, (they re-named "Cogan's Trade") is the other selection, with Andrew Dominik ("The Assassination of Jesse James...) directing Brad Pitt and Sam once again. Co-stars include Ray Liotta, James Gandolfina and Richard Jenkins. Pitt plays Jackie Cogan, an enforcer for the New England mob. When a high-stakes card game is heisted by unknown hoodlums, Cogan is called in to 'handle' the problem. Moving expertly and ruthlessly among a variety of criminal hacks, hangers-on, and bigger-time crooks, Cogan gets to the root of the problem and, with five consecutive shots from a Smith & Wesson thirty-eight Police Special, restores order to his corner of the Boston underworld. The film will open in US theaters on September 21, 2012.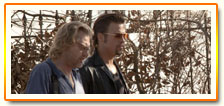 The festival will be held May 16-27. And, for the umpteenth year in a row, Brad Pitt will mostly likely walk the Cannes red carpet and my guess is Sam will make an appearance as well.
Behind the scenes

The Beaver County Times reported that filming for OUT OF THE FURNACE took place yesterday in a secluded ravine near the beach at Raccoon Creek State Park in PA. Cameras focused in on Christian Bale and Sam strolling through the woods with rifles in hand acting out a deer hunting/male-bonding scene. Wednesday was day four of filming, with previous scenes shot at the West Virginia Penitentiary in Moundsville. Excecutive producer Jeff Waxman said the park scenes involved the lead character named Russell (Bale) bonding with his uncle, played by Sam. The actors' guns fired blanks and a roadkill deer was trucked to the scene. Waxman added that Sam is an avid hunter though technical advisors were on hand to ensure the scene looked real. A publicist on the closed set supplied a press release indicating "Out of the Furnace" is the film's current title, though some crew members wore laminates with the name "Dust to Dust", suggesting that name is also under consideration. Shooting is scheduled to last 32 days, mostly in the Braddock area.
New play gets auditions
Auditions were held on April 12th for Sam's upcoming unnamed play opening at NYC's Signature Theatre this summer. Sam has made no comments thus far on the subject matter. Would it be a story about two cowhands? How about an abusive father? It comes as a major surprise that the play is about women! Four women and one man to be exact. Yes, it's most likely a dysfunctional family but therein lies the drama. Here is a descriptive listing of the roles:
MABLE - Female, 70+. Tough, smart and unyielding. Intimidating. Sally and Lucy's mother. Uses a wheelchair.
SALLY - Female, 25-40. A deep complex soul. Strong sexuality.
LUCY - Female, 30-45. A natural caretaker starting to resent her role. Sally's older sister.
ELIZABETH - Female, 25-35. Beautiful, quiet, mysterious, with an edge of pain. Mable's nurse.
ROSCOE - Male, 50-65. An older guy with some sand and grit. Teaches literature.
The production will be directed by Daniel Aukin with James Houghton as artistic director. Rehearsals will begin July 10th with the play running from August 7th through September 16th. Previous Shepard plays staged at the Signature include When the World Was Green, (co-written with Joseph Chaikin), Chicago, The Tooth of Crime, Action, Killer's Head, The Sad Lament of Pecos Bill on the Eve of Killing His Wife and Curse of the Starving Class.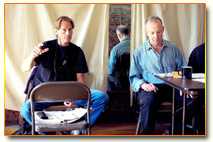 April 14, 2012
More "Blackthorn" openings, more praise
This weekend the Butch Cassidy western, BLACKTHORN, opened in the UK, Ireland and New Zealand. Sterling reviews of Sam's performance popped up once more. Here's a scene with co-star Magaly Solier.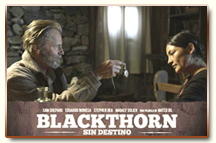 London Evening Standard: "If you want to see a charismatic performance, look no further than Sam Shepard's in Mateo Gil's revisionist western about Butch Cassidy and the Sundance Kid...A suitably weathered-looking Shepard holds the scene superbly and the many close-ups of him vie with the Bolivian landscape in eloquence."
CineVue: "Shepard gives an extremely moving performance as Cassidy/Blackthorn, expertly balancing the traditional romanticism of life in the Old West (and the Old South) with a believable portrayal of an old man yearning to return home."
New Zealand Listener: "Sam Shepard is splendid as a magnificently grizzled Butch, now the wily old cowboy who can still be roused by a sense of justice."
TVBOMB: "Shepard has never been better and his taciturn, craggy portrayal of a bandit who feels the thrill of adventure rising in him again is a joy to behold."
The Telegraph: "Cassidy is played beautifully by Sam Shepard - craggy, handsome, weather-beaten and now in his late 60s. Shepard's something of a renaissance man but he's always been an effective presence in films, especially when required to play a military type or ride a horse."
The Crack Magazine: "An understatedly charismatic performance from Sam Shepard is the best reason to see this flawed but affecting Western from Spanish director Gil Mateo... Shepard delivers an engagingly soulful turn as the grizzled ex-cowboy, his Cassidy world-weary but still sporting that mischievous twinkle, while the vast, golden-hued Bolivian environs are beautifully rendered."
Timeout London: "Handsomely shot against stunningly austere Bolivian vistas, the film works best as a quiet character study of a onetime hellraiser accepting that he truly is too old for this shit. Shepard's crusty charisma gives this dignified genre effort its pulse."
Camden New Journal: "Shepard has the grizzled range to carry off the role of Butch. He is captivating, has a wonderful backdrop to tell the story on, and is ably helped by a good script and some tight scrapes to get through."
View London: "Shepard is terrific as Blackthorn-slash-Butch, his grizzled, weather-beaten face enhanced with an impressive Kristofferson-style beard and his bones a little creakier but his survival instincts still very much intact."
Pictures That Talk: "Shepard's crusty Cassidy is certainly among the better performances of his long career, and proves he can still hold centre stage."
New Empress Magazine: - "For Gil, it is about creating an intimacy with people, and in particular, with Blackthorn, which helps frame a powerful performance by Sam Shepard as the grand western outlaw, now in his twilight years, attempting a desperate pilgrimage to recover a part of his past. This 'grizzled old man of the west' character is difficult to pull off without a sense of cliché and overfamiliarity, but Shepard invests him with a truth and a longing that makes his performance very memorable."
The Financial Times: "Although the scenery here is dramatic – locations include La Paz, Potosí, and Uyuni, all rarely seen on screen – the film is more about the 68-year-old Shepard's face, and so it has a very individual temperament. It's a Western, sure – with a quite typical genre plot about stolen booty, border-guards and fortune hunters – and yet it feels as unique as the way the aging Shepard's eyes appear weirdly independent of the rest of him. He's a bird of prey gazing through the holes in a crumbling wall."
The Paris Connection
So why is Sam in the City of Light? He says he's a friend of theatre director Peter Brook, who lives there. Peter's daughter also directs and is staging a new production of Ibsen's "Peer Gynt" at this year's Salzburg Festival. Sam modestly says, "I'm helping her adapt some of the monologues, turning them into music." And he's giving some thought to the title of his own two-act play opening later this year at NYC's Signature Theatre. Maybe "Artless".
Review of "An evening with Patti....
The Friday edition of The Irish Times published a review of Sam and Patti Smith's evening at the Abbey. I'm not sure the reviewer has a clear understanding of who the "Cowboy Mouth" pair are. I think he was expecting a highly-polished rock concert of some sort. It was reported that Wim Wenders was in the audience and U2 sent a bouquet of lilies. Nice gestures. You can read the review here.
April 10, 2012
New film project
According to The Hollywood Reporter, Sam is now attached to the thriller, OUT OF THE FURNACE, directed by "Crazy Heart" helmsman, Scott Cooper. Christian Bale takes on the lead role as Slim, who plays an ex-con, just recently released from prison after serving a long sentence for murder. He wants to live a quiet life and marry his long-term girlfriend (Zoe Saldana), but his plans change when his brother (Casey Affleck) is lured into Curtis DeGroat's (Woody Harrelson) crime ring and tragedy strikes. Sam will play Red, the brothers' uncle. Forest Whitaker is also in negotiations for the role of a sleazy bookmaker. Shooting is scheduled to begin in the new few months in Pittsburgh, PA.
"Safe House" release
The action thriller, SAFE HOUSE, will become available on June 5th on Blu-ray and DVD as well as On Demand, from Universal Studios Home Entertainment. A rogue CIA operative is targeted for assassination and an idealistic rookie agent must prove himself by keeping them both alive in the exhilarating and explosive action-thriller. Denzel Washington and Ryan Reynolds star as unlikely allies up against an unknown enemy in an adrenaline-pumping game of cat and mouse. Sam co-stars along with Vera Farmiga, Brendan Gleeson, Ruben Blades and Robert Patrick.
Easter Monday in Ireland

Sam's appearance with Patti Smith at Dublin's Abbey Theatre on Monday evening was a successful charity event with proceeds going to the Playwrights Programme. Those attending had nothing but positive comments. The evening was a "wonderful" mix of poetry readings and music. Patti began the performance by reading the poem, "Easter, 1916" by W.B. Yeats. Among the songs she chose were "Until the End of the World", "Pissing in a River", "People Have the Power" and "Because the Night". The punk star teamed up with Sam to perform a new song she had co-written about Amy Winehouse. You can view it at this video link. Sam read from Beckett but the surprise of the night was that his daughter Hannah was sitting on stage with her cello by her side. And who knew that Hannah had a beautiful voice! The 26-year-old sang an Irish folk song - with no accent - a very brave thing to do in a country steeped in its canon of tradition. The song, "Óró Sé do Bheatha 'Bhaile" drew thunderous applause. You'll note that in the photos below that one of Sam's dearest Irish friends attended the event - Stephen Rea.
April 1, 2012
It's no April Fool's joke
It's been a long time since Patti Smith released a studio album. In the fall we learned that the Godmother of Punk was recording some "old tunes" with Sam at NYC's Electric Lady Studio. While Sam was actually singing this time, son Walker was there on banjo. Patti told Spinner magazine that Tom Verlaine was also recording some guitar and that the forthcoming album was inspired by Saint Francis Assisi, the home of Dylan Thomas, and Mikhail Bulgakov's The Master and Margarita.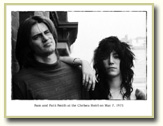 Today Rolling Stone announced details of "Banga", Patti's 11th studio album, which was recorded at NYC's Electric Lady Studio. (Sound familiar?) The album will be out on June 5th through Columbia Records. The album was recorded with regular collaborators, Tony Shanahan, Jay Dee Daugherty and Lenny Kaye; featured guests include Tom Verlaine, Jack Petruzzelli and Smith's own children, Jackson and Jesse Paris. Patti says the new album was inspired by her dreams as well as her observations of an increasingly complex and chaotic world.
Hey, a girl can change her mind, can't she?
Staging Shepard is alive and well
"True West" - Capital Stage, Sacramento, CA - through April 22
"A Lie of the Mind" - Boxcar Playhouse, San Francisco, CA - through April 14
"Curse of the Starving Class" - Wilma Theater, Philadelphia, PA - through April 8
"Buried Child" - New Village Arts Theatre, Carlsbad, CA - through April 22
"True West" - Bare Bones Theater Co., Northport, NY - playing April 12-21
March 24, 2012
First screening for Southern indie
Indie film SAVANNAH had a private screening on Monday evening at the Trustees Theater in Savannah. Producers John and Billings Cay were joined on stage before the film by co-writers Ken Carter and Annette Haywood-Carter. The audience was filled with local producers, writers and actors. John Cay briefly noted the genesis of "Savannah," which was adapted from research done by his father decades ago on Ward Allen, a legendary Savannah character, played by Jim Caviezel in the film. Sam plays Mr. Stubbs, father of Lucy, played by Jaimie Alexander. No theatrical release date has been set yet.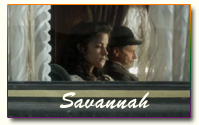 A man and his cigar
Here's another B&W photo taken during the past year. Love it!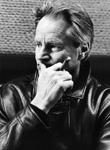 March 22, 2012
The official poster...

This is now the official poster for DARLING COMPANION. I think I preferred the original poster with just the collie. In fact, Cinema Sight agrees with me - "This is a horrendously boring poster with nothing truly exciting and a pose from the dog that isn't even "aww"-inducing." Cinema Sight further reviews the trailer, "I don't see how anyone watching this trailer would be excited about seeing this movie. And I don't think I've ever seen Kevin Kline and Diane Keaton looking so unfunny." I'll second that. The Larry Kasdan comedy with big-star names was screened at the Portland International Film Festival on February 24th but I never came across any reviews from those who might have caught it. Guess we'll have to wait until it opens in LA and NY next month. Check out the new movie stills on the above link.
Central Park portrait...
In 2009, Sam's long-time friend Patti Smith captured Sam's essence in the photo below.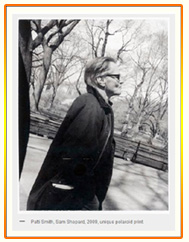 "He was – still is – a very handsome man. And he had this animal magnetism." ...Patti Smith on meeting Sam
March 19, 2012
Out of the rubble...
I'm planning a three-week trip to Nova Scotia this fall and remembered that Sam had owned property up there back in the '70s. Remember the lyrics in Joni Mitchell's ode to Sam in her "Coyote" song - "He's too far from the Bay of Fundy"? I learned that he owned a house right near the entrance to Chignecto Park in West Advocate along the northeastern shores of the Bay of Fundy. Around 1970, Sam purchased the property from the family of the original owner of the house, a shipbuilder called Capt. Joshua Dewis. This information comes from the family who bought it off Sam in 1982. Apparently, the house had been abandoned and vandals had broken all the windows. What had not been stolen was scattered everywhere. The new owners rescued many items that belonged to Sam, including Obie awards, which were then forwarded to him. The photos below were salvaged much later from a load of rubble in a truck on the way to the dump. I'm speechless...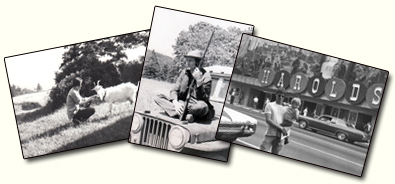 I'm beginning to realize that there must be thousands of people who have acquired bits and pieces of Sam's life. I'm fortunate that I'm not famous. That he would abandon family photographs, and even Obie awards, leads me to believe he has no affectionate attachment to the past, nor does he inhabit the world of nostalgia. I could assume he therefore lives in the present - don't we all wish for that - but the truth is he's still deeply scarred and attached to his on-going dysfunctional past. I'm sure his Nova Scotia home was supposed to provide a seasonal haven for wife O-lan and young son Jesse.
Speaking of "bits and pieces", one of Sam's visitors in Nova Scotia was writer Howard Norman and around 1978, a small Canadian press published a teeny volume by Norman called "Bay of Fundy Journal", comprising a dozen pages or so. Thirty copies were made and sold to benefit some organization. Included in the publication was a letter from Sam, a photograph of Norman and the playwright, and some pages from a radio play Sam was working on at the time - an adaptation of mystery writer Joe Gores' novel, "Hammett". Strange that in 1999 Sam would go on to play Dashiell Hammett in an A&E movie. As an aside, I recommend Howard Norman's 1994 bestseller, "The Bird Artist" if you're into eccentric characters and secluded places by the sea. I am. Great book!
March 17, 2012
Irish news for St. Patty's Day!

The Abbey Theatre in Dublin has announced "An evening with Patti Smith and Sam Shepard". The event will take place at 7:30 pm on Monday, April 9th. Artistic collaborators and long-time friends, Patti and Sam will perform a series of songs and readings. They will be joined on stage by piano player Tony Shanahan, banjo player Bill Whelan, and fiddler Dermy Diamond from the Cobblestone pub where Sam has played in the past on his frequent trips to Dublin.
Fiach McConghail, Director of the Abbey Theatre said, "It's a privilege to have Sam Shepard and Patti Smith perform on the Abbey stage. To have two world famous, iconic artists perform in support of young artists from the Abbey's New Playwrights Programme is an amazing endorsement for the Abbey Theatre. It is a tribute to their generosity and commitment to Ireland's national theatre, a theatre founded by artists with a vision to build a theatre culture in Ireland for future generations".
Now in its third year, the New Playwrights Programme selects promising playwrights who have come to the attention of the theatre. Sam has acted as a mentor to its participants since its pilot in 2009. The selected playwrights partake in a series of eighteen to twenty workshops, talks and master-classes with leading international theatre practitioners and Abbey writers, directors, actors, and designers.
Tickets for the show will go on general sale from Tuesday, March 20, priced at €49.50. For booking and further information visit www.abbeytheatre.ie.
February 20, 2012
"Blackthorn" picks up four Goyas!
The Butch Cassidy western won in four categories on Sunday night at the 26th Spanish Academy Goya Awards. It had received 11 nominations but ultimately captured four awards: Cinematography by Juan Antonio Ruiz Anchia, Costume Design by Clara Bilbao, Art Direction by Juan Pedro de Gaspar, and Production Design by Andres Santana. Though nominated for Best Film, Director and Screenplay, "Blackthorn" lost to the big winner of the night, Enrique Urbizu's noirish cop drama "No Rest for the Wicked", which won six Goyas.
Those were the days, my friend...
An exhibit of black and white photos of Patti Smith, taken by Judy Linn from 1969-1976, opened today in the Dubois Gallery in Maginnes Hall at Lehigh University. On loan from the Feature Inc. gallery of New York, the pictures document a time before Smith made it in rock 'n' roll, during the backdrop of the sexually political, unrestrained New York City of the early '70s. The photos below were obviously taken on the same day and, except for the upper left photo, I personally don't see any artistic value in them other than they're rather depressing candid shots taken of now-famous people. Certainly, Patti's own collection of black and white images are more expressive, poetic and creative.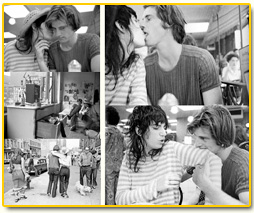 A must-see movie of the year!
A few photos from COGAN'S TRADE has finally cropped up on the Net this past week - none of Sam though. And with only six months until its premiere, no character names have been identified other than Brad Pitt's character - Jackie Cogan. It seems as though the producers want to spoonfeed us any info - even the photos arrived from Russia. Strange... Anyway, I am truly anticipating this film with great gobs of excitement. This will be director Andrew Dominik's third film and I'm sure he's putting his own unique spin on this crime thriller genre. His second film, the moody and gorgeous revisionist Western, "The Assassination of Jesse James..." was a masterpiece and one of the best films of the 21st century. How can it not be a winner when Dominik, Pitt and Shepard have teamed up once more. Here's the trio back in 2007 at the Venice Film Festival.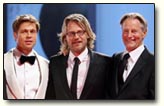 The film is based on the 1974 novel of the same name by George V. Higgins, which has dark comedy elements and violence. The Weinstein Company picked up the distribution rights for the film last year. They struck gold when Brad Pitt's "Moneyball" opened last September so come September 21st this year, here's hoping they succeed again.
With slicked back hair, sideburns, and a goatee, Brad is looking mighty slick. I've seen over 25 of his films and, amazingly, almost every one of his performances has been stellar! IMHO, he is one of Hollywood's FINEST actors. Often times good looks substitute for real talent. I'm thinking of the Harrison Ford types. But here you have this tall, unbelievably handsome and charismatic man who inhahits his characters so deeply that I'm almost willing to make him the male version of Meryl Streep.
Photo Archives
Here's a photo of Sam taken on October 17, 2009, at the South Austin Museum of Popular Culture. He's pictured with Jim Franklin, best known as a poster artist.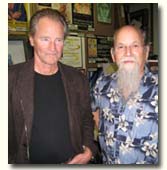 February 12, 2012
Opening this weekend

Though compared too heavily to the "Bourne" franchise (does it get any better?), the CIA thriller SAFE HOUSE earned decent marks in direction and performance while the script sometimes underwent more negative scrutiny. Kenneth Turan of the Los Angeles Times suggests that the "business-as-usual" script is offset by "expert direction" by Daniel Espinosa. The Swedish director, says Turan, has given the film "an unmistakably stylish and unsettling tone, characterized by probing camera work, quick and edgy cutting and a fine ability to keep audiences off-balance." Steven Rea of the Philadelphia Inquirer credits the performance of Denzel Washington for lifting the film out of commonplace thriller status. And A.O. Scott of the New York Times compliments Washington for his ability to suggest "deep reserves of cool, moody mystery and smoldering feeling." He also praises director Espinosa's handling of the action scenes, "though it's his work with the actors and his attention to beauty that puts 'Safe House' a cut above" other films in this genre. The strong performances of the supporting cast of Vera Farmiga, Brendan Gleason and Sam is continually touted as top-notch and impressive.
At the SFI
Newsweek recently had an article on the Santa Fe Institute where Sam has been spending some of his time. The institute was founded in 1984 by a group of scientists who were frustrated with the narrow disciplinary confines of academia. They decided it was beneficial to create an intermingling of professionals from different fields in order to tackle the big questions. A few years ago, the SFI established a regular fellowship to bring a novelist, playwright, philospher or other humanist to the institute. Sam was invited last year as a Miller fellow and he liked it so much that he bought a house in Santa Fe.
Apparently, sometimes our playwright finds the discussions a bit heady. Just before lunch one day, he walked out of a session that was part of a three-day conference on the co-evolution of human institutions and behavior. (Say what?) "I couldn't make heads or tails of it," he said. "It was on wealth distribution and fairness, and you go around and around in the same circles of reasoning, and ultimately who cares?" I hear you, Sam.
Rebecca Saxe, a neuropsychologist at MIT, sat down next to him (by the way, Sam was eating pizza and a salad) and the two began discussing how the media often creates a misleading impression of scientists and artists. "I can never answer the question 'What's it about?'" Sam said. "Some people approach artists as if they have a secret. And if only they'd give it up, then we could stop thinking about them."

Sam still comes in to write at the institute most days, and he finds that he's at least twice as productive at SFI as he is anywhere else. He's currently working on a play that will open at New York's Signature Theatre in September.

He enjoys his increased productivity at SFI, but he also loves the conversation. He explains, "Just the environment of people creates a certain electricity. I've never had a keen interest in science, more the people in it and around it. But part of the interest here is not knowing where the borders are. There's a story about Brendan Behan, an Irish playwright and drunk, who was traveling to Northern Ireland when he was stopped by the English. He'd had a few whiskeys and he crawled under the car. The English guy asked, 'What are you doing?' He said, 'I'm looking for the border.'"
Sam is no stranger to Northern New Mexico. He not only has been on location in Santa Fe for several films, but also lived in the area back in the 1980s. In fact, his daughter, Hannah Jane, was born at St. Vincent Hospital on January 11, 1986. Four months later, they sold their $450,000 log cabin and moved to a Virginia farm, where Sam could raise horses.
February 8, 2012
Hooray!
Finally there's a mini-poster for "DARLING COMPANION"!! As reported previously, the poster indicates that there will be a limited release in NY and LA on April 20th. Sadly, many of these limited releases are a portent of "not sure this is going to fly". Remember "The Accidental Husband"? That poor film scored about a 6% on the Tomatometer.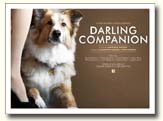 February 5, 2012
An Irish fundraiser
In order to purchase the next Shepard literary work, you're going to have to put out a bit of money - about €1,9501, which is a little over $2500. But it's for a worthy cause. It's a fundraiser in Ireland for Fighting Words, which is a workshop for young writers in Dublin. It's run by Roddy Doyle, who also just finished editing a new collection of short stories from ten major authors - Russell Banks, Colm Tóibín, John Banville, Richard Bausch, Anne Enright, David Mitchell, Joyce Carol Oates, Sam Shepard, Salman Rushdie and Annie Proulx – plus a Sean Scully etching. There will be only 150 copies, each signed by the authors. The book has been more than a year in the making, with the stories delivered last April.

There was no set theme, nor were there guidelines other than a limited length of 800 words. The idea was inspired by the success of a similar endeavour for the Ireland Chair of Poetry. All 125 copies of Many Mansions, signed by contributing Irish poets, were sold at €1,000 each. Doyle says, "We spent a long hard time thinking who we would ask. We wanted the writers to match the beauty of the book." After printing, the books will be bound by Antiquarian Bookcrafts and then placed in handmade slip cases. Each author will get a copy, and then it's down to demand.

January 29, 2012
"Darling Companion" premieres at SBIFF
On Thursday evening, the Santa Barbara International Film Festival opened with the premiere of DARLING COMPANION. Director Lawrence Kasdan was accompanied by his wife (co-screenwriter) as well as Diane Keaton, Kevin Kline and Ayelet Zurer. Oops, I forgot Casey, the dog! On the red carpet, Kasdan remarked, "The biggest challenge of making the film was that we had very little time or money." With the absence of a poster (yes, the budget is tight), I lost patience and dashed off one myself!
The Santa Barbara Independent reports, "It's a pleasant enough lark of a Kasdan-ian project, but dog people may be dismayed by the fact that the bulk of the screen time is sans dog, which has gone missing... In short, Kasdan works up some of that old smarmy charm, and calls in some fine thespian voltage — including Kline, Keaton Richard Jenkins, Diane Wiest, and Sam Sheperd — to take on a script which wavers wildly between big warmth and sentimental hokum. When we finally, inevitably catch sight of the collie again, a real modern-day Lassie Moment, we kinda wish this had been more of a true dog picture."

Am I the only one starting to believe this is strictly a dog-lovers movie? Here is an invitation from the New York Observer for a private NY screening on Tuesday evening. Lael Loewenstein of Variety points out that the cinematography by Michael McDonough evokes the best aspects of the Utah locations, which fill in for Colorado. [Park City also substitutes for Telluride]. He does admit it disappoints to see such a fine cast "underserved by a script that doesn't optimize their talents." Sam plays what is described as a "no-nonsense sheriff". I'm not sure how much screen time he gets, but we can hope that however many lines he has, Shepard movie fans will be entertained.
January 24, 2012
Outstanding ensemble but....
On Thursday evening Lawrence Kasdan's DARLING COMPANION will open the Santa Barbara International Film Festival and will have a limited theatrical release on April 20th. The trailer has just been made available but, unbelievably, no film poster has surfaced as of this date. Picked up by Sony Classics, this indie obviously has a very limited budget though the star-studded cast is impressive. It includes two Academy Award nominees (Richard Jenkins and Sam), three Academy Award winners (Diane Keaton, Dianne Wiest and Kevin Kline), as well as the talented "Mad Men" actress, Elizabeth Moss. Screenwriters Lawrence Kasdan and his wife, Meg, are both Oscar nominees as well. However, these accolades do not necessarily spell success. After viewing the trailer, I'm a bit apprehensive. Nothing sparked my interest but it might appeal to dog lovers.
The story revolves around an older married woman named Beth (Keaton) who feels that she is missing something in her life. On a wintry day in Denver, she discovers a bedraggled dog along the road. She adopts the orphaned animal and names him Freeway. Struggling with her distracted, self-involved husband Joseph (Kline) and an empty nest at home, Beth forms a special bond with Freeway. When Joseph loses the dog after a wedding at their vacation home in the Rockies, the distraught Beth pulls together a search party to find him. Each member of the search party is affected by the adventure, which takes them in unexpected directions – comic, harrowing, sometimes deeply emotional. Sam gets to play the sheriff who enjoys fishing - looks like a good role for a guy who loves the West.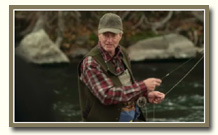 The screenplay was inspired by an experience Kasdan had with their dog Mac. "It actually happened to us when we were on vacation in Colorado. We had rescued a dog, and then later on this vacation left it with a friend. A mountain biker went by and scared the dog. He disappeared. We freaked out, and we spent weeks out there yelling for it. It wasn't until after we gave up and left that Mac came wandering out of the woods, seven pounds lighter."
Is this a comedy? In a recent interview, Kasdan responded - "Nowadays, when Hollywood says a movie is a comedy, they're usually referring to some big broad knockdown film or a big farce. Comedy has become so narrowly defined. It used to be that Hollywood comedies were some of the greatest. Movies like 'Tootsie', 'Being There', or 'Dr. Strangelove'. Now Hollywood says this is a drama, but this is really a comedy."
"Safe House" opens on February 10th
Here's a new poster and a new photo of Sam and co-star Vera Farmiga.
| | |
| --- | --- |
| | |
I'll be pleased to see another film with Ms.Farmiga who has given wondrous performances thus far. (How about "The Boy in the Striped Pajamas"?) Though the role in "Safe House" was originally written for a male, the director was quite happy to switch genders if it meant landing the Ukrainian-American actress in his film. Ms. Farmiga plays CIA African Division Branch Chief Catherine Linklater. Brendan Gleason plays another CIA officer named CO David Barlow whose supervisor, CIA Deputy Director of Operations Harlan Whitford, is portrayed by Sam. Whitford is a tried-and-true agency man, whose exemplary field performance has segued into internal command. Sam comments, "I liked Daniel [Director Espinosa] when we sat down and talked; his background impressed me. And since Denzel always chooses apt material, I thought there might be something for me in this." Sam came to the film having previously delved into the lives of other CIA operatives. He states: "I'm good friends with Valerie Plame Wilson; I worked with her at the Santa Fe Institute in New Mexico. She turned me on to a couple of books, which I dipped into and began to feel the atmosphere of what these people live with."
January 13, 2012
New Film Page
As we await the screening of Larry Kasdan's "Darling Companion" at the Santa Barbara Film Festival later this month, let's turn our attention to the third Keaton/Shepard collaboration made in 1996. I've just added the film page for THE ONLY THRILL. I can't say I'm enamoured with the title but it sure beats "Tennessee Valley", which was the original title and was released in some European countries with that name as well. Truth be told, it was filmed in Austin, Texas, by director Peter Masterson.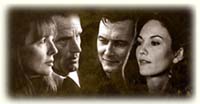 Besides Diane Keaton, the cast of this romantic drama includes Robert Patrick and Diane Lane. All four put in remarkable performances considering the material they have to work with. I can understand why some audiences might not care for this film because you can't help but seethe with major frustration with these four characters, who are unable to verbalize their feelings. Kevin Thomas of the LA Times calls Sam "the actor of choice if you want reticence in spades." I'll second that. You can rent it or view it via streaming if you're a Netflix member.
Some Goyas for "Blackthorn"?
It doesn't surprise me that when the Goya nominations (Spain's Oscars) were announced this week, the Butch Cassidy western received eleven nominations! However, it did surprise and disappoint me that there was no recognition for Sam as best actor. It did receive nominations for best film, director, original script, original score, production design, photography, editing, artistic director, make-up & hair, wardrobe and sound. The awards ceremony will take place on February 19th in Madrid.

The Blu-ray disc for BLACKTHORN became available for purchase on December 20th. If you're a Shepard fan, this is a must-see film featuring one of his best performances of his career. You also have the option of either renting it through Amazon Instant Video for $3.99, which gives you a 48-hour time period to view it or you can purchase it outright through Amazon Instant Video for $14.99.
Great photo!
You may recall a couple years ago that Sam was slated to star in a series pilot called "Tough Trade" for Epix channel. The contemporary one-hour drama was to feature the Tucker family, a three-generational Nashville music dynasty whose penchant for drink, debauchery and divorce had left them morally corrupt and on the verge of bankruptcy. Sam was to play the patriarch of the Tucker Clan. Filming took place in Nashville at the end of 2009 and the project appeared on track with an order for 4 more scripts and an extension of the actors' options. The pilot, which was recut several times, was reportedly screened around the country and did well. But Epix officially passed on it in the fall of 2010. Epix CEO Mark Greenberg announced, "At the end of day, it just didn't work." The producers had been quite enthused about casting Sam commenting that he would bring "great authenticity to the project". Perhaps we'll see it re-tooled in the future but for now, here's one photo released of Sam in full costume. He sure fits the role, guitar and all!

Obsessed with writing...
We all know that Sam takes a notebook with him wherever he goes and he continually jots down thoughts and ideas that may take shape in the future as poetry, a short story, a play. Here he is in 2006 in the Big Apple enjoying his lunch with his trusty notebook by his side. I often dine alone and find myself taking out my journal. I write nothing profound but more than anything, it takes the place of companionship.
I remember what Patti Smith said about Sam: "He fiercely guards his privacy, but if he's talking to you and lets you in the door, he offers everything. You can sit at his table. You can ride his horse. You can look in his notebook." Yeah, right....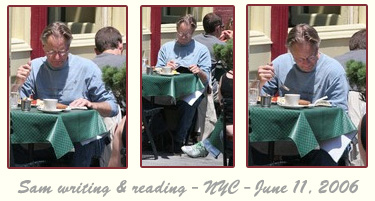 Here's a very short story by Sam that was published in the 1996 edition of "Microfiction: An Anthology of Really Short Stories, edited by Jerome Stern. It's called "Guadalupe in the Promised Land".
Guadalupe hit the skids and fishtailed into a ditch, crawled out of the wreck bleeding from the neck, saw the moon, laid his head in a mud puddle, said "Todo el Mundo" three times and snuffed out. Him and Manolete got together after that and Manolete told him it wasn't enough just to be a man. The thing was to shoot for sainthood. He said he almost hit it. A saint of the cape. Jackson Pollock joined them and told Manolete he was full of shit. A man was good enough. That was harder than sainthood. There's too many saints anyway. Guadalupe didn't know what to think. He ran into Jimmy Dean and Jimmy just looked confused. Marilyn Monroe had no opinion. Brecht kept talking about Germany and shame. Satchmo kept wiping his sweat and shuffling. Janis wanted more. Crazy Horse said: "Fight and die young." Brian Jones just played the harpoon. Dylan Thomas said "Rage." Jimi Hendrix said "Slide." Big Bopper said "What?" Johnny Ace said "Shoot." And Davey Moore said "Take it all on." That made sense to Guadalupe. And with that he lay down for a nice long rest.