The first few minutes of VOYAGER is revealing of everything that is to come. It opens black-and-white, outside a generic 50-ish airport populated by generic 50-ish people and automobiles. The voyager shows up, hugs this handsome woman farewell, sits down in the utterly familiar waiting room, and buries his head in his hands in a sea of felt hats and cigarette smoke, thinking of a certain woman who no longer exists. He does not want to be there or anywhere.
"What was the use of looking anymore? There was nothing for me to see. Her hands that no longer existed anywhere, her movements as she tossed the pony-tail toward the back of her head, her teeth, her lips, her eyes that no longer existed anywhere -- where could I look for them?"
Then color filters back on screen as the camera takes him two months back in time, to another waiting room straight out of faded photographs, poised to miss another plane. Over and over again the film would echo this strong sense of spatial dislocation, address the circular nature of time, narrate the story as some sort of a chronicle of a death foretold and of human endeavors foredoomed, and enhance it with flashbacks and voice-overs by someone precisely situated in
a certain period in history and thus make the events twice removed from us, and do all of these with plenty of sardonic humor and self-irony. It is a good, solid beginning for a much overlooked, excellent film.

Sam Shepard plays the voyager, Walter Faber, a globe-trotting American engineer who sets his bearings by his faith in technology and treats metaphysics as an exercise in the laws of probability. He carries with him a bored, presumptuous air which of course makes him irresistible to women. We watch him snatched and shepherded aboard a gorgeous propeller plane, turn into an entry in plane-crash statistics, survive the landing, and become witness to a suicide in a strange land - all appropriately meaningless and absurd, except that they call to him memories of a woman he once knew before the war, Hanna, whom he sees in crisp flashbacks. He returns to civilization, haunted by memories.

The "train of coincidence" runs on; he hops on a boat to France to escape a female acquaintance and to resume his anonymous, moment-to-moment existence atop the bell-shaped curve. Instead, he runs into a young woman he names "Sabeth" who reminds him of his lost love. She is something of a paradox, this Sabeth, terribly young and vulnerable, a lover of ancient art and its timeless mysteries, and at the same time devoted to Camus and Sartre, those unabashedly contemporary writers who write of freedom and transparency and of experiences created ex-nihilo, unencumbered by a troublesome past. He sees her a lot, and there are some delicate scenes of glances exchanged in crowded ballrooms and slow-dancing on the moonlit deck. (The soundtrack is moody but very pretty.) Stranded on an oceanliner in the middle of the Atlantic, the voyager who shuns entanglements finds himself locked on to this young woman, a beckon that arose from the depths of his past and destined to guide him to complete an act of destruction he set into motion some twenty years ago.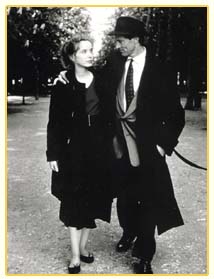 They land in Paris where Faber delivers speeches on the Future of Mankind and stalks Sabeth in art museums. They encounter the inevitable scuffles in Parisian cafes and graffiti protesting the Algerian war. The heart of the film consists of the couple's journey across the continent, from metropolitan Paris, through blazing wheat-fields in the south of France, to nameless historic Roman ruins in Florence and Rome, finally to arrive at the ancient villages of Greece. Along the way are scattered sequences of great tenderness and discipline graced with extremely evocative camera work. In Athens they are touched by tragedy and reunite with Hanna; swiftly unfolding events bridge the twenty years that separates them, and simultaneously the memories that has been tormenting Faber passes into the present. The acting is particularly impressive in this more somber half of the film: e.g,. Delpy's Sabeth sitting dry-eyed and crushed in the cafe where Faber left her; Shepard and Barbara Sukowa's Hanna maneuvering to wait each other out over dinner; it is all quite extraordinarily restrained and dignified.

There is something about the adaptation (or maybe it is the cinematography) that makes the tale's symbolic dimension leap off the screen and highlights the cyclic quality of this improbable tale of strong-willed, self-centered people forging their fate only to get ensnared by it. Yet the characters never come across as mere mechanical parts reenacting an ancient drama, nor do Faber's relations with Sabeth or Hanna seem at any time less than genuine.