Playbill/Posters
Synopsis
Play in three acts.
Vinnie's been hiding out, leading a low-profile life in Cucamonga, California, after being involved in a very shady deal with his old friend, Carter. About to be caught in a race-track scam, the two set up and blackmail the local commissioner, Simms, into silence. To add comic insult to injury, Carter then runs off with Vinnie's wife, Rosie (also involved in the setup) and his Buick. Now Vinnie wants to come to terms with his past and move forward. Simpatico is the New York revival of Sam Shepard's cross between a modern film noir, Ibsenesque thriller and revenge drama.
Performance History
First Production: Joseph Papp Public Theater, New York, on November 14, 1994.
(Run dates: November 1 - December 18, 1994 with 40 performances and 16 previews)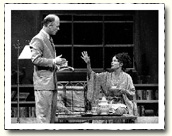 Directed by Sam Shepard with music by Patrick O'Hearn
Cast:
Carter: Ed Harris
Vinnie: Fred Ward
Cecilia: Marcia Gay Harden
Simms: James Gammon
Kelly: Welker White
Rosie: Beverly D'Angelo
Staged at the Royal Court Theatre in London on April 6, 1995
Directed by James Macdonald
Staged at the MacCarter Theatre Center in Princeton, NJ from September 8 - October 8, 2017. Directed by Dado. Starring Michael Shannon.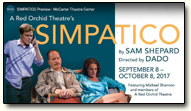 Sam Shepard
Sam explains that somewhere between the East and West Coasts, part of "Simpatico" was written in a moving truck by its driver. "You have to do it on an open highway. You wouldn't want to do it in New York City. But on Highway 40 West or some of those big open highways, you can hold the wheel with one hand and write with the other. It's a good discipline because sometimes you can only write two or three words at a time before you have to look back at the road, so those three words have to count. The problem is whether you can read the damn thing by the time you reach your destination."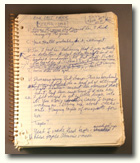 Published
Reviews of 1994 performance
"'Simpatico' is a breathtaking succession of surprises in the writing…It is a major addition to this theatrical season…It is Mr. Shepard writing at his distinctive, savage best." ...NY Times.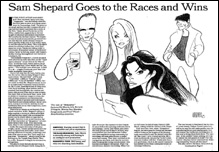 "Shepard's fascinating—if not profoundly important—new revenge tragic-comedy seems more straightforward than most of his 45-play, 12 Obie, one Pulitzer Prize-winning career…Shepard has directed his terrific cast in a series of noir snapshots, a mosaic of scenes surrounded by a black hole, each final image held for a slow cinematic dissolve." ...New York Newsday.
"…the tone of the play—succinct, laconic and easy-riding—is attractive, intriguing and amusing…Shepard still writes wonderful roles for actors." ...New York Post.
"'Simpatico' is laced with echoes of film noir, as if Shepard were at once trying to imitate the genre, kid it, and defuse it, replacing the violent climaxes with pleas for mercy, compassion, and the healing power of time…Every speech curves in unexpected directions, and the winding progress of the scenes keeps luring you in." ...Village Voice.
"It is like a cross between a modern film noir, Ibsenesque thriller and revenge drama." ...London Evening Standard.

"'Simpatico' throws strange characters together to explore perplexing and unlikely intimacies and reversals of fortune. The excellent cast, directed by the playwright, delivers what feels like a definitive reading of Shepard's unexpected poetry, the way William Macy or Joe Mantegna often do in the work of David Mamet." ...Laurie Winer, LA Times
"There is no shortage of memorable dialogue or striking visual images (film noir seems to be the inspiration), and Shepard has provided large doses of the humor that has always served to undercut the pretensions of his dramaturgy. In this era of impoverished theater, the richness of even a somewhat successful play like 'Simpatico' demands attention." ...Frank Scheck, Christian Science Monitor
"Besides its resemblances to 'True West,' Shepard's new play calls to mind early productions at the Yale Repertory Theatre. Its racing mythologizing suggests 'Geography of a Horse Dreamer' and its mysteries and jazz flights call to mind 'Suicide in B Flat.' But though 'Simpatico' has more potential than the hopeless 'State of Shock' a few seasons back, only heavy editing and a sharper directorial vision might make it work." ...Malcolm Johnson, Hartford Courant