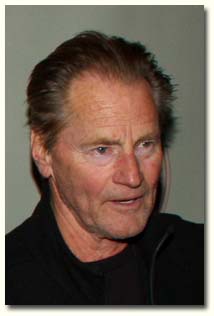 At age 67, Sam Shepard has six films in various stages of production, he's writing a new play, and it's obvious that working hard agrees with him. In person, he positively glows - and he definitely looks 20 years younger than he does in his new film "Blackthorn", opening on Friday, October 7.

The film tells the apocryphal story of what might have happened had Butch Cassidy escaped death in 1908, retired to a secluded Bolivian village under the alias of James Blackthorn. Eventually, he attemps to return to America to see his son - where on the way he meets a young criminal (played by Eduardo Noriega).

"I really wanted to play this part," says Shepard. "It was just the best script I'd seen in maybe ten years - it's so beautifully made on the page - and I knew from talking with Mateo Gil, the director, and Miguel Barros, the writer, that it wouldn't be just another Western. It has all those wonderful twists and turns. It's continually surprising."

As a writer himself, was he ever tempted to tamper with the script? "I usually don't mess with a script when I'm acting, but I do always make sure they know I might fool around with my dialogue just enough to make sure it's right for my character," he answers quickly.

Working in Bolivia presented a mixed bag of pleasures and problems, Shepard recalls. "We spent five or six weeks there with hardly any money, but I've never seen such vistas, they're magnificent," he notes. "And we got them just right thanks to Juan Ruiz Anchia's cinematography; there's absolutely no CGI in the film, which makes some of those shots even more remarkable. Plus I got to ride and work with some great Spanish wranglers; I never worked with any better. However, the altitude was especially hard on the horses."

The film reunites him with his longtime friend and collaborator Stephen Rea - the pair first worked together at the Royal Court back in 1971 - who plays Mackinley, a retired lawman who always thought Cassidy might still be alive and who is a kind of drunken Javert to Shepard's Jean Valjean. "We were pretty much the only English speakers on the shoot," he says. "Eduardo actually doesn't speak much English at all, so his lines were mostly learned phonetically. But you really can't tell, he's such a good actor."

While acting takes up much of Shepard's time these days, he hasn't abandoned his first love. He recently had a six-month residency at the Santa Fe Institute in New Mexico, where he spent some time working on a new three-act play to be produced next year by New York's Signature Theater.

And on October 17, he will become the first recipient of LaMama's new Annual Ellen Stewart Award, named after the late founder of the East Village theater where Shepard's early works were produced. "Ellen was a generous woman in every respect," he recalls fondly. "She was a New Orleans Creole, so distinctly herself in every way, the way she spoke, the way she dressed. She would just let people come and stay at the old LaMaMa down on Second Avenue - above where Stomp is playing now," he recalls.

"Ellen was so great, I could bring her any old thing I'd written on the back of an envelope and she'd say 'Let's do it Baby!' We did two one-act plays first, Dog and Rocking Chair, but they're lost now," he says. "By tremendous luck, I just happened to end up in the right place!"