Surely it would be blasphemy to suggest that the strongest suit in Sam Shepard's fecund, polymath deck is his prose. His plays have won him the Pulitzer ("Buried Child"). His acting has garnered an Oscar nomination (The Right Stuff). His direction on stage and screen is highly respected, or better. But it is the stories—seemingly attended to by readers only faintly, as a side project or stepchild—where we find the purest expression of the great writer's mythos, yearnings and toil.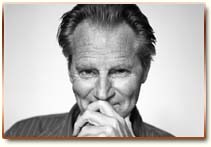 His latest entry into this canon, "Day Out of Days," continues the turbulent cross-country scribbling pattern of flight described by a Shepard-ish (male, actor, 60s) character as he flees to and from his lover, pursues and recoils from his childhood home, attacks and then retreats from the many tent-poles of American manhood—freedom, risk, independence, adventure, success and fatherhood. Composed of a series of jottings, poems, incantations and meditations, some no longer than a few lines, the book feels like a magical mixtape of little hymns dreamt by the recurring hero of Shepard's oeuvre including "Great Dream of Heaven," "Cruising Paradise," and "Motel Chronicles." When he was interviewed during the production of his play, "The Late Henry Moss," for the movie This So-Called Disaster, Shepard was asked what career path, other than his own, he would rather have chosen, he answered immediately, without a moment's pause, "Musician." So perhaps it is natural that the drummer and guitarist who has said he conceives of his plays the way a musician does a song, would have found such an arrangement of ballads.

But trapped within the amber-resin tone of these stories is all the thrashing of a knife fight. The deeply conflicted narrator of "Costello," who, like Shepard, grew up in a dusty farm town just East of LA, returns to the now unrecognizable 'burb (to find himself, presumably) only to deny his identity to a high-school chum who recognizes him from his movies. The former classmate describes his old friend, who changed his name (as Shepard did—from the family-given moniker Steve, to "Slim Shadow" in the Village during the 60s, and ultimately to Sam), as a wild hellion, stealing cars and rampaging back and forth to Tijuana. And as much as the present tense narrator wants to shirk that old character's behavior, he is doing nothing more than the middle-aged version of his smash-and-dash youthful excursions. At the story's conclusion we are left to think that the narrator will only pick up again the headwaters of the mighty Route 66 (which did originate in Shepard's hometown of Duarte) and sail off again into the unknown.

Many of the stories in this volume express a fixation with horses, the like Shepard grew up minding, and among which he now lives in Kentucky, and all that the wild free-spirited beasts herald: unbridled forces; the race; the "breaking" of a wild colt; the danger and intoxication of the bet: the emptiness a losing ticket; the feeling of failure that lingers long after the track has gone quiet. Shepard is terribly attentive to the arch themes of masculinity and here he has found a resounding mythological metaphor for the many sides of man—as the oppressor and the oppressed, the vital and the objectified. Horses are ghostly apparitions throughout the stories which the author allows to quicken in the reader's mind, a latent image growing stronger on paper in a developer bath.

And the achievement of such archetypal heights comes by a well-considered process, one that we feel we might be able to glimpse throughout the book in its nude construction. From the beginning there are distinct, direct links to Shepard's own life in the stories and characters and we are tethered to a concrete reality (allowed, even encouraged, to picture Shepard himself in the main rôle). In "Normal," for example, there is description of his 2009 incarceration for a DUI. Both "Black Oath," and "I Can Make a Deal," describe intimately the struggles of alcohol dependency, while "Wisconsin Wilderness" goes at, among other things, nicotine addiction and tethers together a series of stories pertaining to an "'almost' heart attack" Shepard suffered in truth. There are too the geographical loci, of Minnesota and Kentucky where he now lives, throughout. So we begin seated in—and revisit often—this recognizable, almost confessionally accurate, world. We see, in the first story "Kitchen," for instance, in a very closely rendered self-portrait, the writer at his work table in his kitchen, staring at photographs, talismans of he remembers not what, allowing his imagination to take flight into other realms of reality—into realms of absurdity, surrealism, macabre. It is as if we can listen to, in real time, the author's mind as it begins taking in its surroundings, like the pulsing vein in his ankle ("Circling"), and then coils upward, along the arabesques of smoke through traditional fictive encounters (with an old love in "Indianapolis"), up to metaphorical resonances and images from wild dreams like mercenary who cuts off a finger by way of atonement for past deeds or the unforgettable skinned face an assassin tries to submit as an invoice for his job.

Though the entries are linked by little other than Shepard's tropes and tone, there are two ongoing stories we return to from time to time with narrative updates (one of these, a buddy comedy road trip with three guys fleeing their wives in a generally Southwesterly direction, in a vague search for adventure, fizzles and disappears almost without our noticing). The more powerful is the story of a man who discovers a severed head in a roadside ditch and is commanded by same head to escort it to the nearest (thought it is not that near) lake to toss it in and thus put at rest. It will surprise no avid reader of Shepard that the head may possibly be that of the man's father and that his quest to rid himself of it has metaphorical overtones. Much, if not all, of Shepard's work is a dance around his fear that he would become his violent, alcoholic father and this book is no different. There are in its pages a blunt description of his father's death by vehicular manslaughter in Bernalillo, New Mexico, a recitation of the narrator's efforts to arrange his patterns of speech and walk in blatant distinction from his father's, comparison of his father's traumatizing military service with his own performances as military men in movies, and, toward the end, a sort of realization that he would not, could not ever be his father.

It is a beautiful and heartbreaking and sensuous consolation even if neither the narrator nor the reader will ever give up worrying, writhing or struggling. It is merely a chapter break in the rough, nostalgic saga-slash-elegy wrought by one of America's greatest men of letters, and another reminder that what drives us will destroy us, that what we run from we return to, that the brutal in his literature is the beauty of Sam Shepard's creation.

It is a reminder that we will never stray far from the lonely highway of his words.