JANUARY/FEBRUARY 2021 NEWS
February 27, 2021
It's been more than 3 1/2 years since Sam Shepard left the living world of ours and no one has even hinted at where his body or his ashes have been laid. Was his body delivered to a funeral home or crematorium? Such a silence. Even in death, Sam desired privacy and denied his fame. No matter where his 'remains remain', his spirit abides in all his screen work, plays and stories. I continue to discover new remembrances written back in the summer of 2017 at the time of his death. Today I'll share an excerpt from Dan Reidy of Men's Journal:
It only takes a glance to see that he packed several lifetimes into one, all of them cloaked in the mystery that comes with tight-lippedness and a penchant in his stories for mixing fiction with autobiographical detail. He liked the road. He knew the highways of the West as well as a long-haul trucker, and his stop-off points were no less obscure... Shepardís characters are ghosts made flesh, cowboys out of time. Restless, they move through towns whose names seem to tell stories of their own: Winnemucca, Nevada; Papantla, Mexico.

* * * * *
An apt description of Sam's writing:
"Had Sam Shepard been a boxer, he may well have favored removing the gloves. His writing has a rawness seldom matched in drama, so words become weapons that open wounds old and new, while his characters are bruised and scarred by each other and by the bleak business of being alive."
* * * * *
And today's gift to Shepard fans is this beautiful Timothy White portrait.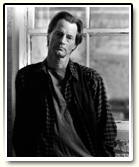 February 11, 2021
In the February 1992 issue of Rolling Stone, writer David Breskin described an interview with Robert Altman, who directed the film FOOL FOR LOVE, based on Sam's play. Here's an excerpt: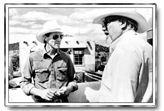 Breskin: When you did "Fool for Love", you said you didnít care if it was the worst film ever made, you were going to do it for the opportunity to work with Sam Shepard on a play he wrote, and have him in it.

Altman; [Resigned.] Yeah, I said that. The idea of me making a film with the author of a play, and the author playing a part, to me was irresistible. And because I was in such a catbirdís seat. And I thought it would be fun.

Breskin: Cheerfully perverse.

Altman: Yeah, perverse and fun. It turned out to be not much fun at all.

Breskin: You and Shepard had a tough time.

Altman; No, I didnít have too tough a time, and he didnít have a tough time. Any tough times we had, we gave ourselves. But I didnít like him very much and he, Iím sure, didnít like me. He just wasnít a very nice person during that time.

Breskin: And thatís why it was no fun?

Altman: Yeah. He wasnít nice. He was very self-oriented. Kim Basinger was just terrific, Iím crazy about her. And Sam, I think, is very, very good in that picture. As good as I wanted him to be.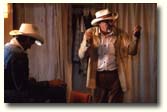 Breskin: How did he end up feeling about the picture?

Altman: Oh, he would never say. Iím sure he hated it. Weíd show the dailies, and he could come in whenever he got up ó weíd work all night ó and weíd look at the dailies in the morning. Heíd come in late in the afternoon and weíd run the dailies for him and heíd only look at the dailies that he was in. And of course, all the flashback stuff, all the storytelling illustrations that I did, he, to this day ó he says he never saw the picture, and he probably hasnít ó he didnít know what I was doing, nor did he care, that I was showing something different than what the characters were telling. And that, to me, that time warp in that picture, is what made that film so good. I think that was a terrific film, I really liked that film. I liked the structure of it, I liked the performances in it, I just liked the picture very much. The bizarreness of it. But Sam just wasnít very likable. I donít know why.
Sources say that Sam was never that eager to have his play adapted to the big screen nor star in it. He believed Ed Harris, who originated the role of 'Eddie' at the Magic Theatre in San Francisco, was a better choice. Altman wanted to cast Jessica Lange as 'May' but she was pregnant at the time so the role went to Basinger. And a major disappointment for Sam was that he believed he would be part of the editing process, which never happened, so he was definitely not a happy camper.
In the September 1988 issue of Interview magazine, he explains further - "I felt very uncomfortable. I was not having a good time. I didn't get off on that (laughs). First of all, this was a situation I tried to avoid for a long, long time - acting in my own stuff - because I always felt it was silly and pretentious. You know: acted and written by and all that crap. Appearing in! Jesus... I didn't feel comfortable with that at all... I liked Altman's stuff up to a certain point. And I was fooled into believing that he was going to have integrity in this thing. Later on, I just felt he kind of shined me on. That surprised me. I just felt like he blasted through the thing and didn't give it everything he told me he was going to give... I'm never going to get into a situation where I have somebody else breathing down my neck. It's just not worth it - no matter how much money they say they're going to give you. I was very lucky on 'Far North' to get final cut and full artistic freedom."
Photographs for Interview by Herb Ritts -
"Fool for Love" did become more of a family affair when Sam's sister Sandy Rogers was asked to participate in the soundtrack. She recalls, "Sam called one day in April and said he'd like me to write some songs for the movie version of his play. He had begun production in Santa Fe and had played an old tape for Robert Altman of me singing - a tape that he'd been carrying around for

years - some of my very first songs... I went immediately to the basement apartment to write songs for the movie and got those off to Sam in three days. Sam called back right away and said he loved them... He would submit them to Altman. Altman loved those - and wanted more, wanted to see if I could do the whole soundtrack." In the end, Sandy performed eight of her songs. However, her "Let's Ride" became the title song and "Fool for Love' didn't even make the album though it appears on the soundtrack for "Reservoir Dogs".
I rather like the film's Italian poster -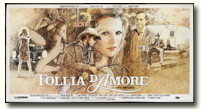 February 6, 2021
Though Sam was no longer living with partner Jessica Lange in 2009, he admits he did give her some Valentine's Day gifts the following year - "Two really good bottles of wine. Really good ones. Oh, and a tape measure. Because she was putting up a painting." A new gallery has now been posted featuring the famous pair photographed by Bruce Weber in two Vanity Fair issues - October 1984 and April 2006.
* * * * *
While Sam was in Paris with Patti Smith during the spring of 2011, he attended the Ines De La Fressange Auction Breakfast at Cafe de la Paix on May 24th. The proceeds of the event went to Mecenat Chirurgie Cardiaque Enfants du Monde, a charity that allows children suffering from heart malformations to come to France and receive operations when they cannot be treated in their home countries. These photos show Sam chatting with Ines - French model, aristocrat, style icon, fashion designer and perfumer. [Have never understood those sunglasses]
February 1, 2021
The November 1988 edition of Esquire magazine featured Sam on the cover with an article by Jennifer Allen, who in later years admitted, 'I wrote a piece about Sam Shepard for Esquire. I pretended to be interested in his work but I really wanted to know about Jessica Lange."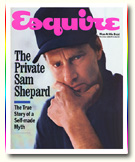 The photo shoot for the magazine was done by Bruce Weber but not all the photos were published in Esquire. The following is the introduction by Jennifer Allen:
He still has the tattoo on his left hand, the one he got from a Mexican gypsy while whacked out under Patti Smithís spell. She got a lightning bolt; he got a hawk moon because he was born under a skinny November moon. It is a dark, pencil-thin arc on the back of his hand, and seeing it is a jolt, like looking at an artifact, a reminder that the forty-five-year-old man in a freshly pressed white shirt has lived several lifetimes.
Once he lived in New York, the crazy, druggie downtown boy genius who convulsively wrote his plays one after the other, almost as if he had to be rid of them, to jettison them. Once he moved into the Chelsea Hotel with Smith and, legend has it, wrote with her the screaming sad play "Cowboy Mouth" in two nights by pushing a typewriter back and forth across a table.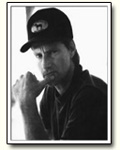 For some years now, he has sworn off cities with a vengeance, taken to badmouthing the Sixties and the plays he wrote then. He is a family man with three children - a son by his first marriage, two small children by Jessica Lange - a movie actor, one of the leading playwrights of his generation, a screenwriter, a director of his own plays and now of his own movies.

He lives on a farm twenty minutes outside a small city in Virginia. He agrees to meet at a local inn of his choosing. He is recognized the moment he enters, people whisper in his wake. The face is bony, sharp, sharper with age. He has a pronounced widow's peak, straight hair falling down on either side and stopping abruptly, as if it has been chopped by blunt scissors. His eyes are blue, almond-shaped, his teeth are not good. When he speaks, he often tucks in his chin just slightly, as if he would rather swallow the words than say them. He has a soft voice with a slight twang; he drops his g's and pronounces his name "Sam Shepurd". He smiles often.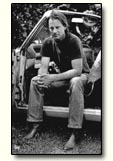 January 30, 2021
El Europeo magazine, published in Madrid years ago, featured a familiar pair on its cover in its July/August 1989 edition. However, the original Bruce Weber portrait has been horizontally flipped.

When Sam was living in New Mexico in 1984, fashion photographer Bruce Weber did a photo shoot with Sam and actress Jessica Lange. One of these days I will post those photos. Weber, famous for his stunning black & white portraits, photographed Sam through the years for several other major publications. The following photo should look familiar because it's the one I use at the top of this page. This is the May/June 1994 issue of Arena magazine.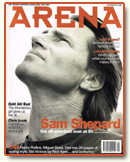 * * * * *
The following photo is undated but I would venture a guess that it was probably taken 8 to 10 years ago. It shows Sam playing guitar with his old friend Peter Stampfel from the Holy Modal Rounders, the band Sam joined as a drummer back in the sixties.

When Sam died, Stampfel wrote a rather strange tribute to Sam, mostly ramblings of a musician who perhaps had taken too many drugs over the years. I never shared it because it seemed to lack clarity and sometimes accuracy. He does mention Sam's driving recalling how he'd reassure his passengers that he was an excellent driver and then tear off like a bat out of hell. His daughter Hannah told Stampfel how her father would pick her up from high school in his Corvette and take off laying a strip of rubber.
His desire for speed did at times get him in trouble with the law. In January 2009, he was pulled over for speeding in Normal, Illinois, and subsequently arrested on drunk driving. It wasn't the last time he was intoxicated at the wheel. In 2015 in Santa Fe, New Mexico, he was again arrested. In a press interview conducted in 2010, he described his addiction as a "constant struggle."
In a February 24, 2000 letter to his friend Johnny Dark, Sam wrote about his alcoholism. It's interesting that he made the decision to publish this letter, which was included in the book "Two Prospectors: The Letters of Sam Shepard and Johnny Dark", but perhaps his decision was a cathartic one. Here's an excerpt:
"I had a hard time seeing myself in the same exact bag as my old man, who I swore I would never resemble. In a way, the decision to stop drinking was the easiest partóof course you go through about a three month stretch where you body has to detox and get rid of all the poison youíve built up and through that time thereís a lot of craving and self-pity but then the 'need' for booze kind of leaves your physical self and the psychological part takes over. Thatís the tough one for me because it all has to do with this thing of loneliness and the inability to have easy relationships with other people."

"Itís the very reason I started drinking in the first placeóthe bar, the 'Nightlife'; the excitement of meeting strange women; the 'Adventure'óthis whole notion that thereís something out there Iím missing out on and booze was definitely the ticket that opened the door. The false courage that drinking gave me allowed me to indulge any idiocy that came along with never any thought of having to pay for it down the road."

"Also, there was the 'romance' with the bottleóI was a writer, I had a license to drink. All writers drink, even great ones. I was a 'tough guy.' I could take it. I didnít give a shit what anybody thought and I didnít really give a shit what I did to other people in the way of abuse or denial. I was my own guy! Iím amazed I lived through it actually: blackouts on the road doing ninety miles an hour, winding up sleeping in ditches; fist fights with Marines; hangovers that went on through half the day and were only remedied by more booze, strange women who could have been carrying anything; pool games til the crack of dawn with Italian Mafioso types where I lost hundreds of dollars, terrible fights with the ones I loved; the shakes, vomiting, shitting my pants on the streetóSounds like fun, huh?"

"From the outside one might say well, sure, it was probably time for you to take stock of yourself but I never saw the least little part of it. I thought the world was fucked up and I was just reacting like some kind of underground hero."
January 21, 2021

In 2018 a Croatian translation of Sam's final book, SPY OF THE FIRST PERSON, was published by Antipod with the translation done by Martina Klasić. The book is called UHODA. In the last year of his life, as the degenerative disease ALS made his muscles progressively useless, Sam finished this book about a man suffering from a similar but unnamed illness. An unidentified first-person narrator looks across the street at a strange man in a rocking chair on the porch. It soon becomes clear that they are the same person, a man observing himself from the outside, his failing body so alien that he doesnít recognize it as his own.
Uhoda means "care" and I suppose that references all the loving care his family provided for him in his final weeks. According to his sisters, when Sam was unable to hold a pen, he spoke into a voice-activated recorder. When he could no longer hold the recorder, he dictated to his daughter Hannah or his sisters Roxanne and Sandy, who did the transcription and read the notes back to him. Roxanne indicated, "Sometimes he wanted to dictate things at night before going to sleep. I kept a notebook close so that he could just ask to write something down and it could be dictated on the spot." Sandy said, "He's a writer so he needed to write every day to be himself, and that was our mission, to help him be as close to normal as possible." And Hannah added, "The line between fact and fiction in his own work was always very ambiguous to Sam, I believe. Many things blended together for him."
Toward the end of the book Sam mentions his sons Jesse and Walker - "The thing I remember most is being more or less helpless and the strength of my sons. A man pushed by his sons in a wheelchair from a crowded restaurant to a street with nobody on it. A man sitting on shaggy wool with a Navajo blanket across his knees."
In this Croatian edition, the following two artistic illustrations represent the beginning and end of the story. The photo of Sam was taken from a January 2016 photo shoot for The New York Times.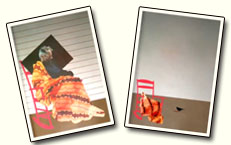 January 19, 2021
Earlier this month Sam's daughter Hannah was caught by the paparazzi walking in Manhattan's West Village on a cold day.
Since her father's death, Hannah has worked as an archival producer on three documentaries that focus on racism and justice. The Women in Media web site gave the following biography:

Hannah Shepard studied writing at Sarah Lawrence College and received masterís degrees from the National University of Ireland and Fordham, where she was a teaching fellow and a Loomie Prize winner. Engaging with history, the arts, and social justice, Hannah is drawn to projects that cross boundaries. She has worked as a researcher, educator, and script reader with institutions including the New York Public Library for the Performing Arts, the Museum of the City of New York, The Public Theater and the Louie B. Nunn Center for Oral History. As an archival researcher and producer, Hannah has worked with filmmakers including Rebecca Miller, Nancy Buirski, and Catherine Gund. In 2019 she was nominated for the FOCAL Jane Mercer Researcher of the Year Award. Her fiction has been published by W.W. Norton, Fiction Southeast, and Spout Press.
Fordham's Loomie Prize was awarded to Hannah for her paper, "Vanished in Plain Sight: Scots-Irish Presbyterians in Wisconsin, 1830-1890". Her paper argues that Ulster Presbyterians brought their unique brand of political and religious radicalism, with its roots in their Irish experience, with them to Wisconsin, influencing the early character of a state which has been known equally for its progressivism and its evangelicalism in the nineteenth and twentieth centuries.
It appears that those excellent writing skills are in the Shepard genes!
* * * * *
I came across this art board print of Sam by illustrator Paul Cemmick. I don't see much resemblance except for his hair. The shirt says "Days of Heaven" but the background shows him as Chuck Yeager coming out of the flames. Personally, I don't think it blends very well.