Hannah graduated from Minnesota's Stillwater area Sr. High School in 2004. A graduate of the 2008 class of Sarah Lawrence College, Hannah presently works as an administrative assistant for Hawthorne Valley Association in upstate New York. Inspired by the work of Rudolf Steiner, Hawthorne Valley Association seeks to promote social and cultural renewal through the integration of education, agriculture, and the arts by engaging in a unique mix of cultural and economic endeavors. Hannah first worked at Hawthorne Valley Farm in 2005 as a camp counselor. She worked for the New York City Greenmarket in 2006 before finishing her degree and going on to work for the non-profit Just Food and the Brooklyn Botanic Gardens, both in New York City. She now assists with archiving materials and planning events at Hawthorne Valley Association.
She is also involved with African Solutions to African Problems (ASAP), which supports grassroots organizations of women running drop-in centers for orphans and children made vulnerable by AIDS in South Africa. She is seen in the photo below at a fundraising luncheon in November 2011.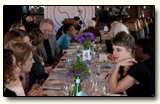 Photo: Hannah with her mother and photographer Mark Seliger at Mikhail Baryshnikov's photographic exhibit in NYC on March 15, 2008.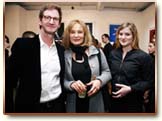 Here are some photos of Hannah as the paparazzi caught her arriving at LAX airport on January 28, 2012. She was also photographed at the Golden Globe Award Nominees After Party at the Beverly Hilton on January 15th, so I assume she accompanied her mother to both the Golden Globe and SAG events. I have to say I don't see much resemblance to her dad.
On April 9, 2012, Hannah accompanied her father and Patti Smith at a performance at Dublin's Abby Theatre. She played the cello and performed a solo - an Irish folk song, Óró Sé do Bheatha 'Bhaile", which drew thunderous applause.
Two days later on April 11, 2012, she attended an actors' workshop, hosted by her father at The Playhouse in Derry with Stephen Rea and Field Day Theatre Company.
Hannah attended the opening night of her father's play, HEARTLESS, on August 27, 2012, in New York City.